L.L. Bean Visa Credit Card Replaced by Mastercard
The L.L. Bean Mastercard provides several perks with a relatively low interest rate for a store-branded credit card. Rewards can only be used at L.L. Bean, but cardholders can rack up Bean Bucks quickly and redeem them easily. If you have good credit and shop frequently at L.L. Bean, this card could be worth considering.

Some offers mentioned on this page may be outdated. To confirm offers and credit card details, check the issuer's website.
---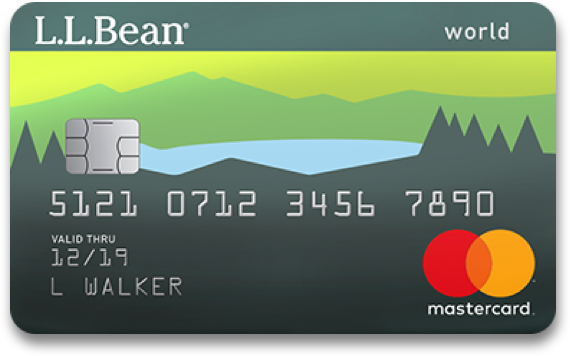 on L.L.Bean's secure website
What we like:
Good card for rewards outside of the store benefits
Intro Offer
Save 15% on your first L.L.Bean purchase on approval
Rewards Rate
4x Bean Bucks per $1 spent at L.L.Bean

2x Bean Bucks per $1 spent at gas stations and restaurants

1x Bean Bucks per $1 spent on all other purchases
Regular APR
15.74% – 21.74%
Annual Fee
$0
See how this card stacks up to our top rated credit cards
If you're a fan of well-made outdoor gear, you might have purchased a number of L.L. Bean items over the years. Known for its sturdy footwear, backpacks, outdoor equipment, and more, the Maine-based retailer has been a favorite for generations. Recently, the L.L. Bean Visa credit card was replaced by the L.L. Bean Mastercard. This brings about some important changes for cardholders.
Understanding these changes — including what you need to do as a cardholder — is key to taking advantage of them. This is particularly true when it comes to the new rewards system, which has switched from L.L. Bean coupons to Bean Bucks. Read on to learn more about the L.L. Bean Mastercard.
L.L. Bean Mastercard Review
The Basics
Starting in July 2018, L.L. Bean mailed L.L. Bean Mastercard credit cards to current cardholders to replace existing L.L. Bean Visa cards. Cardholders simply had to activate their new cards, destroy their old card, and update any merchants that use their former card number. For existing cardholders, the annual percentage rate (APR) did not change, and any balance would automatically transfer to the new card.
APRs & Fees
The L.L. Bean Mastercard is a rewards credit card that is available to people with good credit scores, typically over 700. It does not have an annual fee and carries an APR between 15.74% and 21.74%. The L.L. Bean Mastercard offers a number of perks, particularly when it is used for purchases at L.L. Bean.
Rewards
There are some significant differences between the L.L. Bean Visa and the L.L. Bean Mastercard. First, L.L. Bean has upgraded its rewards program. Now, users earn 4 percent in "Bean Bucks" (explained below) for all purchases made at L.L. Bean as well as a 2 percent return for gas station and restaurant purchases.
The Bean Bucks program will replace the L.L. Bean coupons that were previously used with the L.L. Bean Visa. Before, cardholders could earn coupons, which they received once they reached a $10 threshold. These coupons expired after 12 months.
Now, Bean Bucks can be used as they are earned, in any amount. They will not expire as long as your L.L. Bean Mastercard is in good standing and is used at least once every 24 months. The value of current L.L. Bean coupons will convert automatically to Bean Bucks. The balance of Bean Bucks accounts can be checked by going to the L.L. Bean Mastercard website, or by reviewing your statement.
One other change to the rewards program is that purchases of L.L. Bean Discovery School programs will earn 4 percent, rather than 10 percent, in rewards. In addition, cardholders can no longer donate their rewards to the National Park Foundation.
The Benefits
The L.L. Bean Mastercard has a relatively low interest rate for a store-branded credit card, particularly for users with good credit. It might be worth considering if you're someone who regularly shops at L.L. Bean and wants to earn rewards for doing so.
Now that L.L. Bean has enhanced its rewards program, the L.L. Bean Mastercard may be more attractive to customers, particularly those who spend a lot on outdoor gear and clothing. Because it has no annual fee and a number of shopping perks, it could be a good choice for those shoppers.
Beyond the rewards system detailed above, advantages for people who shop at L.L. Bean include free shipping and returns. The L.L. Bean Mastercard also offers free monogramming for cardholders, as well as access to exclusive sales and offers. After signing up for the card, you also get a 15 percent off discount, which you can use immediately to save money on your purchase.
The Downsides
Every credit card has advantages and disadvantages, and this one is no exception. One of the biggest drawbacks of the L.L. Bean Mastercard is that its rewards come in the form of money that you can only spend at L.L. Bean. Compared to other credit cards, where you could be earning travel rewards or cash back, the L.L. Bean Mastercard only allows you to earn Bean Bucks, which can only be spent on more L.L. Bean gear.
While the rewards program is generous, consumers should be aware that some merchandise is excluded from it. This includes select boats, optics, engraving, alterations, electronics; firearms; Outdoor Discovery Schools private lessons, custom adventures, adventure trips, and youth programs. Depending on how you plan to use your card, that could make the L.L. Bean Mastercard less rewarding for you.
Bottom Line
With a low annual interest rate, no annual fee, a generous rewards program, and perks like free shipping and monogramming, the L.L. Bean Mastercard could be worth considering for frequent L.L. Bean shoppers. It is an above-average store-branded credit card that offers high-quality rewards and perks for both existing and potential cardholders.
Author: Jeff Gitlen, CEPF®

Jeff Gitlen is a Certified Educator in Personal Finance® and the Director of Content Operations at LendEDU. He graduated from the Alfred Lerner College of Business and Economics at the University of Delaware. He has served multiple positions within LendEDU's editorial team since 2016, approaching LendEDU's content with the same goal: to provide consumers of all classes with the answers they need to create a better financial outlook for themselves and their families. This passion has led Jeff to cover many personal finance topics, including student loans, credit cards, and insurance. His work has been featured in major news publications, including Bloomberg, CNBC, Forbes, and MarketWatch.
Best Credit Cards by Type