Some offers mentioned on this page may be outdated. To confirm offers and credit card details, check the issuer's website.
---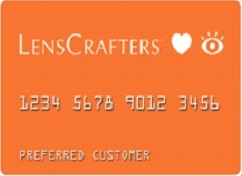 on LensCrafter's secure website
| | |
| --- | --- |
| Intro Offer | None |
| Rewards Rate | None |
| Regular APR | 29.99% |
| Annual Fee | None |
See how this card stacks up to our top rated credit cards
Card Details
Certain purchases will qualify for no interest if they are paid off within 6 or 12 months
Card are financed through Synchrony Financial
Can purchase Optional Card Security which covers your monthly payment or whole balance up to $10,000 in certain situations
Must make minimum monthly payments or interest will begin accruing
Payments can be made online, via phone, or through mail, but not in the store
APR
The APR can be different for existing cardholders than it is for new accounts
Pros
Quick application process
A good way to finance purchases of glasses without paying interest if you pay off the whole amount within the time frame
Can manage your account electronically
Cons
$2 is the minimum interest charge for the card
The APR is high if you don't pay off the balance
Not all purchases qualify for the 12-month interest-free period
Bonus Rewards
There are no bonus rewards with this card; the main advantage is the extended interest-free financing
Rewards Points
This card doesn't offer rewards points
Intro APR
Recommended Credit Score
You'll need to have decent credit to have a good shot at getting this card. Scores that are substantially under 650 will make it harder to land a credit card.
Background
If you love LensCrafters glasses and eye-related accessories, you might want to check out this credit card. It lets you buy the products you love and gives you a good financing option if you can't afford to pay your purchase off the day you make it.
Benefits of the LensCrafters Credit Card
The biggest benefit to holding this card is that you can spread out the purchase cost of your glasses over six or possibly 12 months. If you're struggling to afford the lump sum payment for a pair of glasses, that can be a huge help to you. And if you have more than one person in your household who wears glasses, it can help you tremendously to have all those months to spread the cost out over.
While you will have to make a minimum monthly payment each month you carry a balance, that can actually be a good thing, even if it doesn't feel like it sometimes. It will help you stay on target to pay off that balance at the end of the interest-free period.
Downsides of the LensCrafters Credit Card
The APR is considerably higher on this credit card than many others. Single-store retail cards, in particular, tend to have some of the highest interest rates out of all credit cards. Because of the high 29.99 percent interest rate this card carries for new accounts, it's imperative you pay off the balance before the interest-free period expires. Otherwise, there is no benefit to carrying this card because of all the interest you'll be paying.
How It Compares to Similar Cards
Other single-store credit cards charge similar rates, but bank credit cards offer lower rates. In addition, if you get a bank credit card, you could go for one that offers cash back rewards. If you use your cash back card and have the money upfront to pay for your glasses so you don't carry a balance on your purchase at LensCrafters, the money you get back would be like getting a discount on your glasses.
If you went with another typical rewards card, you could earn travel points or other incentives and enjoy a lower interest rate.
Store cards like the LensCrafters card are typically easier to qualify for when you have a lower credit score. That can come in handy if you're working on rebuilding your credit score. It's also a good option for younger people who are looking to show their creditworthiness.
One good thing about store credit cards is that they typically don't carry a high limit, which means it's harder to get into real trouble with overspending. If you have a $500 limit, for instance, it will be a lot easier to dig yourself out of your financial hole than it would be with a bank credit card that has a $5,000 limit.
Bottom Line
The Lenscrafter credit card is a decent choice for people who can't swing the full price of their glasses all at once. But you must make certain to fully pay off your card before the interest-free period is up—otherwise this card will be of no benefit to you at all because of the high APR.