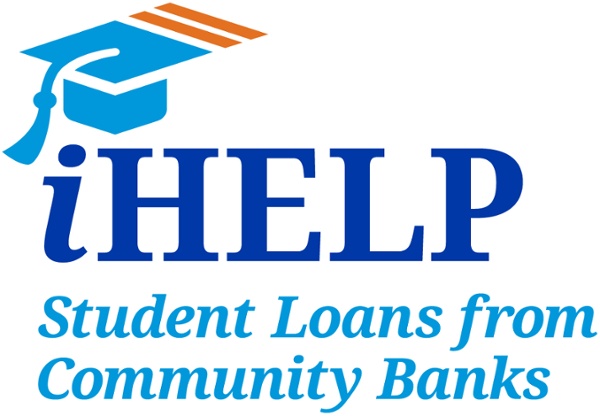 at iHelp's secure website
What we like:
No graduation requirement
| | |
| --- | --- |
| Fixed APR | 4.00% – 8.00% |
| Variable APR | 4.90% – 9.90% |
| Loan Terms | 10, 15 or 20 years |
| Loan Amounts | $10,000 to $250,000 |
See how iHELP's student loan refinancing product stacks up with other options
The Reunion Student Loan Finance Corporation, or RSLFC, operates iHelp Student Loans in partnership with the Independent Community Bankers of America (ICBA). Through iHelp, students and graduates who want to manage their debt can get a private in-school or refinanced loan through the online platform.
Reunion Student Loan Finance Corporation has been in operation for 35 years, and through its online platform, iHelp, it services private student loans from its partner network of community banks to eligible student borrowers. The ICBA represents nearly 5,000 banks of all shapes and sizes throughout the United States, across 23,000 locations.
This reach gives student loan borrowers more options when it comes to borrowing money for their education. They can also get an idea on how student loan consolidation and refinancing can impact your loan repayment outlook. Here's what you need to know if you want to refinance student loans through iHelp or get a private student loan.
How iHelp Student Loans Works
Private student loans available through iHelp and its community bank network require the following from each borrower:
Be a U.S. citizen or permanent resident
Have two to three years of positive credit history
Have an annual income of at least $24,000 for the previous two years
Be of legal age in the state of residence
If a borrower is unable to meet these requirements alone, a cosigner may be added to the application to strengthen the chance of getting approved. Cosigners must have a debt-to-income ratio of no more than 45%, as well as meet the standard credit, residency, and income requirements.
Private student loans for in-school students must be no less than $1,000, and no more than $100,000 for undergraduate students and $150,000 for graduate students. For refinanced student loans through iHelp, borrowers must take out a minimum of $10,000. Maximum loan amounts for refinanced loans are $250,000 for undergraduate and graduate students.
Borrowers – whether currently in school or already graduated – can submit an application to iHelp through its simple online process. Application details are then transmitted securely to a referral partner or participating bank network, where a decision is made for approval or denial. Although the lender offering the in-school or refinanced student loan may differ from borrower to borrower, all student loans are serviced by RSLFC.
Once a loan is approved, borrowers with an in-school loan have three options for repayment: interest-only payments, no payments, or full principal and interest payments. For refinanced student loans with iHelp, borrowers have the choice between principal and interest payments, graduated payments, or interest-only payments for a 24-month period. There are no prepayment penalties for either in-school or refinanced private student loans with iHelp.
What Are the Benefits of iHelp Student Loans?
Private student loans with iHelp come with a variety of benefits for borrowers, including a 0.30% interest rate reduction after the first 24 monthly payments are made on time. Continue to make on-time payments and the interest rate reduction remains in place.
Additionally, cosigners may be released after 24 months of on-time payments. Borrowers must be eligible to qualify for the loan on their own at that time, meaning they must meet the credit and income requirements on their own.
iHelp student loan borrowers also have deferment and forbearance options after graduation or after dropping down below part-time status in school. Loan payments may be deferred for students in school, and forbearance may be requested due to financial hardship, military service, or natural disasters.
Partial payments are also allowed for borrowers who qualify, for up to 24 months. There are no origination fees or application fees with iHelp refinance loans, and no prepayment penalties for early repayment.
What Are the Costs and Negatives of iHelp Student Loans?
Although there are many advantages to iHelp private student loans, it is important for borrowers to understand the costs
First, interest rates on iHelp student loans for in-school borrowers are variable, with no fixed rate options. For the life of the loan, the rate is based on the three-month LIBOR rate, which means the total cost of borrowing with iHelp may increase as interest rates rise. For private student loans for in-school borrowers, the lowest possible interest rate is currently 4.48% but can be as high as 9.85%.
Borrowers refinancing private student loans with iHelp can get a fixed interest rate for 10- and 15-year repayment terms. Fixed interest rates for 10-year terms range from 4.75% to 8.00%, while 15-year interest rates range from 5.50% to 9.00%. A 20-year repayment term is available but with variable interest rates. Rates for longer repayment terms range from LIBOR+2.50% to LIBOR+8.50%.
The interest rates on refinanced private student loans are slightly higher than comparable student loan options with other private lenders, meaning over the life of the loan, an iHelp borrower may pay more. However, because there are no origination or supplemental fees charged makes it more cost-effective to borrowers using iHelp for refinancing loans.
Bottom Line
Overall, iHelp has lower credit and income requirements than other private student loan lenders, and they offer different repayment terms to fit borrowers' needs. Before securing an in-school or refinance loan with iHelp, borrowers should take the time to consider the total cost of borrowing by way of the interest rate, as the current rates may be less cost-effective than what other private student loan lenders offer.
4.02
iHelp
Author: Jeff Gitlen
Jeff Gitlen writes about a wide range of finance topics including everything from student loans to credit cards to small business financing. Jeff's work has been featured on a number of sites including Bloomberg, CNBC, Forbes, Market Watch, and more.