This article was written by a former LendEDU employee.
---
Our company, LendEDU, has been an American Express customer since 2016. As our team grew, we signed up for the American Express Business Platinum Card to manage daily expenses. And as of today, all of our company's 15 full-time employees have an American Express card linked to our business account.
The process of adding a new employee card is simple and can be done online in five easy steps.
Step #1: Log In to American Express Online

Go to the AmericanExpress.com website, and enter in your business User ID and password, then click Log In.
If you are like me and also have a personal account with American Express, you must log in using the User ID associated with your business and not your personal account.
Step #2: Go to Employee Controls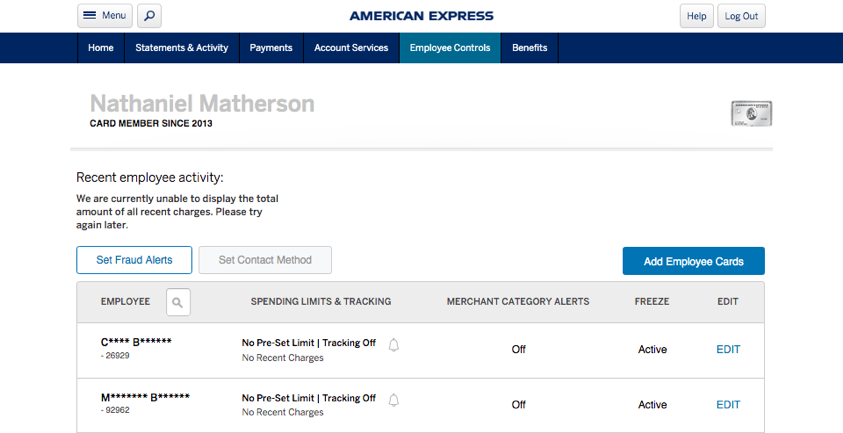 Next, click the Employee Controls option on the top menu. Once in Employee Controls you will see a list of all the employees who have been issued cards on your account. From this screen you can make changes to employee accounts, including card freezes and setting spending limits.
To add a new card, click Add Employee Cards above the table. You will be redirected to a new window.
Step #3: Picking the Employee's Card Type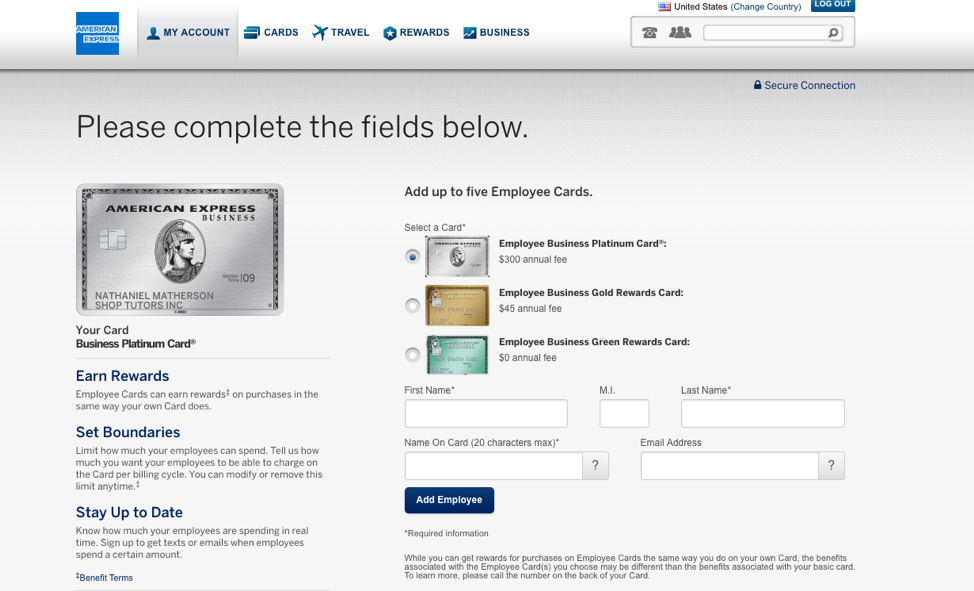 Once redirected, you will be able to choose which cards you would like to add and who you would like to provide them to.
At our company, my co-founder, Matt, and I have the Business Platinum Card. However, our other 13 employees all have the free Amex Business Green Card.
The charges on our employee's cards are fairly light, so it hasn't been worth upgrading our employee's cards to the Business Platinum Card or another Amex card, such as the Business Gold Rewards Card. As of today, here is the annual fee breakdown:

Employee Business Platinum Card: $300 annual fee per employee card
Employee Business Gold Rewards Card: $45 annual fee per employee card
Employee Business Green Rewards Card: $0 annual fee per employee card
After you've chosen the type of card you want to open for your employees, enter the employee's first name, middle initial, last name, the name as it should appear on the card, and their email address. You can add up to five employees at one time.
Finally, you must agree to the Terms & Conditions before clicking Agree & Submit Application.
Step #4: Wait for the Cards to Arrive
In our experience, it usually takes about five to seven business days for a new card to arrive. American Express will automatically ship the cards to your office address on your account. However, if you need the cards to ship to an alternative address you can ask.
At our company, a number of our employees work remotely. In the past, I've chatted with American Express representatives and requested that they mail the card to an alternative address instead of to the office.
I've had mixed success asking for alternative address mailing. In a couple of instances, I asked for a specific mailing address, received confirmation, but American Express ended up mailing the cards to our office address anyway.
Step #5: Activating the Cards
Activating the employee cards is a pretty easy process. When a card arrives in the mail it will be addressed to the employee directly. The employee can activate the card by calling the number listed on the sticker fixed to the front of the card.
After that, they can start using the card to pay for business expenses.