Headway Capital Small Business Line of Credit Review
Headway Capital is a small business lender that provides flexible lines of credit as an alternative to traditional small business loans.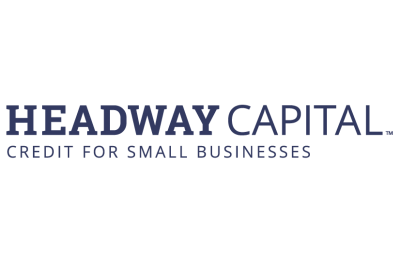 on Headway Capital's secure website
| | |
| --- | --- |
| Estimated APR | Not disclosed |
| Loan Amounts | $5,000 – $100,000 |
| Term Lengths | 12, 18, or 24 months |
| Fees | 2% draw fee depending on your state |
See how this loan stacks up against our top rated small business loans
Small businesses are the backbone of the economy, providing much-needed jobs that help boost countless communities. Being a small business owner is a dream for many people who want to be a part of something that is wholly their own. However, although 80% of small businesses make it successfully through their first year, more than half fail by the time they reach five years. The reasons behind small businesses closing their doors vary, but one of the most common is a lack of funding.
Getting the right type of financing for your small business is crucial to its long-term success. You may need funds for working capital, to cover an expansion or to purchase new equipment, or to embark on a fresh marketing campaign. Whatever your need for funds, Headway Capital, an online lender, offers small business lines of credit to eligible borrowers.
Headway Capital has not been around all that long, but its parent company, Enova, has a longstanding history in the personal and small business lending markets. Headquartered in Chicago, Headway Capital is a licensed lender that caters to business owners in need of quick flexible financing. The company currently operates in 36 states.
In this review:
Getting a Headway Capital Line of Credit
Headway Capital's main product is called True Line of Credit. The Headway Capital True Line of Credit is not a one-off loan but instead works as a flexible credit line from which business owners can draw multiple times. A business line of credit allows you to borrow only what you need, up to your credit limit, and then repay that balance over time. For some, this financing structure can be a better choice than a traditional loan because of the added flexibility.
Headway Capital's True Line of Credit is available to small business owners who live in an eligible state and who meet the following requirements:
Be in business for at least one year
Have annual revenue of at least $50,000
Which States Does Headway Capital Operate In?
Alabama
Arizona
California
Colorado
Delaware
Florida
Georgia
Idaho
Illinois
Indiana
Kansas
Kentucky
Louisiana
Maine
Maryland
Massachusetts
Minnesota
Mississippi
Missouri
Nebraska
New Hampshire
New Jersey
New Mexico
New York
North Carolina
Oklahoma
Pennsylvania
South Carolina
Tennessee
Texas
Utah
Virginia
Washington
Wisconsin
Wyoming
Fortunately, Headway Capital does not disqualify borrowers based on the industry in which the business operates, the owner's personal credit score, personal tax returns, or the lack of a business credit score. Instead, the lender looks at other factors, including business financial statements, bank statements, and other revenue-related details, to determine an applicant's qualifications.
Having these documents organized, up-to-date, and ready to share with Headway Capital will make the application process easier and faster for small businesses. This more lenient process allows more small business owners to get approved for a Headway Capital business line of credit compared to other lenders.
Basic Information: Rates, Terms, Fees, & Limits
Headway Capital business lines of credit come with certain terms of which small business owners should be aware. These basics include the following, although specific rates, terms, and loan amounts are dependent on the business owner's application details:
Rates: Not provided
Terms: 12, 18, or 24 months, paid weekly or monthly
Fees: Not provided
Limits: Vary depending on your state, but generally $5,000 to $100,000
The Benefits of Headway Capital
Working with Headway Capital to get a small business line of credit offers a handful of benefits. First, the application process is relatively easy, especially compared to more conventional banks or credit unions. Headway Capital is more lenient as far as credit history and credit score go, and the annual revenue requirement is less than some comparable online lenders. For instance, OnDeck small business lines of credit require a minimum annual revenue of $100,000, while Headway Capital is only $50,000.
Additionally, Headway Capital offers a faster turnaround time for qualified borrowers. Lines of credit can be approved quickly with funding in as little as one business day. Other lenders may take up to several business days (or even weeks) to approve and fund a business loan or line of credit. Headway Capital also allows borrowers to choose the repayment options — weekly or monthly payments — that works best for their cash flow and budget.
The Downsides of Headway Capital
Although Headway Capital does offer some advantages to certain business owners, it has downsides as well.
High APRs
First, the line of credit offered may be more expensive than a fixed business loan. This is because interest is charged each month, not each year, and that adds up quickly. Headway Capital doesn't disclose interest rates on its website.
Draw Fees
In some states, there may also be a draw fee each time funds are taken from the line of credit. Compared to a small business loan with a fixed interest rate and repayment terms, Headway Capital may cost borrowers more in the end.
Availability
Additionally, Headway Capital lines of credit are only available in certain states, unlike other online small business lenders, such as Kabbage, which operate nationwide. Where the business is located also plays a role in maximum loan amounts — in many states, credit lines are capped at $100,000. These amounts may not be enough to cover the expenses you have as a business owner, and it may be far less than what is available to you with other financial institutions.
Bottom Line: Is Headway Capital Right for Your Small Business?
Small business owners in need of fast, easy financing through a flexible line of credit may find what they are looking for with Headway Capital. The online lender specializes in offering lines of credit to business owners, even if their credit score or personal finances aren't in the best shape. However, Headway Capital does have an annual revenue requirement of $50,000, and you have to be in business for at least a year to apply.
Pay close attention to the fees associated with a Headway Capital line of credit. Be sure to calculate your cost of borrowing before signing on the dotted line, and have a good idea of the payment amounts you can afford. A flexible line of credit is a good solution for some small businesses, but other financing options may be a more cost-effective choice if you can qualify.

Melissa Horton has an MBA in Finance and has worked as a financial professional for the past 13 years, helping clients understand the often complex vehicles available for both lending and investment needs. She is passionate about financial literacy and strives to educate clients and the general public to empower them in making smart financial decisions. Her work has been featured on Investopedia, iGrad, APRFinder, and more.