Some offers mentioned on this page may be outdated. To confirm offers and credit card details, check the issuer's website.
---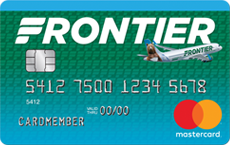 on Barclaycard's secure website
What we like:
Accountholders get a $100 flight voucher each year on their anniversary, as long as you spend at least $2,500 during the year
Intro Offer

40,000

bonus miles when you spend

$500

on purchases during the first

90 days

and after you pay the Frontier Airlines credit card annual fee

Rewards Rate

5

X miles on purchases at flyfrontier.com



3

X miles when you make restaurant purchases;



1

X miles on all other purchases

Regular APR

Intro rate of

0%

APR for

15 months

on balance transfers made within the first 45 days of opening your Frontier credit card account



18.24%

–

27.24%

APR after (variable)

Annual Fee

$79
See how this card stacks up to our top rated airline credit cards
Card Details
Pros
Annual flight voucher: A $100 flight voucher on your account anniversary more than makes up for the annual fee, offering you the chance to come out ahead.
Great rewards for the fee: Generous rewards make up for the

$79

annual fee, especially if you buy airfare through flyfrontier.com and eat at restaurants.
No limit on earning potential: You don't have to worry about caps on your earnings with the Frontier Mastercard. As long as you're using the card, you can keep racking up points.
No blackout dates: There's no worry about getting blacked out with the Frontier Airlines credit card. If you have the points, you can redeem the for travel on any Frontier flight at any time.
No foreign transaction fee: If you use your card overseas, you won't have to worry about paying a foreign transaction fee.
Cons
Miles can expire: If you don't use your card for six months, your miles can expire.
No stopover flights allowed: With the Frontier credit card, you can't use stopover flights for your rewards so you have to look for direct flights to redeem qualifying miles.
Rewards aren't flexible:You can only redeem the rewards for specific travel, making it difficult to transfer points or maximize them with other programs.
High APR: The regular APR starts fairly high, even if you have good credit, so it's important not to carry a balance.
Recommended Credit Score
Good
Frontier Mastercard: Is It a Good Airline Miles Card?
The Frontier Airlines credit card is issued by Barclays and designed for those who primarily fly on Frontier. It's ideal for those based in Denver or other cities in the Midwest. The Frontier Mastercard can also be great for students who are just starting out or those who want to pay off some of their debt since there's a 0% APR balance transfer offer.
Additionally, while the Frontier credit card isn't the most flexible when it comes to reward options, it does have some great perks for loyal users and the annual fee is slightly lower than what you see with many other airline miles cards.
In this review:
Frontier Credit Card Benefits
Even though you don't get a lot of flexibility with this card, there are some solid benefits. Each year, as long as you spend $2,500, you'll receive a $100 voucher. This more than makes up for the annual fee.
In addition, other benefits included with the Frontier Mastercard include:
A free FICOcredit score
Zone 2priority boarding
No foreign transaction fees
Ability to earn Elite status through spending
As long as you're loyal to Frontier Airlines, you can reap benefits that can make the fee worth paying each year.
Sign-Up Bonus
With the sign-up bonus, you get 40,000 bonus miles when you spend $500 in the first three months and you pay the card's annual fee. This is a fairly generous signing bonus compared with other card offers — especially when you consider many airline credit cards require you to spend up to $3,000 in the first 90 days of account opening for bonuses that are only a little bit bigger.
With Frontier Airlines, that 40,000 could conceivably offer you two round-trip flights in the United States depending where you're going and the fare class.
Frontier Rewards
There are three rewards tiers with the Frontier Airlines credit card. You can earn
Five

times the miles when you make purchases at flyfrontier.com

Three

times the miles at qualifying restaurants

One

mile for other qualifying purchases
The best way to boost your earnings is to use your Frontier credit card to buy airfare and other travel items through flyfrontier.com. Then, use the card when you eat out at restaurants to get the next highest bonus.
Redeem your rewards by going to your Frontier credit card login and making sure you're signed into your myFRONTIER account before shopping. If you search using miles when booking your flight, you'll have the option to pay with your miles.
Travel Benefits
Annual Flight Voucher:You're awarded a voucher worth $100 towards a flight when you spend $2,500 on your Frontier credit card in a year.
Priority Boarding: All Frontier Mastercard holders get to board in Zone 2.
Family Pooling:You can identify up to eight people you want to pool your miles with. Combining miles makes it easier to earn and redeem rewards.
No foreign transaction fees:You don't have to worry about getting charged an extra foreign transaction fee for overseas purchases.
Downsides of the Frontier Airlines World Mastercard
Even though there are some benefits to the Frontier credit card, you have to weigh them against the drawbacks. Make sure to understand the pros and cons before you decide if this card is right for you.
First of all, there card charges a high APR, even though you do get a 0% APR on balance transfers for 15 billing cycles. Your purchase APR is going to be higher than with many competitor cards, even if you have good credit.
Additionally, the rewards program is inflexible, basically only allowing you to redeem points for Frontier Airlines flights. You can't transfer miles very easily and if you don't use your Frontier Airlines credit card for six months, they'll expire and you'll lose them. Finally, you can't book stopover flights with miles, so you'll need to find direct flights when you redeem your points
How it Compares to Similar Cards
For the most part, the Frontier Mastercard offers good rewards for the price — as long as you're loyal to Frontier Airlines. The spending threshold to earn your sign-up bonus is lower than most other airline rewards cards while still offering almost as many points. Additionally, when compared with other cards that charge fees, the Frontier credit card has a slightly lower cost while offering an annual voucher that many other cards don't provide. And, there's no award redemption fee when you claim an award ticket.
Bottom Line
For the most part, the Frontier Airlines credit card is best for those who know they will primarily remain loyal to the airline. For those who choose Frontier more often than not, the perks and rewards can be well worth the annual fee. However, if you're looking for more flexible rewards, it's probably best to look elsewhere.