Some offers mentioned on this page may be outdated. To confirm offers and credit card details, check the issuer's website.
---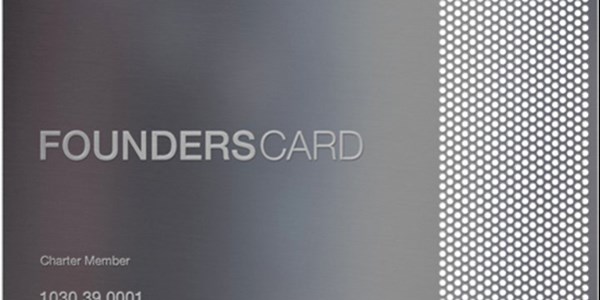 on FoundersCard's secure website
What we like:
Valuable travel rewards and business discounts
| | |
| --- | --- |
| Intro Offer | N/A |
| Rewards Rate | No rewards, but upgrades and discounts on things like airfare, rental cars, lifestyle purchases, and business discounts, such as automatic upgrades on plane tickets and discounts like up to 50% off Dell computers |
| Regular APR | N/A |
| Annual Fee | $595 |
See how this card stacks up to our top rated rewards credit cards
Card Details
Exclusive invites to cocktail parties and networking events.
Discounts at dozens of car rental companies, hotel chains, and airlines.
Reduced price for business expenses, such as UPS, computer hardware, office furniture, co-working spaces, and many other benefits.
Cons
No rewards points, only discounts.
No sign-up bonus.
High annual fee and an initiation fee of

$95

.
It is neither a credit card nor a charge card. You cannot process transactions through the card.
Recommended Credit Score:
All may apply
The Founderscard: What it Is and What it's Worth
Many people are mistaken when they assume the Founderscard is an exclusive credit card. In fact, the founderscard isn't a credit card at all. It's simply a membership card that provides access to an exclusive club of entrepreneurs and CEOs who love to travel and talk business.

The card comes with a hefty annual fee, but it also offers some serious discounts that could save you hundreds or even thousands of dollars on qualifying business expenses.
In this review:
Founderscard Benefits
You'll get access to a number of attractive benefits such as status upgrades and exclusive discounts when you carry this card in your wallet.
Hotel Benefits
The Founderscard provides automatic access to certain hotel loyalty programs that give you a number of different perks. These include Marriott/Starwood, Hilton, Kimpton, Park Hyatt, The Standard, the Mandarin Oriental, Omni Hotel and Resorts, and many more.
You'll get perks like free Wi-Fi, free breakfast, room upgrades, and other discounts on resort fees. Depending on the hotel, that could include 10% to 25% off rates or a dining discount.
Lifestyle Perks
Founderscard members also get discounts on lifestyle brands. For example, you'll get discounts if you buy an Audi and up to $10,000 off when you buy a BMW.
Love designer clothes? You'll get 20% off at John Varvatos, a $100 credit at Trunk Club, and discounts at Adidas, Reebok, Todd Snyder, Cole Haan, Rent The Runway, Reebok, Indochino, Joanathan Adler, and many more clothing brands.
You'll also get 20% off at 1-800-Flowers, and 15% off Bang and Olufsen headphones and speakers.
For those who like to hit the gym, you'll get discounts or credits at high-end gyms like Peloton, Equinox, SoulCycle, Bliss Spa, Crunch, and CorePower Yoga.
Travel Benefits
There are a number of great travel benefits that are offered to Foundersclub cardholders. These include things like 10% off all British Airways flights between the US or Canada and the United Kingdom, access to the Blue Inc. booking portal on Jetblue airlines, or 2% to 25% off Cathay Pacific flight as well as Silver elite status for one year, which gives you benefits like priority check-in and access to business class lounges.
You'll also get benefits on American Airlines, which could include things like extra frequent flyer miles or complimentary Platinum status for three months. You'll get 10% to 20% off of Qantas flights, 5% to 10% off of certain Emirates flights, and 5% off of some Singapore Airlines flights.
Finally, you'll receive a free three-month trial membership to JetSmarter, a service that allows you to find seats on private or chartered flights for cheaper than you might normally pay for a private flight.

Business Benefits

A number of companies offer you benefits and discounts that could help your business. For example, you can get 15% off of data and voice plans with AT&T Wireless, up to 50% off of Dell Computers, up to 47% off at UPS, a free year with Phone.com virtual office, 20% off at LegalZoom, loyalty prices from Apple, 40% off of Lenovo computers, 20% off business cards from MOO, and 25% off classes at General Assembly. There are also a number of other great benefits and discounts available.
Access to Events
One of the best benefits of Founderscard is its exclusive network and access to events that the company puts on that allow you to meet other members. These events can be cocktail parties, or meet-and-greets hosted in major cities. For example, they have an event at Austin, Texas every year when many of their members meet at the SXSW festival.
Downsides of the Founderscard
Although the Founderscard offers so many great discounts, perks, and networking opportunities, it does come with some downsides.
First, it isn't even a credit card. You cannot use it to pay for expenses, only to access discounts. For that reason, there is also no rewards structure—which is something most cards with such high annual fees offer.
Another thing to consider before getting the card is the high annual fee. In order to justify that fee, you'll have to frequently take advantage of the discounts available through the card. If you have a lot of qualifying travel or equipment purchases in your near future, it may be worth it, but if you're not sure how you'll benefit in the next few months, you might want to wait.
The final downside is that you might not be able to conveniently access the Founderscard membership networking events if you don't live in a major city, such as New York, Los Angeles, or San Francisco.
Founderscard Cost and Discounts
While the Founderscard offers some great benefits, it does so at a high cost. Typically, you have to pay $595 and a $95 initiation fee. However, the company occasionally offers discounts that allow you to get in for $395 and have your initiation fee waived.
How it Compares to Similar Cards
When it comes to perks and benefits, the Founderscard packs a lot of punch. You'll be hard-pressed to find another high-end card that offers as broad a range of discounts. However, the best credit cards do offer significant perks and discounts on qualifying brands in addition to their own rewards program, so whether the high annual fee on the Founderscard is worthwhile will depend on how many similar benefits you could get from an actual credit card.
Founderscard vs Amex Platinum
The Amex Platinum Card has a similar high annual fee of $550, but there are more immediate benefits offered. You get 60,000 Membership Rewards Points after you spend just $5,000 in the first 3 months. You also get 5 points per $1 when you book flights directly with airlines or with American Express or when you book prepaid hotels with at amextravel.com.
You also get a $200 airline credit, up to $200 in annual Uber credits, Global Entry or TSA PreCheck credits, and so many other perks, such as lounge access. Finally, the Amex Platinum is a charge card. This means you can't carry a balance from month to month, but you can use it to process transactions similar to a credit card.
Founderscard vs Select Card
The Select Card is a private membership card similar to Founderscard. You can't use it to process transactions, but it does give you perks on travel, restaurants, nightlife and retailers. Like the Founderscard, the Select Card also has private events including cocktail hours and galas.
Select has 600,000 partner locations including hotel partners like Hyatt Hotels, Intercontinental, St. Regis, Four Seasons, and Hilton. Their travel partners include Royal Caribbean, Hawaiian Airlines, Avis, Hertz, and others. They also have retail partners like Audi, Lexus, Brooks Brothers, Tommy Bahama, Bliss Spa, Sushi Roku and Capital Grille.
This card might offer better total rewards depending on what brands you use most. As it's not directed at business owners, there are more lifestyle perks with this card.
Bottom Line: is the Founderscard Right for You?
The Founderscard is only worth getting if you see yourself using the participating hotel brands and airlines in the coming year or buying high-priced merchandise that qualifies for a discount through the card. If you will be using those benefits, the card can easily make up for its high fee. However, it is not a credit card and you cannot earn rewards, so other credit cards might be a better fit for you.