Figure has paused accepting new applications. For other options, check out our picks for the best personal loans.
A quick application with funding in as little as two days
Rates (APR):

5.99%

–

15%

Loan amounts:

$5,000

–

$50,000

Repayment terms:

36 to 60 months

Fees:

0% – 5%

origination fee
Figure is a financial services provider that offers mortgage refinancing, home equity lines of credit (HELOCs), and personal loans. Its personal loan offering comes with flexible term options, fixed rates, and funding that can be completed in as little as two business days. It's a great option if you need quick cash and have a decent credit score.
Are you considering a personal loan? Here's what you need to know about Figure's offering.
In this review:
Figure personal loan details
Figure's personal loans are generally reserved for consumers with decent credit and a low level of debt. You'll need at least a 680 credit score to qualify and a total debt-to-income ratio (DTI) of less than 40%.
The DTI requirement means that your monthly debt payments and expected personal loan payment can't account for more than 39% of your monthly income.
Additionally, borrowers will need to have a valid U.S. issued ID and $1,000 in free cash flow for a 36-month term and $1,500 in free cash flow for a 60-month term.
Figure personal loan
Rates (APR)

5.99%

–

15%

Discounts

0.25%

autopay discount
Loan amounts

$5,000

–

$50,000

Repayment terms

36 or 60 months

Fees

0% – 5%

origination fee
Funding time
As few as two days
Application
All online; approval within minutes
Prequalification
Prequalify without any impact on your credit
View rates
Pros and cons
Figure personal loans offer a lot of perks. The application process is quick and easy, but there are several states where borrowers aren't eligible. Check out some highlights below.
Easy, quick online application
Approval can be received within minutes
Funding in as few as two days
Interest rate discount for autopay
Cons
Not available in Illinois, Maryland, Mississippi, Oklahoma, Pennsylvania, and U.S. territories
An origination fee of

0% – 5%

The minimum loan amount is relatively high
How customers rate Figure
According to Trustpilot, Figure has been reviewed by over 1,000 customers and has an excellent score of 4.7 out of 5 as of January 15, 2021.
Am I eligible for a Figure personal loan?
The first step is to make sure you live in an eligible state. Figure personal loans are not available in Illinois, Maryland, Mississippi, Oklahoma, Pennsylvania, or any of U.S territories (Puerto Rico, Virginia Islands, etc.)
Beyond that, you'll need to have a 680 credit score or higher and at least $1,000 in cash reserves (for a 36-month loan) or $1,500 (for a 60-month loan).
Also, your payment must account for less than 20% of your monthly income. Your total debts — including your new payment, as well as other existing debts you have (student loans, car loans, mortgage, etc.) must be under 40%.
Here's an example of that: Say you bring in $4,000 in monthly income. You have a student loan payment of $300 and a car loan payment of $400 due monthly. Your new personal loan payment will cost around $600 a month. These debt payments equal $1,300 each month — approximately 32% of your $4,000 income. In this scenario, you'd meet the DTI requirement to be approved for a Figure personal loan.
How to apply for the Figure personal loan
To apply for a Figure personal loan, you'll need to fill out a quick online application. It requires details about your living arrangement, your requested loan amount and purpose, your income, and more. To get started, you can click here.
Once on Figure's website, click the "find your rate" button to begin the pre-qualification process. This process won't impact your credit score.
The beginning of the application asks for some personal information and looks like this: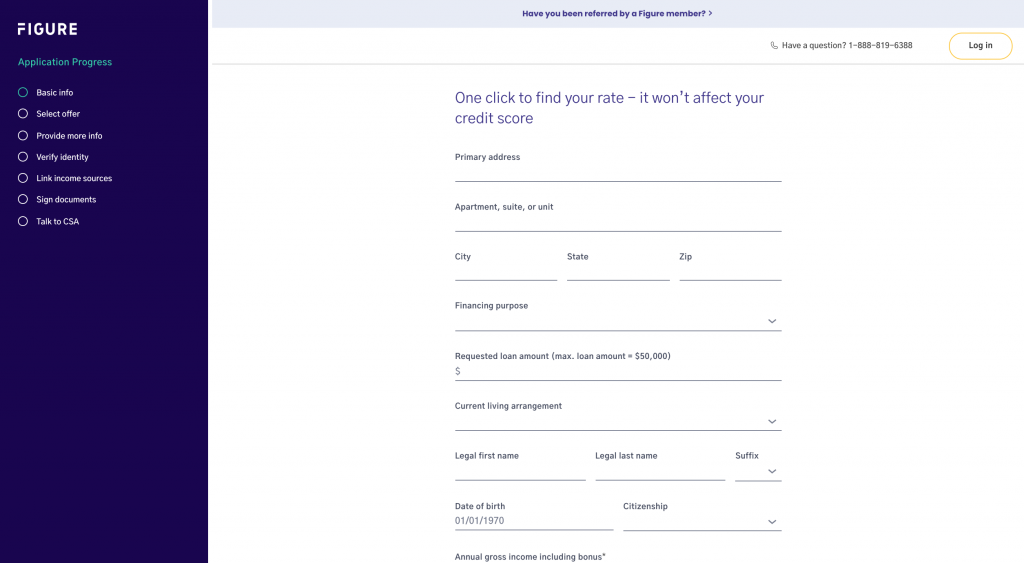 As you continue through the application, you can monitor your progress from the left sidebar and fully understand what's to come from the start. Following the first page, you can expect to:
Select and customize the prequalified loan offer you'd like to proceed with.
Provide additional documentation and verify your identity.
Upload and link your income sources, including paystubs, tax returns, etc.
Sign your loan documents and finalize your loan.
The whole process should take no more than a few minutes — especially if you have your financial details on hand and ready before starting.
Where to find Figure alternatives
Figure offers fast-funding personal loans with low interest rates and flexible terms. They're not the only option, though. If you need a personal loan, make sure to shop around and compare lenders before moving forward. Rates and terms can vary widely, and comparing your options can ensure you get the most affordable loan possible.
To get started comparing several top companies, check out our picks for the best personal loans.
---
Ready to see personalized rates with Figure? Check out its website.
Loan Amounts
$5,000 – $50,000
Repayment Terms
36 or 60 months