FAFSA: Step One with Student Loans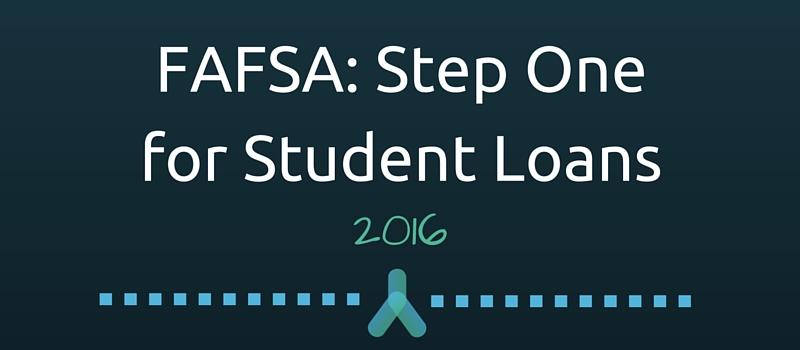 If you are part of the vast majority of students who needs financial assistance in order to be able to afford your college education, then you are already familiar with how many applications and forms you have to fill out. While some of these may seem long and daunting, they all have their purpose and benefits. One of the forms with the potential to have the biggest benefits is the Free Application for Federal Student Aid, or FAFSA.
The FAFSA is a an application that is required to complete before you can qualify for federal aid. By filling this form out, you have the potential to be eligible for thousands of dollars of financial assistance, and everyone who is attending college should fill out this free application. Some people think that they may not qualify for federal aid as their parents make too much money or they are too old for financial assistance, but you won't know until you try, and ultimately you have nothing to lose!
Before you begin filling out the FAFSA, there is some important information about it that is vital to know, especially the deadlines in which to apply. For the 2016-2017 academic year, you have been able to apply for the FAFSA since January 1, 2016 up until June 30, 2017. For the 2027-2018 academic year, the FAFSA will be open from October 1, 2016 until June 30, 2018. While this may seem like you have a lot of time, there are a few different federal programs that have a limited amount of funds to distribute, so it is beneficial to fill out the form as soon as you know what year you will be attending school.
There are also state FAFSAs and even individual college FAFSAs and they have their own individual deadlines in which they must be submitted. In order to find information about your specific state and their deadlines, you can head over to the FAFSA website. If you are interested in finding deadlines for a certain college or university, you should check out their website or contact their financial aid department. Most schools require paperwork to be filed early in the new year, such as February or March, but it is always best to check with the financial office to be sure.
It is important to note that you must fill out the FAFSA each year in order to stay eligible for federal direct loans, grants, and scholarships. That being said, there are a variety of ways in which you can file your paperwork, depending on what is most convenient for you. The quickest way to file your application is online. You will save time by not having to print and fill out paper documents and will be able to submit right away, without waiting for the mail. If you are unable to submit your paperwork online, you can download a PDF version of the FAFSA from their official website and then fill it out and send it. You can also contact your school's financial aid department and see if they would let you file it there.
While the idea of filling out the FAFSA might seem intimidating, there are definitely some ways you can prepare ahead of time to ensure it is an easy and painless process. The first thing you can do in order to be ready for the application is to obtain an FSA ID. The FSA ID is a username and password that you are required to have in order to sign your FAFSA electronically. You do have the option of getting this ID as you fill out your application, but it is easier if you already have it beforehand. You can find more information about this, or create your FSA ID.
The next way to make filling out the FAFSA a straightforward process is to have all necessary documents available and ready. Depending on your financial situation, you may not need all of the following documentation, but it will be beneficial to collect it just in case. Some of the documents you might need as you fill out your application are:
Your social security number
​Your parents' social security numbers (if you are a dependent)
​Your driver's license number
​Your federal tax information (or your parents' if you are a dependent)
​Records of your untaxed income
Information on cash, savings, and checking accounts as well as any money in investments, bonds, and real estate (or your parents' if you are a dependent)
Again, you might need all of these or you might just need some of the documents, but it is much easier to have all of the information ready ahead of time before you begin.
Another thing to keep in mind when you are filling out the FAFSA is that you must list colleges on the form that you wish to receive your information. While it is required that you must at least provide one college, it is beneficial to list any college or university that you are even slightly considering. You can list up to ten different institutions on the online application and four on the paper application. They will not be able to see what other schools, if any, you sent your information to on your FAFSA.
Lastly, be aware that you do not need to make a payment in order to submit the FAFSA; it's free! If you find that a site is asking you for money, you are not on the official FAFSA website. The application is a government program, so it comes from a government website, .gov.
While the FAFSA can seem like a big and intimidating application, it is extremely beneficial and can provide you thousands of dollars each school year to assist with college tuition. By taking the time to gather all of the necessary materials and fill out the FAFSA, you will be getting yourself one step closer to being able to afford tuition while obtaining your college degree.
Copyright 2016
Author: Jeff Gitlen
Jeff Gitlen writes about a wide range of finance topics including everything from student loans to credit cards to small business financing. Jeff's work has been featured on a number of sites including Bloomberg, CNBC, Forbes, Market Watch, and more.