Some offers mentioned on this page may be outdated. To confirm offers and credit card details, check the issuer's website.
---
This offer is expired and is no longer valid.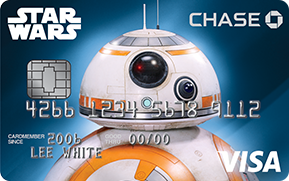 on Chase's secure website
What we like:
2% back in rewards dollars for purchases in multiple spending categories
Intro Offer

$250

statement credit after spending

$500

on purchases within the first

three months

of account opening

Rewards Rate

2

% back in Disney Reward dollars on purchases at most Disney locations, as well as at gas stations, restaurants, and grocery stores



1

% back on all other purchases.

Regular APR

0%

intro APR on select Disney vacation packages for six months from the date of purchase

Variable APR of

18.24%

after that, and on all other purchases

Annual Fee

$49
See how this card stacks up to our top rated rewards credit cards
Card Summary
Pros
Cardholders can finance a Disney vacation package for

six months

from the time of purchase at

0%

APR. This means you can go on vacation now and pay off your trip over time without incurring interest.
Disney Premier Visa cardholders will save 10% on select Disney and Star Wars purchases made both at the Disney store and at shopDisney.com. Cardholders also benefit from 10% off qualifying merchandise purchases of at least $50 that are made at select locations at Walt Disney World and Disneyland Resorts.
The signup bonus is easy to earn and bonus rewards can be earned for a variety of purchases — not just purchases at Disney parks alone.
Special character experiences are available only to cardmembers, including exclusive photo opportunities with Disney or Star Wars characters. These photo sessions are held in private locations at both Disneyland and Walt Disney World resorts.
Cons
There's no 0% promotional APR for most purchases, so you'll have to start paying interest right away if you don't pay off your statement balance — unless you charge only a qualifying Disney vacation package.
There's a

3%

foreign transaction fee if your card is used for purchases outside of the United States.
The card charges a

$49

annual fee. While not as expensive as many travel cards, the fee may be considered too high for card members who won't benefit from the Disney-specific perks.
Recommended Credit Score
Good
Disney Credit Card Review: Is it the Best Card for the Happiest Place on Earth?
Disney's parks and resorts are a favorite destination for many families, but the costs of a Disney trip can really add up. You probably want to maximize your credit card rewards if you're planning on a family vacation to any Disney theme park, and a Disney credit card may seem like a good way to do that — but is a Disney rewards card worth it?
Disney actually offers two rewards credit cards, but the Disney Premier Visa is the only one of the two that offers a reasonable rewards program. But even though you can earn bonus points for several different categories of spending, rewards redemption options are a bit limited with the Disney Premier Visa. So, even if you're about to head to Disneyland so your family can enjoy some fun with Mickey and Minnie, you may find that another rewards credit card is best for you.
In this review:
Benefits of the Disney Credit Card
The Disney Premier Visa offers some undeniable perks, including the chance to earn bonus rewards on gas, groceries, and select dining locations, as well as Disney spending. An easy-to-earn signup bonus is also among the benefits of this card.
Sign-Up Bonus
New cardholders who sign up for the Disney Premier Visa can get a $250 statement credit after spending $500 within three months of opening the account. However, you're eligible for the bonus only if you haven't already received a new cardmember bonus for the same card in the past two years.
Chase Disney Rewards
Chase makes it easy to earn rewards with your Disney Premier Visa. You can get 2% back in rewards points when you spend at most Disney locations, gas stations, restaurants, and grocery stores. For all other purchases, you get 1% back. The problem is, redemption isn't as flexible with this card as with most travel cards.
Points can be redeemed for almost all Disney and Star Wars purchases at most Disney locations. This includes resort stays, shopping, theme park tickets, resort dining, and more.
Points can also be redeemed for a statement credit when you purchase airline tickets using your card. Redemptions start at $50 for an airline statement credit when you purchase tickets to any destination. However, you can't use your points as miles to directly buy tickets, nor can you redeem points to help cover other travel costs, such as the cost of an overnight stay at a hotel that's not affiliated with Disney.
Other Perks of the Disney Premier Visa
The card does offer a few other benefits for cardmembers as well, including exclusive photo opportunities with Disney and Star Wars characters in private areas of Disney resorts. You also get:
10% savings on shopping for Disney and Star Wars merchandise online at shopDisney.com or at the Disney store, and 10% off select merchandise purchases of at least $50 at participating resort locations.
Chase Purchase protection, which covers you for up to 120 days if your purchases are damaged. You can get reimbursed up to $500 per claim with a maximum reimbursement of $50,000 per account.
Extended warranty protection, which extends eligible manufacturer warranties for one additional year on qualifying products.
Baggage delay insurance, which provides you with up to $100 per day in reimbursement for costs associated with baggage delays of six hours or more.
Downsides of the Disney Visa Card
Although there are plenty of benefits to consider with the Disney Premier Visa, you also need to be aware of some downsides to the card. These include:
Limitations on how points can be redeemed. Other travel cards allow you to redeem for hotel trips or travel costs outside of airfares or Disney purchases. The Disney Premier Visa doesn't permit this.
A

3

% foreign transaction fee. Many other travel-focused cards don't charge you a fee just for charging items in foreign currencies or making purchases outside of the United States.
A

$49

annual fee. Some cardholders — especially those who don't often visit Disney or shop with Disney — will not find this fee worth it since there aren't very many cardholder perks not related to Disney specifically.
How it Compares to Similar Cards
The Disney Premier Visa offers some solid benefits for Disney fanatics and families planning an upcoming trip. However, due to the limitations of the card, most people would be better off choosing either a travel credit card or cash back credit card with more flexible reward options.
Disney Premier Visa Card vs Capital One Venture
With a $95 annual fee, the Capital One Venture card is more expensive than the Disney credit card – although the fee is waived the first year. However, it offers a more generous 50,000 bonus mile signup bonus worth more than the $250 that Disney provides to new cardmembers. You do have to spend significantly more — $3,000 — to earn the bonus.
The Venture card provides double miles per dollar on every purchase every day, not just double points for Disney, gas stations, restaurants, and groceries as the Disney card does. And it provides 10 times the miles on hotel stays through January 2020 at thousands of participating hotels, which makes it a way better deal if you're a frequent hotel guest.
Rewards redemption is also much more flexible with the Venture card, and you pay no foreign transaction fees. But you don't get that special 0% promotional APR on Disney vacations, which could help you make paying off your trip over time more affordable.
Bottom Line: The Disney Rewards Card is an OK Option for Frequent Disney Customers
If you visit or shop with Disney regularly and you'll take advantage of special perks, such as savings on Disney merchandise or exclusive photos with Disney or Star Wars characters, this card may be worth it. But the annual fee and limits on rewards redemption mean that other cards may be a better fit if you tend to travel to other places besides just visiting Disney.
>> Read More: Popular store credit cards