Discover It Secured Credit Card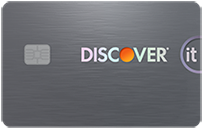 on Discover's secure website
Discover It Secured Credit Card
Intro Offer
None
Rewards Rate
2% cash back at gas stations and restaurants up to $1,000 in combined purchases each quarter

1% cash back unlimited on all other purchases
Regular APR
11.49% – 23.49%
Annual Fee
$0
See how this card stacks up to our top rated secured credit cards
Based primarily in the United states, Discover Card offers a variety of different financial services to consumers. They are most well known for their credit cards, but Discover Bank also offers certain banking solutions for consumers as well.
If you are looking to get a new credit card, you probably have heard of Discover. Discover not only has excellent cards for people with great credit, but they also have the Discover It Secured Credit card for those with less than perfect credit to help them rebuild or establish fair or good credit.
Required Security Deposit
For this card, you will have to make a minimum of a $200 security deposit. The max deposit, and credit limit, for this card is $2,500.
Benefits and Rewards
One of the biggest benefits of the Discover it Secured Credit card is the fact that it helps you to build your credit. Unlike prepaid credit cards and debit cards, this secured credit card reports your payments to the three credit bureaus. That means that you can either rebuild or establish your credit with ease, as long as you pay on time. After a year, they will monitor your account each month to see if you are eligible for a non-secured credit card. You can even monitor your FICO credit score on your bill each month, or pull it up online.
Aside from building your credit, you can also earn cash back. With each purchase you make with the card, you will get 1% cash back, and if you shop at gas stations or restaurants, you will get 2% cash back for the first $1000 in purchases every quarter. During your first year, you can earn even more. Discover It will match your cash back earnings at the end of the first calendar year.
Along with great rewards, there are other perks that come along with being a Discover It Secured Credit card cardholder. First, you get the ability to freeze your account using an on/off switch on their mobile app. We have all seen this in the commercials. It really is as easy as tapping a button. That means if you leave your card somewhere, you don't have to worry about someone using it.
The card also comes with zero fraud liability, meaning you never have to pay for fraudulent charges. This is so very important in this day, where more and more people are becoming the victim of credit card fraud.
Rates and Fees
Rates
Min APR: 11.49%
Max APR: 23.49%
Balance Transfer: 3.00%
Cash Advance: 25.24%
Fees
Annual: $0
Late Payment: $37
Balance Transfer: $0
Cash Advance: 5% or $10
The Discover It Secured Credit Card definitely has its fair share of perks, so let's see how it measures up in the rates and fees category. First, let's see about the interest rates on purchases and other transactions. The annual percentage rate for purchases ranges from 11.49% to 23.49%. For balance transfers, there is an introductory APR of 10.99% for the first six months from the date of the transaction as long as it goes through before January 10, 2017. This will go up to the 23.24% rate after the introductory period. Cash advances carry a slightly higher APR, at 25.24% (variable). There is no penalty APR though.
Unlike many of the secured credit cards on the market, the Discover It Secured Credit Card doesn't have an annual maintenance fee. There are some transaction fees though. For instance, if you make a balance transfer, you will be charged a fee of 3% of the total amount. For cash advances, it is 5%, or $10, whichever is more.
While they won't hit you with a penalty APR with late payments or returned payments, there are penalty fees associated. Your first late payment has no consequences, but after that it may be up to $37 for each late payment. Returned payments, however, don't have that grace period. You will be charged a penalty fee of up to $37 when you have a returned check or another form of returned payment.
Final Thoughts
If you are looking for a card that offers flexibility and the ability to rebuild your credit, then the Discover It Secured Credit card may be a great option for you. Unlike many other secured cards, this one doesn't have the annual fee associated with it, making it more attractive than most.
They also give you the ability to earn cash back like the unsecured rewards card. This is all in all a great choice for those that have less than perfect credit scores, or even no credit at all. Just remember, you have to be wise with your card and make timely payments if you want it to positively impact your credit. If you have late payments, it may make your credit worse.
Not satisfied? Check out some of the best Discover credit cards that we have reviewed.
4.28
Discover It Secured Credit Card
Author: Jeff Gitlen
Jeff Gitlen writes about a wide range of finance topics including everything from student loans to credit cards to small business financing. Jeff's work has been featured on a number of sites including Bloomberg, CNBC, Forbes, Market Watch, and more.
Best Credit Cards by Type