Discover It for Students Credit Card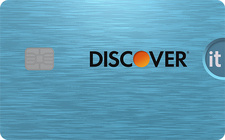 on Discover's secure website
Discover It for Students Credit Card
What we like:
Earn more with all cash back matched in first year
Intro Offer
Earn 100% of cash back earned from purchases in your first year at the end of the year
Rewards Rate
5% cash back on rotating categories, including gas, grocery stores, restaurants, Amazon.com

1% unlimited cash back on all other purchases
Regular APR
15.24% – 24.24%
Annual Fee
$0
See how this card stacks up to our top rated student credit cards
One of the major obstacles each college-aged adult needs to conquer is obtaining a good (hopefully excellent) credit score; reaching this goal serves as one of the building blocks for completing the full transition towards independence and adulthood. In light of this major hurdle, many college adults work through school making the mistake of neglecting their credit score under the guise of difficulty or bad timing.
In order to combat this problem, Discover Financial Services has concocted an enticing offer geared towards college students that will aid them in their endeavor towards a feasible credit score; this concoction comes in the form of the Discover it® for Students credit card. Because of its attractive rates, benefits, and special offers, this card is one of our best student credit cards.
Benefits and Rewards
Since this cash back credit card is designed to entice college aged cardholders, there are a variety of cash back rewards associated with the Discover it® for Students card. The baseline cash back rate is 1% back on all purchases; additionally, cash back does not expire making this reward redeemable at any time for cardholders. There is a boost in the cash back rate for certain products (some examples include gas, groceries, or maybe utilities) during quarterly intervals (4 different categories a year); for instance, cardholders may earn 5% cash back on purchases that fall into these designated categories.
On top of these rates, Discover doubles the total cash back reward at the end of the first year of membership, so the introductory baseline cash back rate can be said to be 2% while the quarterly category cash back rate is 10% for the first year with the card. One extra benefit offered by the card involves a $20 bonus for achieving exemplary grades (must maintain a GPA of 3.0 or greater) which is awarded for every school year up to a maximum of five times.
There are multiple customer service benefits and useful tools that provide convenience for maintaining credit scores and funds. One of the most prominent tools is the FICO credit score tracking system that accompanies the card. A simple FICO report is included with each monthly statement, so college students can keep track of their credit score in the pursuit of improvement.
Another useful tool is the Freeze ItSM switch which is an anti fraud or theft system. Cardholders may access Freeze ItSM via mobile device or online website, and they can freeze the associated account stopping any continuation of illegal use of the stolen or misplaced card. This tool is accompanied by Discover's Fraud Liability Guarantee which ensures that fraud will not rob any unsuspecting or vulnerable cardholder. To supplement these guarantees, card membership is accompanied with 24/7 customer service and free overnight card replacement.
Rates and Fees
Rates
Min APR: 13.99%
Max APR: 22.99%
Balance Transfer: 13.24% – 22.24%
Cash Advance: 25.99%
Fees
Annual:
Late Payment:
Balance Transfer:
Foreign Transaction:
There is no annual fee for the Discover it® for Students card. The lack of annual fee is complemented with no overlimit fee or foreign transaction fee, and the late fee on the first missed payment is waived off. There is a cash advance fee of either $10 or 5% (whichever value is higher is used), and balance transfer fees run at a rate of 3%. The introductory annual percentage rate (APR) is 0% on purchases for the first six months; afterwards, the APR jumps to 13.99% – 22.99% on purchases. The introductory APR for balance transfers starts at 10.99% for the first six months then increases to 13.24% – 22.24%, and finally, there is a variable cash advance APR of 25.99%.
Final Thoughts
The Discover it® for Students credit card offers quite a bit to students who are in need of developing good credit scores during the college experience. The useful cash back benefits, specifically geared toward college aged individuals, entice the designated customer base into obtaining a card, and these rewards can be used in many different potentially beneficial ways whether on groceries or a spring break trip.
In addition to cash rewards, the Discover it® for Students package provides multiple easy ways for college students to maintain and build good credit; therefore, this card provides a plausible avenue towards the credit score of a responsible graduate.
Not satisfied? Check out some of the best Discover credit cards that we have reviewed.
4.69
Discover It for Students Credit Card
Author: Jeff Gitlen
Jeff Gitlen writes about a wide range of finance topics including everything from student loans to credit cards to small business financing. Jeff's work has been featured on a number of sites including Bloomberg, CNBC, Forbes, Market Watch, and more.
Best Credit Cards by Type