Refinance vs. Consolidation: Student Loan Differences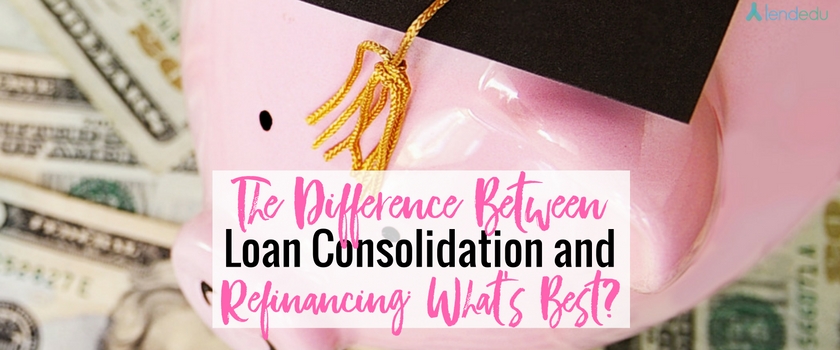 As the cost of tuition increases, the number of people taking out student loans in order to be able to afford college continues to grow, as well. After you have finally completed your diploma and hopefully found the job of your dreams, the loan repayments quickly come speeding back.
As you pay these monthly fees, you might find that the payments are unmanageable or that your interest rates are a lot higher than you originally thought. You might compare your options and find that refinancing or consolidating your loans is the best route for you to take. That is where you stop; what should you do? Before you can make a decision, it is important to understand the difference between refinancing and consolidating in order to be able to best compare them.
What Are the Differences Between Student Loan Consolidation and Refinancing
Consolidation of loans is the process in which you combine multiple loans you may have into one new loan. The purpose of consolidating loans is to centralize your loan payments into one bill, which as a result, can lower your monthly payments. It can also give you more time to repay your student loans, sometimes spreading them out for 30 more years. You might even have access to exclusive repayments plans you didn't have before or be able to switch and lower your interest rate.
Before you run off to the nearest lender to consolidate your current student loans, there are some things you need to be aware of when looking at this option. While increasing the length of your loan period can significantly reduce the monthly payments, it will also spread out the principal balance and increase the amount of interest you pay over the life of the loan. You may end up paying less each month, but you will ultimately end up paying much more over the total repayment period.
Another thing to keep in mind when looking at student loan consolidation is that you may lose some of the benefits you received with your original loans. Things such as interest rate discounts or principal rebates could be cancelled as you are taking out a new loan when you combine them. These borrower benefits can significantly lower the amount you pay back so it is vital to compare the pros and cons of consolidating before you make the move.
Consolidation is only an option for your federal student loans and consists of the government combining all of your previous loans you have taken out. The interest rate is determined by taking the average of all of your old loans so it is not dependent on your credit history or your current financial situation. This is a great option if you are having trouble making your monthly payments as you could gain access to different repayment programs, including income-driven plans. You can also gain access to Public Service Loan Forgiveness programs, which will pay off your remaining loans after you meet the criteria for a certain amount of years.
Refinancing private student loans can oftentimes be a bigger challenge than doing the same to federal loans, but it is by no means impossible. The most important thing to consider when you begin the process of looking for a lender is to weigh the pros and cons of all student loan servicers you may be eligible for. But before you start setting up meetings, it is necessary to figure out why you want to refinance student loans in the first place as this could narrow down the field.
One of the reasons many people choose to refinance a loan is to try to get a better interest rate. By taking out a new loan through a different lender, you will be starting with fresh terms and may be able to get a better deal than what you first started with. This can get tricky once you start comparing numbers, however, as a lot of interest rates can vary depending on the length of the loan as well as the type of repayment plan you are setting up.
The biggest factor when refinancing student loans is the borrower's credit history and debt-to-income ratio. These numbers are vital when looking for lenders as you might not be eligible for good terms, or eligible at all, if you don't have good credit history. The deals you get accepted for could be a reflection of either of these items so it is important to be aware of your finances before you begin meeting with lenders.
Refinancing is available for both federal as well as private loans but the terms and rates will vary greatly depending on your credit history and financial stability. Due to the more competitive nature of refinancing, you may be able to get a lower interest rate, especially if you have a good credit score.
Another benefit to refinancing your students loans is that you could have the option of a shorter repayment period. This will decrease the amount of interest you owe and will ultimately lower the amount of money you are paying back on the loan. Due to the terms and variable interest rates, refinancing is a good option for those you have positive credit histories and are able to make higher payments while paying off student loans faster.
Whether you decide to consolidate or refinance your student loans, the most important thing is that you do your research. Taking out new loans and changing your terms, or even working with a new lender completely is a big choice that requires thoughtful planning and confident decision-making. By deciding which is the best option for you and starting the process, you are being fiscally responsible and choosing the best path for your financial future.
Author: Jeff Gitlen
Jeff Gitlen writes about a wide range of finance topics including everything from student loans to credit cards to small business financing. Jeff's work has been featured on a number of sites including Bloomberg, CNBC, Forbes, Market Watch, and more.