Some offers mentioned on this page may be outdated. To confirm offers and credit card details, check the issuer's website.
---
David's Bridal Credit Card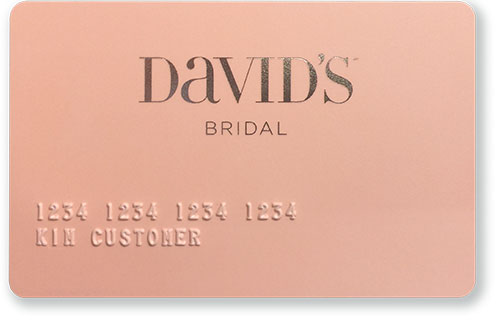 on David's Bridal's secure website
David's Bridal Credit Card
| | |
| --- | --- |
| Intro Offer | 6 months special financing |
| Rewards Rate | N/A |
| Regular APR | 28.74% |
| Annual Fee | $0 |
See how this card stacks up to our top rated credit cards
Card Details
Financing goes through Comenity Capital Bank
Get a heads-up on special offers and sales before the general public does
Able to see new fashions coming out before others do
APR
Pros
No annual fee
Promotional offers received as a cardholder may make it worth having this card
Able to manage account online
Cons
Must make minimum monthly payments in order to remain eligible for the interest-free six months
Interest rate is higher than most bank credit cards
Won't get a lower APR for having a better credit score like with some other cards
Bonus Rewards
Won't get bonus rewards with this card, but will get promotional offers
Rewards Points
David's Bridal credit card doesn't offer rewards points
Intro APR
Can finance some purchases for six months with no interest
Recommended Credit Score
Might need a fair or better credit score to obtain this card
Background
If the wedding day of your dreams is on the horizon, you'll likely be trying to figure out how to best finance your big day. In 2017, people paid $25,764 on average for their weddings. That's a lot of money to come up with. Sometimes the easiest way to do it is to spread that cost out over several months.
The David's Bridal Credit Card gives you that option. With this card, you can finance certain purchases over a six-month time period, interest-free.
Benefits of the David's Bridal Credit Card
If you're in serious planning mode for your wedding and want to keep an eye on all the latest fashion trends for wedding gowns and accessories, you might want this card just for the sneak peeks you'll get of the upcoming fashions. You also might score a deal on the exclusive cardholder promotions offered by the card.
If you buy a gown or other wedding-related items, this card can help you handle your budget better because you may qualify for six months of special financing. While it can be hard to pay for the gown of your dreams in one lump sum, it's much more manageable when you have several months to tackle it.
The company makes it easy to pay your monthly bill and check on your balance and minimum payment due. You can completely manage your account online if you want, making it easy to stay on top of how much you still have to pay off before your six-month interest-free time frame expires.
Downsides of the David's Bridal Credit Card
The APR is one of the biggest downsides to this card – it is currently relatively high at 28.74% – and if you don't pay off your full bill in that six months, you're going to find out how quickly those interest charges can rack up.
You won't only be paying the interest on the outstanding portion of your bill – you'll be paying all the interest that was deferred over the six months from your original purchase. That's a significant difference and one you need to try to avoid.
How it Compares to Similar Cards
While many cards offer better interest rates to customers with great credit scores because they present less risk and are more likely to pay their bills, the David's Bridal card doesn't give a lower APR to people with better credit scores. Those who are unlikely to pay off their card in the allotted time would be better off placing the purchase on a bank credit card with a lower interest rate.
A cash-back card might be a better choice for you, unless you're 100 percent certain you'll pay off that balance within those six months, or if you really want to see the newest fashions before the general public does.
Bottom Line
While it's nice to have more time before you have to pay off your purchases, that high APR and deferred interest is a scary proposition to have hanging over your head. Wedding planning is notoriously stressful and it's up to you to decide whether this card would benefit you, or potentially be just another thing to worry about.
>> Read More: Store credit cards