Credit One Bank® Platinum Visa® for Rebuilding Credit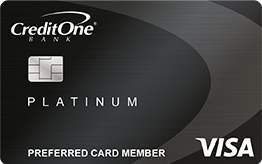 on Credit One Bank's secure website
Credit One Bank® Platinum Visa® for Rebuilding Credit
| | |
| --- | --- |
| Intro Offer | None |
| Rewards Rate | 1% cash back on eligible purchases |
| Regular APR | 20.24% – 26.24% Variable |
| Annual Fee | $0 – $99 |
See how this card stacks up to our top rated secured credit cards
Credit One is one of the many banks that offers credit cards across the United States. The Credit One Bank is a subsidiary of Sherman Financial Group. They have their roots planted in Las Vegas, but that doesn't keep them from servicing people across the whole country.
If you're in the credit building market, then you may want to take a look at the Credit One Bank® Platinum Visa® for Rebuilding Credit and see if it has the perks that you are looking for in a new credit-building card.
Benefits & Rewards
The Credit One Bank® Platinum Visa® for Rebuilding Credit may be a great choice for credit-builders since it is tailored to people that don't have the best credit.
Because it is an unsecured card, you don't have to worry about putting down a security deposit. This is somewhat unique, though not entirely, when it comes to secured credit cards.
When you are spending with the card, you get 1% cash back on eligible purchases. You also get to choose your monthly payment due date, giving you more flexibility as a cardholder. On top of that, you can also take advantage of free access to your Experian credit report each month. Credit One will also report monthly to the credit bureaus.
You get standard security assurances with this card as well. You get a zero fraud liability guarantee that protects you from unauthorized activity. You also get a card that is equipped with EMV chip technology, allowing you to swipe with more confidence.
Rates & Fees
Rates
Min APR: 20.24%
Max APR: 26.24%
Balance Transfer: N/A
Cash Advance: 26.24%
Fees
Annual: $0-$99
Late Payment: N/A
Balance Transfer: N/A
Foreign Transaction: N/A
Now that we know a little bit more about the benefits and rewards that come along with the Credit One Bank® Platinum Visa® for Rebuilding Credit, it is time to look closer at the rates and fees associated with the card.
The problem with this card is that the annual fee can range from $0-$99.
There is also an additional $19 annual fee for every authorized user on your account. This card comes with a cash advance fee of either $5 or 8% of the amount of each Cash Advance, whichever is greater, or $10 or 3% of each Cash Advance, whichever is greater.
Variable APR on regular purchases ranges from 20.24% – 26.24%, depending on creditworthiness. The cash advance APR is also variable, and it is 26.24%.
The Bottom Line
While this card is designed for consumers with lacking credit, it may be worth looking into another type of card if you can avoid it. There isn't much in terms of rewards with this credit card, but it is a potential doorway into rebuilding credit at the very least.
4.38
Credit One Bank® Platinum Visa® for Rebuilding Credit
Author: Jeff Gitlen
Jeff Gitlen writes about a wide range of finance topics including everything from student loans to credit cards to small business financing. Jeff's work has been featured on a number of sites including Bloomberg, CNBC, Forbes, Market Watch, and more.
Join the LendEDU Newsletter

News, insights, & tips once a week

Thanks for submitting

Please Enter a valid email
Best Credit Cards by Type