If you have checked your credit score on CreditKarma.com you probably noticed a section below your score with suggested credit card offerings.
Based on the data Credit Karma compiles from your score and credit report, it searches for credit cards that meet your profile and indicates your odds of approval. Or, if you go to CreditKarma.com to search and compare credit cards, it will produce a selection of cards you are most likely to qualify for based on your odds of approval.
So what exactly are Credit Karma's "Approval Odds"? Read on to find out how are they calculated and whether you should trust them.
How Credit Karma's Approval Odds Work
Credit Karma Approval Odds is a benefit offered to users so they can avoid applying for a credit card they aren't likely to qualify for. Whenever you apply for a credit card, it results in a "hard pull" on your credit, which can hurt your credit score. The more hard inquiries you have on your credit, the worse it is for your score. When Credit Karma makes an inquiry on your credit report, it is considered a "soft pull," which doesn't impact your credit score.
When you see a particular credit card you like, you will also see your Approval Odds for that card. The odds are stated as "Excellent," "Very Good," "Good," "Fair," or "Poor."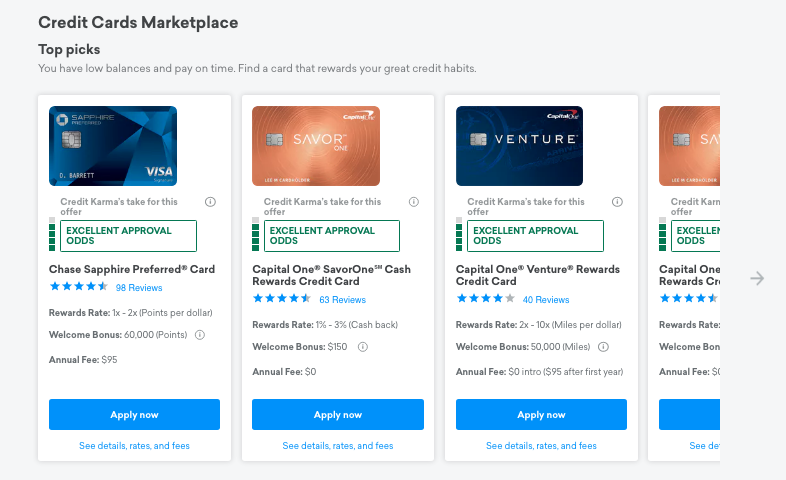 According to Credit Karma, these odds provide a guideline based on how your credit profile compares to other members who were approved for that particular card. While there is no guarantee you will be approved, using these odds to assess your chances of approval is better than applying blindly and risking rejection.
How Accurate Are Credit Karma's Approval Odds?
Regardless of what Approval Odds you are given, it is the credit card issuer that has to actually approve you. That means there is a strong possibility that the issuer might not look at your credit profile in the same way Credit Karma does.
Credit Karma relies on your Vantage Score 3.0, as provided by TransUnion and Equifax, in comparing you to other members. However, credit card issuers and lenders will most likely use a FICO score to make their credit decisions.
There are many factors considered in your credit profile – and Credit Karma, the credit card issuers, and the credit bureaus may weigh them all differently. Credit card issuers are very likely to take a more detailed look at your credit than Credit Karma does when assessing your credit profile.
The other factor that could come into play is how creditors report delinquencies. A creditor might not report a delinquent payment to the credit bureaus until after 30 days past the due date. You might receive "Very Good" odds from Credit Karma, but by the time you apply for the card, the credit card issuer might decline you if the delinquency shows up on your report.
Approval Odds are an Estimate, Not a Guarantee
For these reasons, Credit Karma emphasizes that its Approval Odds are merely an estimate to help you understand where you stand at any given time. Before applying for a credit card, you should thoroughly review your credit report to see how you might be able to improve your score, regardless of your Approval Odds.
If you apply for a credit card based on Credit Karma's Approval Odds and are declined, Credit Karma recommends that you check your credit report to make sure your information is correct. If you find any errors, you need to dispute them with the credit reporting agencies.
You should also check to see if you're using less than 30 percent of your available credit. If you're using a much higher percentage, a lender might consider you a bigger risk. If you think you have a strong case, you can call the credit card issuer for reconsideration.
If you're interested in seeing your personal Approval Odds through Credit Karma, you can create an account for free by clicking below.

Create an Account
See Approval Odds for credit cards
View a breakdown of factors that are currently affecting your score
Make better decisions with personalized recommendations