Some offers mentioned on this page may be outdated. To confirm offers and credit card details, check the issuer's website.
---
Costco Anywhere Visa Credit Card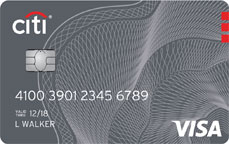 Costco Anywhere Visa Credit Card
What we like:
For shoppers who prefer to buy in bulk
Intro Offer

None

Rewards Rate

4

% cash back on eligible gas worldwide for the first

$7,000

per year (

1

% thereafter)



3

% cash back on restaurant and eligible travel purchases worldwide



2

% cash back on all other purchases from Costco



1

% cash back on all other purchases

Regular APR

17.49%

Annual Fee

$0
See how this card stacks up to our top rated rewards credit cards
Costco is one of the leading wholesale stores in the nation. They have just about everything you could possibly need, and they have it in bulk! Whether you are looking to stock up, or just want to save some money, a Costco membership could be a great idea. Costco has locations across the United States, and you are sure to find one conveniently located near you.
Interestingly enough, Costco offers a credit card for its members. The Costco Anywhere Visa Card by Citi let's habitual Costco customers take advantage of their loyalty to Costco. Let's take a closer look at the Costco's store credit card and see if it may be ideal for you.
Benefits and Rewards
When it comes to benefits and rewards, the Costco Credit Card is definitely not lacking. They offer both personal credit cards and business credit cards. Today, we will focus on the personal credit card offered through Citi Bank.
The cash back rewards program is probably one of the main reasons people opt for this credit card. It offers 1% to 4% cash back on purchases: 4% cash back on gas purchases, 3% cash back on restaurant and travel purchases, 2% cash back on all Costco purchases both online and in-store, and 1% cash back on all other purchases. That can really add up, especially if you use your card for things you would normally buy anyway.
When you earn rewards, you have options when it comes to redeeming your cash back. You may choose to redeem them for cash, or use them for merchandise at Costco Warehouses or online at Costco.com. On top of earning cash back rewards, there are some additional benefits you will want to be aware of. For instance, you can use the Costco Credit Card as your Costco membership ID, making it easier for you access the deals Costco has to offer. The card can also be used anywhere that Visa cards are accepted. This makes traveling with the card easy as well.
Rates and Fees
Rates
Min APR: 16.24%
Max APR: 16.24%
Balance Transfer: 16.24%
Cash Advance: 26.24%
Fees
Annual:

$0

Late Payment: $37
Balance Transfer: $5 or 3%
Foreign Transaction: 3%
The Costco Credit Card does have rates and fees, as with any other credit card out there. The good news is your Costco membership fee serves as your annual fee, so there are no additional annual fees for holding a Costco Credit Card. There are some transaction fees you will want to be aware of though. You will be charged a fee of 3% on all foreign transactions, and a fee of either 5% or $10 on all cash advances. That pretty much sums up all of the fees associated with this credit card.
The great news is that this card offers an introductory APR of 0% for the first seven months of having your account open, as long as you keep your account active and in good standing. At this time, after the introductory period, your standard APR will go to a variable 16.24% for both current balances and new purchases.
You can also get a cash advance with this card, but your APR is going to be higher at 22.99%. The highest your interest rate will get is 29.99% variable, and that is the variable penalty APR. This will be applied to your account if you have a late payment or a payment that is returned by your bank. Try to make your payments on time each month to avoid this higher rate of interest, because it can really make your balance soar if you are not careful.
>> Read More: Popular store credit cards
Bottom Line
The Costco Credit card is a good card for the habitual Costco customer. If you are an avid Costco shopper, then this card can really offer a lot of great benefits through their cash back rewards. A lot of people opt for this card just so they can earn the rewards on things they would normally buy anyway. If that sounds like something you might be interested it, give it a try.
Not satisfied? Check out some of the best Citibank credit cards that we have reviewed.