Some offers mentioned on this page may be outdated. To confirm offers and credit card details, check the issuer's website.
---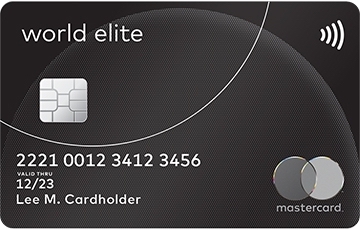 on Commerce Bank's secure website
What we like:
For the coffee zealots
Intro Offer

0% intro APR for purchases and balance transfers for 12 billing cycles after account opening

Rewards Rate

3% cash back for purchases at coffee shops and dining

1.5% cash back on all other purchases

Regular APR

14.49%

Annual Fee

$95
See how this card stacks up to our top rated credit cards
Commerce Bank is a US-based bank that has branches located in Kansas, Missouri, Colorado, Oklahoma, and Illinois. After 150 years of business, it's one of the oldest and largest banks in the Kansas City area.
Commerce Bank offers a plethora of banking solutions and investment options which includes a line of credit cards. Among their credit cards you will find the Commerce Bank World Elite MasterCard. Check it out and see how it measures up compared to other cards.
Benefits & Rewards
The Commerce Bank MasterCard World Elite Credit Card comes with a couple of different benefits for their cardholders.
One of the biggest benefits is the rewards. You can earn 1.5% cash back on every dollar spent on regular purchases. If you use your card at restaurant or travel retailers, however, you can get 3% cash back on the net total. Other categorical purchases can be activated for 2% cash back.
You can redeem points for gift cards, merchandise, travel expenses and much more. The good news is that you can earn unlimited points, but they do expire after five years so make sure that you use them.
Here's an interesting benefit. Card holders can earn a 5% annual point dividend when spending over $50,000 in a calendar year.
On top of these great rewards, there are other special privileges. For instance, there are no pre-set spending limits, giving you more power for purchases. You also get Airport lounge membership, Commerce Bank concierge service, access to your FICO score, 24/7 customer service, and zero liability for unauthorized charges on your account. You will even get $250,000 in travel insurance, giving you more peace of mind with each trip that you take.
Rates & Fees
Rates
Min APR: 13.24%
Max APR: 13.24%
Balance Transfer: N/A
Cash Advance: 26.24%
Fees
Annual: $95
Late Payment: $37
Balance Transfer: $10 or 5%
Foreign Transaction: None
The Commerce Bank World Elite MasterCard is not without its fair share of fees. The good news is that the annual fee is only $95. There are balance transfer and cash advance fees of either 5% or $10, depending on the transaction amount. Penalty fees are also possible, and are applied when you have a late payment on your account. This fee can range up to $37, depending on where you live.
The good news, however, especially for travelers, is that there is no foreign transaction fee for you to worry about when shopping abroad.
The next thing that you will want to consider is the APR which is low compared to many cards. The annual percentage rate on the Commerce Bank World Elite MasterCard is 13.24% variable. The great news, however, is that there is a 0% introductory APR for the first twelve months of being a cardholder. This is true for both balance transfers and regular purchases.
However, Cash advances do have a higher APR of 26.24%, variable. Additionally, the penalty APR will apply to your account if you make a late payment that is over 60 days late. At this time, your rate can go up to 28.24%.
The Bottom Line
The Commerce Bank World Elite MasterCard has quite a bit to offer. If you like a card that gives you freedom in earning cash back that can be redeemed for just about anything, then you may want to consider this card. So many consumers don't like the rewards cards that limit your rewards to travel. If you don't want to travel, you can redeem for gift cards, cash, and much more!