Some offers mentioned on this page may be outdated. To confirm offers and credit card details, check the issuer's website.
---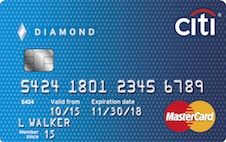 What we like:
Unlike some other options, this Citibank secured card has no annual fee
Intro Offer

None

Rewards Rate

None

Regular APR

24.74%

(variable)

Annual Fee

$0
See how this card stacks up to our top rated secured credit cards
Card Details
Pros
There's no annual fee
All payments are reported to the major credit bureaus, so you can build credit over time
Citibank offers purchase protection with 0% liability for unauthorized charges
Citi®Identity Theft Solutions if you fall victim to identity theft
As a Mastercard, this card is accepted at millions of locations worldwide.
Cons
There's no rewards program
The high variable APR means you won't want to carry over any balance
No 0% intro APR for balance transfers
Foreign transaction fee of

3%

This credit card is not an option if you're just coming off bankruptcy
Recommended Credit Score
Citi Secured Credit Card: A Good Card for Rebuilding Credit, But Little Else
The Citi Secured Mastercard is a no-frills card for individuals who have limited credit, bad credit, or who are just starting to build their credit for the first time.
In this review:
Citi Secured Credit Card Benefits
Overall, Citi's secured credit card is just average secured credit card, but with one major advantage—no annual fee. Besides building your credit, it really won't do much else for you. But if a secured credit card is your only option, or if improving your credit score is your only objective, you can't go wrong with Citi's card.
Additionally, this Citibank card offers credit bureau reporting and identity theft solutions. Since you're trying to improve your credit score, you'll want all of your timely payments recorded with the major credit bureaus. Citibank will do just that, making this a good card for building credit. Citi also gives you free access to your FICO® score, so you can track how your responsible use and payments improve your credit report over time.
Also, as with any credit card, there's always the chance that you'll be charged for fraudulent purchases, and Citi ensures 0% liability on your part if this does occur. Plus, if your identity is stolen, Citi will work with you to identify compromised accounts, file police reports, and help get your credit back on track.
Downsides of the Citi Secured Credit Card
This card lacks some of the other common perks available with credit cards.
No Frills
It doesn't offer car rental insurance or travel accident insurance, or any type of purchase protection—just the credit monitoring tools mentioned above.
Security Deposit
There's a reason secured credit cards are available with little to no credit—you have to put a deposit down to secure your credit line. If approved for this card, you're required to provide a security deposit equal to the amount of the credit limit you requested in your application, and that ranges from a minimum of $200 to a maximum of $2,500.
No Rewards
Secured credit cards aren't known for their rewards, and the Citi Secured Mastercard is no exception. However, there are a couple alternatives out there that allow you to earn some perks for your spending.
High Interest Rate
The Citi credit card comes with a steep regular APR of 24.74%. You'll want to be careful not to carry a balance on this card, both to avoid high interest and to help boost your score.
How it Compares to Similar Cards
Overall, the Citi Secured Card is a solid choice if you're looking for a credit card but are facing limited options because of poor credit. It has no annual fee and a standard minimum deposit of $200. However, there is at least one alternative worth checking out.
>> Read More: Best secured credit cards
Citi Secured Mastercard Review vs Discover It Secured Card
Compared to the Discover It Secured Card, Citi's card falls short. Both boast no annual fees, but what sets Discover's card above the rest is its rewards—2% cash back at gas stations and restaurants on up to $1,000 in purchases per quarter, and 1% cash back on all other purchases. As an added bonus, Discover will give you double cash back at the end of your first year on everything you earned over the previous 12 months. If you're looking for a secured credit card with no annual fee, opt for the Discover It card and enjoy the added bonus of cash back.
Bottom Line: Is the Citi Secured Credit Card Right for You?
So what's our overall view on the Citi Secured Mastercard? It's better than most secured credit cards on the market, but it's not the best option. Still, it's a worthwhile basic card for working toward a higher credit level, and with no annual fee, you can keep this card open for the long term, which will help establish a longer credit history.
>> Read More: Best Citi credit cards