Some offers mentioned on this page may be outdated. To confirm offers and credit card details, check the issuer's website.
---
Citi Prestige Credit Card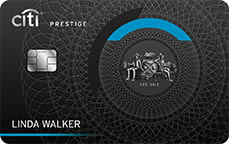 on Citi's secure website
Citi Prestige Credit Card
What we like:
Those who like a fourth night free at virtually any hotel
Intro Offer
50,000 bonus points after spending $4,000 within 3 months of account opening
Rewards Rate
5x points on air travel and restaurant

3x points on cruise lines and hotels

2x points on entertainment (through 8/31/2019)

1x points on all other purchases
Regular APR
17.99% – 25.99%
Annual Fee
$495
See how this card stacks up to our top rated travel credit cards
Are you looking for a credit card from a company that is well known and well trusted in the banking industry? If so, then you will definitely want to check out everything that Citibank has to offer. Whether you bank with them or not, you can apply for one of the many cards in their portfolio. You can even let them recommend a card that they think would be best suited for you. If you have already started checking out some of the cards they have to offer, chances are you have run across the Citi Prestige Credit Card. Let's look closer at everything this card has to offer.
Benefits & Rewards
The Citi Prestige Credit Card offers ThankYou points for spending, and these points are most valuable when used towards travel. For normal expenditures, you can earn 1 travel point on per dollar spent. Earn 2 travel points on all dining and entertainment purchases, and earn travel points on all air travel and hotel expenses.
If you can spend $7,500 within your first three months of having your card, you can earn 75,000 bonus points for rewards redemptions. If you really love traveling, this card could be well worth the investment. Other travel benefits that you will also be able to take advantage of include a $250 annual Air Travel Credit, complimentary 4th nights in hotel stays, complimentary access to the VIP lounges in select airports, and even a $100 Global Entry application fee credit.
Citi even offers valuable discounts on travel packages, tours, cruises and much more. You can even take advantage of the Citi Concierge Service when it comes to planning your trips. They will help you with all of your details when it comes to shopping, travel and entertainment. This service is available 24/7. One of the best perks is that you don't have to use your points toward travel. You can also cash them in on electronics, statement credits, gift cards, cash and much more. This gives you much more freedom with your rewards. On top of it all, you also get the added security that comes with chip card technology, and their fraud liability guarantee. This means you never have to be responsible for any unauthorized charges on your account.
Rates & Fees
Rates
Min APR: 16.24%
Max APR: 24.74%
Balance Transfer: N/A
Cash Advance: 26.24%
Fees
Annual: $450
Late Payment: $35
Balance Transfer: $5 or 3%
Foreign Transaction: None
The next thing that we want to look at when it comes to the Citi Prestige Credit Card is the rates and fees. It is important to have a full understanding of this before you agree to be a cardholder. Start by knowing the annual fee. The fee for this card is $450 for the primary cardholder, and then an additional $50 for each additional authorized user. This does seem a bit on the high side, but you really have to weigh the benefits that come with being a cardholder to see that it may be worth it.
On top of the annual fee, you also have to pay balance transfer fees of $5 or 3% of the total transfer, and cash advance fees of $10 or 5% of the total advance. There is also a penalty fee of up to $35 that comes with any late payment or returned payment. There are, however, no foreign transaction fees (great news for those that travel abroad.)
Gain a good understanding of the annual percentage rate of your card as well. The APR on regular purchases as balance transfers ranges from 16.24% to 24.74%. Cash advances are charged at a higher rate which is 26.24%, and it is a variable rate. The penalty APR is 29.99%, and it may be applied indefinitely if you have a late or returned payment.
The Bottom Line
So, could the Citi Prestige Credit Card be the card that you have been looking for? If you tend to do a lot of traveling, it really might be. The real downfall of this card is the really high annual fee. At $450, it does tend to shy a lot of people away from it. The problem is that people don't really look into all of the perks and benefits that come with this card before they decide it isn't for them. Weigh in all out, and if you think it will be worth it for you, apply today.
Not satisfied? Check out some of the best Citibank credit cards that we have reviewed.

Jeff Gitlen is a graduate of the Alfred Lerner College of Business and Economics at the University of Delaware. He has spent the last 5 years researching and writing about personal finance topics, including student loans, credit cards, insurance, and more. His work has been featured on major news publications, some of which include Bloomberg, CNBC, Forbes, and Market Watch.
Best Credit Cards by Type