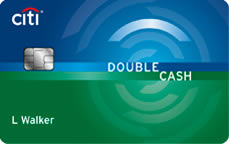 on Citi's secure website
| | |
| --- | --- |
| Intro Offer | 0% intro APR on balance transfers for 18 months |
| Rewards Rate | 2% cash back – 1% on purchases and an additional 1% as you pay |
| Regular APR | 15.74% – 25.74% |
| Annual Fee | $0 |
See how this card stacks up to our top rated rewards credit cards
When it comes to choosing a bank to manage your financial accounts, you definitely have a lot of choices. One of the most popular banks in America is Citibank. They help consumers with all of their financial needs, ranging from banking to personal loans and credit cards.
Citibank is headquartered in New York City, but they have locations across the globe. If you are looking for a cash back credit card, they have several for you to consider. Let's take a closer look at the Citi Double Cash Card.
Benefits and Rewards
Some of the best credit cards these days come with a whole lot of benefits to entice consumers to choose a particular card. The Citi Double Cash card is no exception to this. This card offers double cash back rewards as you purchase and pay for your purchases. Earn 1% cash back every time you use your card, and an extra 1% back when you pay the balance for the purchases on the card. (Balance transfers are exempt from the cash back rewards.)
Aside from being able to earn double cash back when you make purchases, there are a few other perks that you can take advantage of as a Citi Double Cash cardholder. For instance, they offer an extended warranty program. This means that when you make purchases with your card that offer a warranty, you get to double the warranty up to one year.
They also offer great travel and entertainment benefits. If you enjoy traveling, take advantage of their flight accident insurance, concierge service, auto rental insurance and travel assistance. Traveling is made super easy when you use these bonus services that come complimentary with your card.
Another thing that you will consider is your security with your credit card. These days, identity theft is real and it happens more often than we would like to believe. The good news is that Citi offers a $0 fraud liability to ensure that you aren't responsible for fraudulent charges on your account. They also equip their cards with the chip technology to make all transactions go just a little more smoothly and securely.
Rates and Fees
Rates
Min APR: 13.24%
Max APR: 23.24%
Balance Transfer: 13.24% – 23.24%
Cash Advance: N/A
Fees
Annual: $0
Late Payment: $35
Balance Transfer: $5 or 3%
Foreign Transaction: 3%
It is also important for you to understand all of the rates and fees that are associated with the Citi Double Cash card. First, we will start by looking at their annual fees and APRs. Thankfully, this rewards card doesn't have any annual fee. This is good for those looking for a card without maintenance fees. When it comes to the APR, they also offer an introductory 0% APR on balance transfers for the first 18 months that you have your account.
Once your introductory period has expired, your APR for balance transfers will go to the market standard between 13.24% and 23.24%. Your particular rate will depend on your creditworthiness. This is the same APR that will be applied to all purchases from the time you open the account.
So, you now know what to expect when it comes to your interest rate, but what about the fees? There may be no annual fee, but this card is not without fees. There are balance transfer fees that total either 3% or $5, cash advance fees that total either 5% or $10, and foreign transaction fees of 3% of the total purchase in USD. There are also fees if you have a late payment or returned payment of up to $35. (Your first late payment is free, but after that you will be assessed a fee for each late payment.)
Also be aware of the penalty APR that comes along with late payments, which is up to 29.99%. Avoid your account being penalty fees and penalty APRs by paying your bill on time each month. Avoid interest all together by paying your entire balance within 23 days of the billing cycle close date.
Final Thoughts
If you are looking for a credit card that offers you cash back on your purchases when you buy, and when you pay, then the Citi Double Cash card may be a great choice. It is also great for those that are interested in making balance transfers but want to skip the interest for the first 18 months.
If you want to get approved for this card, however, you will need to have really good credit. While there are some cards out there that will approve you with less than perfect credit, this card is really only extended to those that already have established pretty good credit. That really seems to be the only drawback to this card.
Not satisfied? Check out some of the best Citibank credit cards that we have reviewed.
3.60
Citi Double Cash Card
Author: Jeff Gitlen
Jeff Gitlen writes about a wide range of finance topics including everything from student loans to credit cards to small business financing. Jeff's work has been featured on a number of sites including Bloomberg, CNBC, Forbes, Market Watch, and more.
Best Credit Cards by Type