Citi Double Cash Card Review
The Citi Double Cash Credit Card offers cardholders the opportunity to earn cash back on purchases, and when you pay off those purchases.

Some offers mentioned on this page may be outdated. To confirm offers and credit card details, check the issuer's website.
---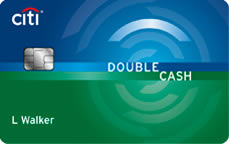 on Citi's secure website
What we like:
Earning cash back twice with no restrictions
| | |
| --- | --- |
| Intro Offer | 0% intro APR on balance transfers for 18 months |
| Rewards Rate | 2% cash back – 1% on purchases and an additional 1% as you pay |
| Regular APR | 15.74% – 25.74% |
| Annual Fee | $0 |
See how this card stacks up to our top rated rewards credit cards
Card Summary
Pros
2% cash back is competitive for a card with no annual fee
No caps or category restrictions apply
Access to Citi Private Pass (purchase tickets to exclusive events)
Late payment fee waived the first time you miss a payment
Cons
No signup bonus
No 0% intro APR on purchases
Balance transfer fee of 3% or $5
3% foreign transaction fee
You'll owe interest on any unpaid purchases if you've transferred a balance onto the card
Recommended Credit Score
Citi Double Cash Card: A Dependable Cash Back Card
The Citi Double Cash card boasts 2% total cash back earning potential — 1% at the time of purchase and 1% when the purchase is paid off. It's a strong card for general spending with no limitations, caps, or rotating spending categories. However, it's not flashy as some other cash back credit cards in terms of bonuses and added perks.
In this review:
Citi Double Cash Benefits
The Citi Double Cash Card doesn't have a lot of bells and whistles, but what it does offer is simplicity and a great standard rewards rate alongside no annual fee.
With the Double Cash Card, you can earn 1% cash back on all purchases with no limits or rotating categories. You also earn an additional 1% when you pay off those purchases. The idea is to double rewards without requiring cardholders to spend more to earn them. You earn additional cash back as you pay purchases off over time, so long as the minimum payment due is made.
You can redeem cash back — which is earned at the same rate when you use the card through Apple Pay — in the form of checks, statement credits, bank account deposit, or gift card once you reach at least $25 in rewards.
Citi also offers cardholders a pass on their first late fee, although late fees of up to $39 will apply after the first missed payment.
Citi Private Pass
In addition to 2% cash back, Citi Double Cash cardholders enjoy access to Citi Private Pass, which allows them to purchase tickets to thousands of events each year. This includes presale and VIP package concert tickets, dining experiences, sporting events, and complimentary movie screenings.
Citi Double Cash Downsides
There are a few downsides to the Citi Double Cash card. First, there isn't a signup bonus offered. There is also a balance transfer fee of 3% or $5 (whichever is greater), and you'll pay interest on new purchases if you've transferred a balance to the card and haven't paid it off yet, which means it's not necessarily a good option for larger balance transfers.
There isn't the opportunity to earn in bonus spending categories, either, and you'll want to leave the rewards credit card home while traveling abroad — it comes with a foreign transaction fee of 3%.
Citi Double Cash Login
To log into your Citi Double Cash account or any other Citibank credit card account, whether to make a payment or view rewards, you can go here. You'll also find a sign-in option on the homepage for the card itself.
Citi Double Cash Credit Limit
As with any credit card, your credit limit with the Citi Double Cash card will vary depending on your credit score, debt-to-income ratio, and other factors. Based on customer reports, the credit limit for this card may go as high as $50,000.
How it Compares to Similar Cards
The Citi Double Cash card is a strong general spending card. The opportunity for the 0% balance transfer period is valuable for someone with existing high-interest credit card debt. However, there are more competitive cards in terms of cash back rewards, sign-up bonuses, and other card benefits, depending on your financial situation and goals.
Citi Double Cash Card vs. Discover it Card
Like the Citi Double Cash card, the Discover it Cash Back card has no annual fee. Cardholders earn just 1% cash back on all purchases but can also earn 5% cash back on rotating spending categories that change quarterly. The Discover it Card also includes a cash back match wherein all rewards are automatically matched at the end of the first account year. Cash back never expires, and the rewards can be redeemed at any time and in any amount.
For someone willing to keep up with spending categories, the Discover it Card might be the better option. Another idea would be pairing the two and using the Citi Double Cash on everyday spending and the Discover it for applicable bonus category spending.
Citi Double Cash Card vs. Blue Cash Everyday Card
The Blue Cash Everyday Card from American Express includes a $150 cash back bonus when you spend $1,000 within the first three months. The card's introductory 0% APR offer is for both purchases and balance transfers for 15 months, and there is no annual fee.
The card earns 3% cash back at U.S. supermarkets up to $6,000 per year; 2% cash back at gas stations and certain U.S. department stores; and 1% cash back on all other purchases. The Blue Cash Everyday card could be worthwhile for someone who spends a lot at supermarkets (i.e. families), but otherwise, the rewards rates are equal to or less than the Citi Double Cash Card.
Bottom Line
The Citi Double Cash card doesn't offer a ton of generous perks, but at the same time, the 2% cash back rate is among the highest in the category of no annual fee credit cards. No annual fee and an intro 0% APR balance transfer period make it appealing for consumers with high-interest debt on other credit cards.
It might be especially useful for someone who wants competitive cash back without having to opt into specific spending categories or keep up with rotating categories.

Ashley Sutphin Watkins is a graduate of UNC-Chapel Hill where she studied journalism. She has worked as a journalist, content creator, and copywriter for nearly a decade, with a focus on personal finance, real estate, and healthcare. She now lives in Knoxville with her husband and young kids. During her free time, she enjoys traveling and enjoying the outdoors in East Tennessee.
Best Credit Cards by Type