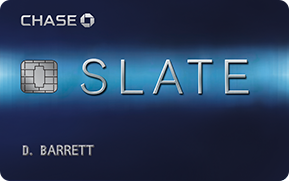 on Chase's secure website
Intro Offer
0% intro APR for 15 months on purchases and balance transfers from account opening

$0 balance transfer fee during the first 60 days of account opening
Rewards Rate
None
Regular APR
17.24% – 25.99%
Annual Fee
$0
See how this card stacks up to our top rated low balance transfer credit cards
Chase bank has survived over a hundred years experiencing recessions, depressions, and multiple mergers; the most recent merge occurring with J.P. Morgan in the year 2000. Despite such a dynamic history, customers and patrons of Chase bank can expect consistent treatment at the hands of their credit card providers who provide a myriad of products to finance everyday living expenses. These products are designed for a variety of customers including business owners, travel connoisseurs, and average consumers.

Those looking to use a basic credit card without accompanying fees need look no further than the Chase Slate Credit Card which provides a simple credit card experience for those in need of building credit. Teens and young adults should consider using this as their first student credit card, for this reason.
Benefits and Rewards
Since the Chase Slate Credit Card is specifically oriented for building credit and paying off debt, there are not many special sign on bonuses or benefits offered in the agreement. The most useful aspect of the Slate Credit Card is the free monthly FICO® score offer which allows cardholders to check their credit score with ease. Since the Slate Credit Card is designed to help manage credit, this service is literally the main source of convenience for cardholders.
Cardholders have access to Zero Liability Protection in case fraudulent spending occurs on the card; any unauthorized purchases must be reported via a customer service number on the back of the card. If fraudulent spending is noticed by Chase but not by the cardholder, text alerts send notifications to the card member.
This allows cardholders to experience another prominent aspect of the Slate Credit Card: the customer service. Multiple customer reviews of the card express the satisfaction with customer service that Chase provides. The coupling of excellent customer service and an easy credit score monitoring system provide excellent experiences for customers using the Chase Slate Credit Card.
Rates and Fees
Rates
Min APR: 13.24%
Max APR: 23.24%
Balance Transfer: 13.24% – 23.24%
Cash Advance: 25.24%
Fees
Annual: $0
Late Payment: $37
Balance Transfer: $5 or 5%
Foreign Transaction: 3%
Of the various rates and fees offered with the Chase Slate Credit Card, the annual membership fee of a grand total of $0 is the most enticing which encourages those with ok or bad credit to sign on. A slew of transaction fees accompany the card, but they are all typical of a chase card aside from one aspect. During an introductory period of sixty days, there are $0 in balance transfer fees; afterwards, the rate reverts to the standard $5 or 5% (whichever value is greater). In addition to a somewhat different balance transfer fee, cash advance fees typically run at a rate of either $10 or 5% (whichever value is greater). A foreign transaction fee of 3% is applicable when making purchases outside of the country border.
While there are several penalty fees tacked onto the Chase Slate Credit Card, there is one stipulation that sticks out over the rest. The penalty for breaching the credit limit on the card is nonexistent, or more simply put, there is no fee for going over the credit limit. A returned payment warrants a penalty fee that may reach $37 or any lower value, but a returned check does not bring about any penalty fees. If a late payment ever occurs, there are several different rates depending on the magnitude of the balance. A late payment on a balance of less than $100 receives a fee of $15, a late payment on a balance between $100 and $250 is charged up to $27, and a late payment on a balance of over $250 is penalized up to $37.
The Chase Slate Credit Card begins with an introductory annual percentage rate (APR) of 0% lasting for 15 months which increases to a rate ranging from 13.24% to 23.24% (variable). The rates mentioned apply to regular purchases (so long as the balance is not paid off in full each month) and balance transfers. Whenever a cash advance is required, an APR of 25.24% (variable) can be expected. Additionally, an overdraft advance APR of 25.24% (variable) is present in the case of a related event.
Bottom Line
In light of good customer reviews found online, the Chase Slate Credit Card clearly accomplishes its desired purpose which is to provide easy credit monitoring and customer service. Despite the absence of special bonuses and rewards, the simplicity of the card represents its strength, and this reflects back to the purpose of the card. Overall, the Chase Slate Credit Card is a solid option for consumers looking to build credit without any enticing benefits that require more spending.
Not satisfied? Check out some of the best Chase credit cards that we have reviewed.
4.15
Chase Slate Credit Card
Author: Jeff Gitlen
Jeff Gitlen writes about a wide range of finance topics including everything from student loans to credit cards to small business financing. Jeff's work has been featured on a number of sites including Bloomberg, CNBC, Forbes, Market Watch, and more.
Best Credit Cards by Type