Chase Slate Credit Card Review
The Chase Slate card features an introductory APR on purchases and balance transfers. However, the credit card offers no rewards, cash back, or other fun perks.

Some offers mentioned on this page may be outdated. To confirm offers and credit card details, check the issuer's website.
---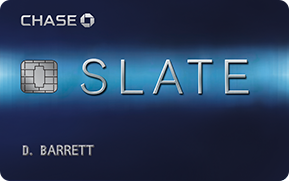 on Chase's secure website
What we like:
A good card that helps manage high interest debt
Sign-Up Offer
0% intro APR for 15 months on purchases and balance transfers from account opening

$0 balance transfer fee during the first 60 days of account opening
Rewards Rate
None
Regular APR
17.24% – 25.99%
Annual Fee
$0
See how this card stacks up to our top rated low balance transfer credit cards
Card Summary
Pros
No balance transfer fee for 60 days
0% APR for 15 months on both balance transfers and purchases
Credit monitoring dashboard
Tap-to-pay technology
No penalty APR
Cons
No rewards
No signup bonus
High APR for cash advances
Balance transfer fee of 5% or $5, whichever is greater, applies after 60 days
Recommended Credit Score
Chase Slate Review: Excellent for Balance Transfers
If you're looking for an inexpensive way to pay down existing high-interest credit card debt, the Chase Slate card is a great option, thanks to its introductory 0% APR on balance transfers with no fees for transfers made within the first 60 days. But if you're looking for a card with attractive rewards or other fun benefits, skip the Slate and instead consider the Chase Freedom Unlimited or one of the best rewards credit cards as rated by LendEDU.
In this review:
Chase Slate Card Benefits
What the Chase Slate card lacks in rewards, it makes up in its excellent introductory APR on both balance transfers and purchases, making it a great choice for cardholders who need to finance a large purchase and pay it off over time.
0% APR for 15 Months
Unlike some other cards, the Chase Slate card's introductory 0% APR offer isn't limited to just balance transfers — it also applies to new purchases for 15 months after you open your account.
No Balance Transfer Fee
Where the Chase Slate card really shines is its lack of a balance transfer fee, which is waived for the first 60 days your account is open. Most cards charge at least 3% for balance transfers, even during the 0% APR period.
However, if you make any approved balance transfers after the first 60 days, you'll pay 5% of the total amount transferred. This is much higher than some other balance transfer cards available today.
Credit Monitoring Tools
Chase Slate cardholders can access the Credit Journey platform for free access to their FICO score as well as credit alerts to help them identify potential fraud. If you're using the Chase Slate card to pay off other credit card debt and reach a good credit score, this can be an important resource for checking on your progress.
Chase Slate Card Downsides
If you don't plan to make a large purchase when you open a new Slate account or don't have existing high-interest credit card balances you'd like to transfer and pay off interest-free, the rest of what this card offers is fairly unexciting. A relatively high interest rate after the intro period and the lack of any cash back or rewards program mean there are better options for a card with long-term use potential.
Additionally, once the fee-free balance transfer offer ends, the 5% fee is on the higher end compared to other cards.
Chase Slate Customer Service
To reach Chase Slate customer service, you can visit the Credit Card Resource Center on the Chase website. There are self-service tools available there, or you can contact customer service specifically for personal Chase credit cards at 1-800-432-3117.
How It Compares to Similar Cards
The Chase Slate card is one of the best balance transfer credit cards out there, especially when you take into account the lack of balance transfer fees for transfers made within 60 days of account opening. However, you won't find much in the way of ongoing perks or benefits after the introductory offer comes to an end.
Chase Slate vs. Chase Freedom
If you're looking for ongoing rewards in addition to the opportunity to transfer high-interest credit card debt, you might consider the Chase Freedom card, which earns 5% cash back on up to $1,500 in purchases in bonus categories each quarter as well as unlimited 1% cash back on all other purchases.
The Freedom rewards credit card offers a 0% intro APR for 15 months on purchases and balance transfers; however, you'll pay a 3% balance transfer fee from the get-go, which could get expensive depending on how much debt you plan to transfer.
If transferring high-interest debt is your main goal, you may want to stick with the Slate for its no-fee balance transfers. However, you should also take into account the Chase Freedom's signup bonus — which scores you $150 after you spend $500 on purchases in the first three months after account opening — as you crunch the numbers to decide which is best for you.
Bottom Line
The Chase Slate is a strong card if you want to make a large initial purchase or need to transfer existing high-interest debt from another credit card. When it comes to long-term use, though, you might want to opt for a rewards card that also offers an intro APR on balance transfers, like the Chase Freedom.
4.15
Chase Slate Credit Card

Ashley Sutphin Watkins is a graduate of UNC-Chapel Hill where she studied journalism. She has worked as a journalist, content creator, and copywriter for nearly a decade, with a focus on personal finance, real estate, and healthcare. She now lives in Knoxville with her husband and young kids. During her free time, she enjoys traveling and enjoying the outdoors in East Tennessee.
Best Credit Cards by Type