Some offers mentioned on this page may be outdated. To confirm offers and credit card details, check the issuer's website.
---
Chase Sapphire Reserve Credit Card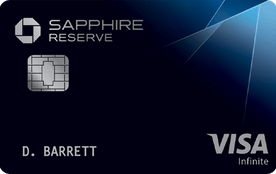 on Chase's secure website
Chase Sapphire Reserve Credit Card
What we like:
For traveling and dining worldwide
Intro Offer
50,000 bonus points after spending $4,000 on purchases in first 3 months from account opening

Rewards Rate
3x points per $1 spent on travel and dining worldwide

1x points per $1 spent on all other purchases
Regular APR
19.24% – 26.24%
Annual Fee
$450
See how this card stacks up to our top rated travel credit cards
JP Morgan Chase & Co, also known as Chase, is one of the leading banking and financial institutions in the world. They are actually the largest bank within the United States, and the 7th largest bank in the entire world (based on their assets). They have been in the banking industry since the late 1700's, but it wasn't until early 2000 when Chase joined JP Morgan. They offer a variety of different financial services, not just banking solutions. They have a variety of credit cards as well. One of the credit cards that you may look into is the Chase Sapphire Reserve Credit Card. Let's take a closer look and see if this could be the right card for you.
Benefits and Rewards
Do you love to travel? If so, then you will really love the rewards plan that comes with the Chase Sapphire Reserve Credit Card. This card allows you to earn on point for every dollar that you spend with your card. You can earn 3x points when you use your card in a restaurant, and you can also earn 3x points when you use your card on travel expenses such as hotels, taxis, trains and airfare. Along with these rewards points, you can also get a $300 annual credit to help you pay for travel expenses. When you redeem your points for travel costs through their Chase Unlimited Rewards program you get 50% more value. For instance, you can get $750 towards travel for 50,000 points. The best part is that there are no blackout dates like many of the other cards out there with travel rewards.
On top of the rewards program, they also have some elite travel benefits that you should be aware of so that you can take full advantage of being a cardholder. For instance, you can have access to over 900 airport lounges with their Priority Pass Select Membership that comes complementary. You can also get special rental car privileges, special benefits during your hotel stays, and a variety of different travel and purchase protections. You will even get access to their 24/7 customer service, travel assistance from Chase's Travel Team, and access to concierge service. On top of it all, enjoy fraud protection and chip enabled cards.
Rates and Fees
Rate
Min APR: 16.99%
Max APR: 23.99%
Balance Transfer: 16.99% – 23.99%
Cash Advance: 25.99%
Fees
Annual: $450
Late Payment: $37
Balance Transfer: $5 or 5%
Foreign Transaction: 3%
The Chase Sapphire Reserve Credit Card is not without its fair share of fees. While there are some really beneficial perks for cardholders, there is a pretty high annual fee. The annual fee is $450 for the first card and $75 for each additional card that you request. There are also some transaction fees that you need to know about. First of all, balance transfers come with a 5% or $5 fee. Cash advances come with a 5% or $10 fee. Late payments and returned payments are also assessed a fee. Late payments for balance less than $100 are up to $15, balances from $100 to $250 are up to $27, and balances over $250 can be up to $37. It really helps to just make your payment on time each month. Returned payments may also be assessed a fee of up to $37.
Aside from having these fees, it is also important to understand the APR for the card. Your APR will be anywhere from 16.99% to 23.99%, depending on your credit picture. This is the rate for both balance transfers and everyday purchases. Cash advances do have a slightly higher APR at 25.99% which can vary based on market prime rates. To avoid paying interest on your charges, you should pay your balance in full each month by the due date. Your due date will be 21 days after the close of your billing cycle each month. If you go over this, by even one day, your interest will be compounded based on your average daily balance. This is something to be aware of.
Bottom Line
As you can see, the Chase Sapphire Reserve Credit card has a lot to offer. Many people turn away from it quickly because they see that it has a pretty high annual fee. The thing is, it will end up more than paying for it over time. If you can afford to put up the annual fee each year, you will get it back and then some in travel rewards. This is great news for those that love to travel. There are, however, other cards out there that offer great travel benefits without the commitment of an annual fee. You may just have to weigh out the pros and cons with this one. If you think it may pay off for you, apply today to see if you are approved for the Chase Sapphire Reserve Credit Card.
Not satisfied? Check out some of the best Chase credit cards that we have reviewed.
4.22
Chase Sapphire Reserve Credit Card

Jeff Gitlen is a graduate of the University of Delaware. He writes about a wide range of financial topics including student loans, credit cards, small business financing, and more. His work has been featured on a number of sites including Bloomberg, CNBC, Forbes, Market Watch, and more.
Best Credit Cards by Type