Chase Sapphire Preferred Review
The Chase Sapphire Preferred offers flexible rewards through the Chase Ultimate Rewards program.

Some offers mentioned on this page may be outdated. To confirm offers and credit card details, check the issuer's website.
---
The information for this card is outdated. For more accurate information, visit the issuer's website.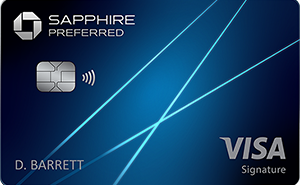 Next Steps
LendEDU Rating: 4.7/5
Rewards rate: 1x – 2x
Annual fee: $95
Editor's thoughts: This card is our choice for the best travel card with travel flexibility
Card Details
Pros
The flexibility of the Ultimate Rewards program is a big plus. You can transfer your points at a 1:1 value to many partner travel programs.
The sign-up bonus is worth $750 when redeemed for travel through Chase Ultimate Rewards.
You'll get a host of other perks, including travel and purchase coverage and no foreign transaction fees.
Cons
There's a $95 annual fee.
The standard rewards rate is rather average.
The spending requirement for the sign-up bonus is higher than other cards.
Recommended Credit Score
Good/Excellent
Is the Chase Sapphire Preferred the Best Travel Rewards Credit Card?
The Chase Sapphire Preferred is frequently cited as one of the best credit cards for travel, thanks to its bonus, rewards, and flexible travel redemption program. This card is great for travelers who use leading airlines, but its rewards rates are rather average when compared to some other cards. So if you don't travel much, you should check out other rewards credit card options.
In this review:
Chase Sapphire Preferred Benefits
This card offers one of the larger sign-up bonuses out there, a great conversion rate when redeemed through the Chase Ultimate Rewards program, and a few other travel perks as well.
Rewards
Chase is pretty flexible with how you can earn double points through travel, including cruises, flights, hotels, car rentals, travel agencies, campgrounds, buses, trains, and more. You'll get two points per dollar spent on dining out, as well.
You can also transfer rewards at a 1:1 point transfer rate to partner airline and hotel loyalty programs.
Points can also be combined with rewards earned on other Chase Ultimate Rewards cards. If you want, you can transfer points on your Chase Sapphire Preferred card to another Chase card, like Chase Freedom Unlimited. Then you can take cash out for your points. However, doing so wouldn't maximize your points' value: when you redeem your points for travel through Ultimate Rewards, you get a 25% point boost.
Sign-Up Bonus
You'll get 60,000 bonus points if you spend $4,000 on your card within three months of account opening. If you redeem those points through Chase Ultimate Rewards, that gives you $750 you can use on travel.
Travel Benefits
Another perk for those who travel outside of the U.S. is the lack of any foreign transaction fees.
Also, if your bags are delayed for more than six hours by a passenger carrier, you can get up to $100 per day for up to 5 days to buy essentials like clothes and personal hygiene items.
If your trip ends sooner than expected or is canceled altogether because of covered situations like illness or severe weather, Chase's trip cancellation insurance will reimburse you up to $10,000 per person (for a total of $20,000 per trip) for non-refundable travel purchases like tours, hotels, and passenger fares that were billed to the card.
Downsides of the Chase Sapphire Preferred Card
The biggest drawback to this card is that it has an annual fee. You have to make sure you spend enough to make it worth your while. Chase Ultimate Rewards points are worth 1.25 cents each when redeemed through the travel portal, so you'd have to spend $3,800 in bonus categories (or $9,500 in general purchases) before you start making a profit on card rewards. Of course, taking advantage of perks like trip insurance also help justify the fee.
Another downside is the card's modest rewards rate. It's not impossible to find 2% cash back on credit cards with no annual fee, so the Preferred card's 2-point categories aren't especially impressive.
How It Compares to Similar Cards
This card can be more difficult to get than some other cards because you'll need good-to-excellent credit. While some of the rewards are good for peace of mind, such as the travel insurance, you might not ever use it if you don't travel frequently enough.
If you don't travel a lot or spend a lot on your card throughout the year, you may want to opt for a free travel card instead.
If, however, you do travel extensively, you might also want to consider a more robust travel card, such as the Chase Sapphire Reserve.
Chase Sapphire Preferred vs Reserve
The information for these cards is outdated. For more accurate information, visit the issuer's website.
If you're a serious traveler, you may want to check out the Chase Sapphire Reserve card. It comes with a hefty $550 annual fee, but you're given a $300 annual travel credit as reimbursement for travel purchases on your card. You also earn three points per dollar on travel worldwide (after using full travel credit) and on dining and one point on all other purchases.
Plus, your points will be worth 50% more through Chase Ultimate Rewards rather than 25% more with the Preferred card.
You'll also get an application credit for Global Entry or TSA precheck and complimentary access to more than 1,000 airport lounges through Priority Pass Select. You wouldn't get those perks with the Chase Sapphire Preferred.
With the extra points and $300 annual travel credit, frequent travelers may find this is a better deal.
>> Read More: See how the Chase Sapphire Preferred compares to the original Chase Sapphire
Bottom Line: Is the Chase Sapphire Preferred Right for You?
Chase Sapphire Preferred is a great card to hold if you travel frequently. Its value is due in large part to the flexibility and ease of use of the Chase Ultimate Rewards program.
>> Read More: Best Chase credit cards
4.7
Chase Sapphire Preferred Credit Card

Shannon Serpette is a mother of two and an award-winning journalist and freelancer who lives in Illinois. She obtained a bachelor's degree in English from Illinois Wesleyan University before beginning her 20-year career in newspapers. When she's not spending time with her children, she is often pursuing her favorite hobbies—running, metal detecting, kayaking, and reading about personal finance.
Best Credit Cards by Type