Chase Freedom Unlimited Review
The Chase Freedom Unlimited offers a straightforward cash back rate for no annual fee. You'll get the most out of your rewards by combining this card with others from the same card issuer.

Some offers mentioned on this page may be outdated. To confirm offers and credit card details, check the issuer's website.
---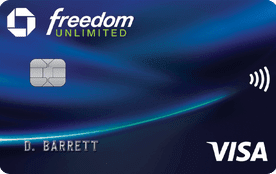 What we like:
A good flat-rate cash back card with no fee
Intro Offer
Earn 3% cash back on up to $20,000 in purchases during your first year
Rewards Rate
3% cash back during your first year on up to $20,000 in purchases

Unlimited 1.5% cash back on all other purchases
Regular APR
0% on purchases and balance transfers for 15 months

17.24% – 25.99% variable APR after that
Annual Fee
$0
See how this card stacks up to our top rated rewards credit cards
Card Details
Pros
The flat cash back rate is simple and doesn't require opting into rotating categories
No annual fee
Solid intro APR offer
Flexible reward redemption options
Option to redeem or transfer points through the Chase Ultimate Rewards travel portal
Tap to Pay functionality
Cons
Some cards offer more than 1.5% cash back, especially if you are okay with tracking bonus categories
No welcome cash bonus—only a higher rewards rate
3% foreign transaction fee
Recommended Credit Score
Good/Excellent
Chase Freedom Unlimited Review: A Flexible Card with Average Rewards
The Chase Freedom Unlimited card is a good everyday option for someone who doesn't want to track bonus categories and is okay with sacrificing a higher earning potential for simplicity and ease-of-use. It's a broadly appealing rewards card, particularly for people who are new to rewards cards in general or want to use it with their other Chase credit cards.
In this review:
Chase Freedom Unlimited Benefits
Cash Back
The Chase Freedom Unlimited card offers an unlimited 1.5% cash back on all purchases. Other cash back cards may offer higher rewards rates, but you usually have to activate rewards and spend in certain categories to get those bonus rewards. The simplicity of the Freedom Unlimited's rewards structure is nice for people who don't want to deal with strategic spending.
There's flexibility not only in how you earn rewards points but how you redeem them with this card. For example, you can receive a statement credit, a direct deposit, or a gift card. You can also book travel directly through Chase Ultimate Rewards or pay for purchases directly on Amazon.com.
Cash back rewards don't expire as long as the account remains open, and there's no required minimum for redemption.
Welcome Offer
In addition to the flat 1.5% cash back rate, new cardholders will receive a bonus 1.5% cash back—for a total rewards rate of 3%—on the first $20,000 they spend during their initial year. This gives the Freedom Unlimited card an edge over some competing cash back credit cards.
Other Perks
The Freedom Unlimited card comes with a number of services and shopping perks, including zero liability protection and fraud protection if someone steals your card info. The card also includes purchase protection for purchases for up to 120 days against theft or damage up to $500 per claim. Purchases made with the card also receive extended warranty beyond what the manufacturer guarantees.
Finally one of the best things about this card is the fact that there's no annual fee.
Downsides of the Chase Freedom Unlimited
While the Chase Freedom Unlimited is fairly easy to use, it does come with a few downsides.

First, the card carries a 3% foreign transaction fee, so you might not want to use it when traveling internationally.
Second, there is a balance transfer fee of $5 or 3% of the amount transferred, whichever is greater. If you're carrying a balance on another high-interest card, it may still make sense to transfer your balance to the Chase Freedom Unlimited during the intro APR period, but you will have to pay that 3% fee.
Finally, there aren't bonus categories to increase your earning potential when you make purchases with the card. Some other cards allow you to maximize rewards in certain categories but offer lower rewards on general purchases. Whether this is a true downside depends on how you're planning to use the card.
How It Compares to Similar Cards
The Chase Freedom Unlimited Card isn't the best credit card, but it isn't the worst, either. It's somewhere in the middle in terms of cash rewards, sign-up bonuses, and other features.
If you have other Chase cards, you can get more benefits from this particular card. For example, you could use both the Chase Freedom and the Chase Freedom Unlimited. The Chase Freedom earns 5% cash back on bonus categories, but only 1% on everything else. You could use your Chase Freedom for bonus category spending and then get more on everything else with the Chase Freedom Unlimited.
Then, you could transfer your accumulated Chase Freedom Unlimited Points to a Chase Sapphire Preferred card or Chase Sapphire Reserve card to get more redemption value and better 1:1 point transfer options.
If that sounds like too much work, you can also just consider one of the following alternatives.
Chase Freedom Unlimited vs Chase Freedom
The Chase Freedom card offers a better sign-up bonus than the Freedom Unlimited: you'll get $150 after spending just $500 within three months of account opening.
The other major difference between the cards is their cash back rewards rates. The Freedom card earns 5% cash back on bonus categories that rotate quarterly. There is a limit of up to $1,500 in combined purchases per quarter bonus categories, and you have to opt-in to activate the bonus earnings. Everything else earns a flat 1% cash back.
The standard APR, intro APR, and lack of an annual fee are the same between the two cards. If you're willing to opt-in to quarterly categories, the Chase Freedom card might be a better option thanks to the 5% cash back. The categories tend to fall into things most people spend on anyway, such as at supermarkets and gas stations.
As was mentioned above, one optimal option might be to use both cards. Take advantage of the bonus categories with the Chase Freedom, and sue the Chase Freedom Unlimited for other purchases that don't fall into the bonus categories.
Chase Freedom Unlimited vs Citi Double Cash Card
The Citi Double Cash card features the opportunity to earn 2% cash back on every purchase—1% at the time of purchase and 1% when you pay it off. The card also offers an introductory APR of 0% on balance transfers for 18 months.

While it may seem like the Citi Double Cash Card is the winner, it doesn't offer the 3% cash back rate during your first year, so which is better depends on how long you plan to carry the card and if you intend to combine multiple Chase cards in a larger spending strategy.
Bottom Line: Is the Chase Freedom Unlimited Right for You?
The Chase Freedom Unlimited is a straightforward, average cash back card. It's not the best card, but it's a good option for someone who values simplicity and who wants a decent cash back rate for no annual fee. Savvy cardholders will look for ways to combine the Freedom Unlimited with other Chase cards to get the best rewards rates.
3.93
Chase Freedom Unlimited Credit Card

Ashley Sutphin Watkins is a graduate of UNC-Chapel Hill where she studied journalism. She has worked as a journalist, content creator, and copywriter for nearly a decade, with a focus on personal finance, real estate, and healthcare. She now lives in Knoxville with her husband and young kids. During her free time, she enjoys traveling and enjoying the outdoors in East Tennessee.
Best Credit Cards by Type