The Chase Freedom Unlimited card is one of the best rewards cards on the market. That being said, Chase requires those interested in the card to have a good or excellent credit score to be approved.
When it comes to college students, most won't meet this requirement. This is mainly due to a lack of credit history and no fixed income.
However, if you are a college student with a good to excellent credit score and a steady income that can prove to Chase that you can repay any debt you charge to the card, you may be able to be approved.
Here's everything you need to know.
On this page:
Are you eligible for the Chase Freedom Unlimited card?
As mentioned above, the Chase Freedom Unlimited card is a great cash back card with plenty of perks–if you're eligible.
Before getting to Chase's eligibility criteria, it's important that students understand the Credit Card Accountability Responsibility and Disclosure Act of 2009 (Credit CARD Act). This act prohibits extensions of credit to consumers under the age of 21 unless they have proven their ability to make payments or have secured an adult cosigner. If you're able to meet these requirements or are over the age of 21, you can continue below.
To determine your eligibility, Chase and other credit card companies consider several factors. These factors can include your credit score, credit history, income, number of hard inquiries on your credit report, credit utilization ratio, and more.
Let's take a look at what Chase may consider in relation to each of these factors.
What credit score do you need?
While Chase does not provide a minimum credit score, it's recommended that you have a good to excellent credit score. Some members of online forums have suggested that you'll need a credit score above 675.
Again, since Chase doesn't provide a minimum credit score, this doesn't mean that those with a lower score can't be approved.
How long does my credit history have to be?
Similar to its credit score requirements, Chase doesn't state how long your credit history should be. However, like any other credit card issuer, the company does want to avoid issuing credit to those with a limited credit history and an inability to repay their debts.
So, if you can build up your credit history and ensure that you meet repayment on any outstanding debts–such as student loans–you'll put yourself in a great position to receive approval.
Do I really need to have an income?
Having an income isn't explicitly written out, but Chase needs to know that you can repay any debt you charge to your card. Without a steady income, the company can't prove how you will be able to do that.
How many hard inquiries are acceptable?
It has been rumored that Chase follows a 5/24 rule that means you can't be approved for most Chase cards if you've opened five or more personal credit cards within the last 24 months.
Make sure to select your credit cards appropriately, and if the Chase Freedom Unlimited card is at the top of your list, don't go apply for several other cards at the same time.
What credit utilization should I have?
While Chase doesn't require you to meet a specific percentage, it's best practice to keep your credit utilization under 30%. Your credit utilization shows how much of your overall credit you are using. If you have a higher credit utilization, it could be a warning sign that you may be unable to repay the amount charged to your card.
What does the Chase Freedom Unlimited card offer?
Now that you understand what it takes to be eligible for the card, let's review some of the many benefits of being a cardholder.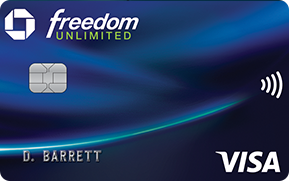 Next Steps
LendEDU Rating: 4.9/5
Rewards rate: 1.5% – 5%
Annual fee: $0
Editor's thoughts: Rated as our top choice for earning cash back, this card comes with rewards rates that are hard to match with no annual fee
New cardholders can earn a match of all the cash back earned over the first year. Additionally, there is a 0% introductory APR for the first 15 months from account opening on purchases and balance transfers.
Here's a breakdown of the rewards rates after the first year or $20,000 spent:
5% back on Chase travel purchases through Ultimate Rewards®
5% back on Lyft rides through March 2022
3% back on dining at restaurants
3% back at drugstores
1.5% back on all other purchases
If that wasn't enough, some additional benefits include contactless payment, partner benefits, and no expiration on your rewards as long as your account remains open.
Other options if you're ineligible
If after reading through the expected eligibility requirements above, you don't believe you'll be eligible, you can consider other types of credit cards. Some examples for college students include credit building, secured, or student credit cards.
All three are designed to offer credit to those who need to build or improve their credit history. In recent years, many credit card issuers have even started to offer rewards on these cards.