Chase Freedom Credit Card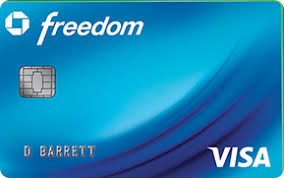 on Chase's secure website
Chase Freedom Credit Card
What we like:
Best for redemption flexibility
Intro Offer
$150 bonus after spending $500 on purchases in first 3 months from account opening

0% intro APR for 15 months from account opening on purchases and balance transfers
Rewards Rate
5% cash back on up to $1,500 in combined purchases in bonus categories each quarter you activate

1% cash back on all other purchases
Regular APR
17.24% – 25.99%
Annual Fee
$0
See how this card stacks up to our top rated rewards credit cards
Chase bank, merged with J.P. Morgan & Co. since 2000, is one of the largest and most reliable banks that provides credit card opportunities; in fact, it is ranked third in customer satisfaction rating among the top credit card issuers in the United States (J.D. Power, 2015). Individuals looking to experience this customer satisfaction need look no further than the Chase Freedom® Credit Card which is a good place to start building credit with Chase. Check out similar cash back credit cards here!
Benefits and Rewards
The Chase Freedom ® Credit Card offers multiple cash back rewards and bonuses for spending. Cardholders are awarded a bonus of $150 for spending $500 within the first three months of opening an account which is an astonishing return of 30% on initial purchases. In addition to this introductory cash back rate, a one-time extra bonus of $25 is received for adding an additional authorized user to the card account within the first three months. These bonuses compile and offer a total of $175 in introductory bonuses for opening a Freedom® Credit Card account.
Following up on these enticing bonuses, owners of the Chase Freedom® Credit Card receive cash back awards for making purchases. A 5% cash back reward is offered on all items that belong to a certain defined category of goods. These product categories change quarterly, and the special 5% return must be activated before a deadline at the beginning of each quarter.
Aside from the bonus cash back rate, a standard cash back rate of 1% is applied to all purchases. Cardholders can rack up cash back rewards with no risk of expiration or ceiling limit. These cash back points can be redeemed as a credit back onto the account and can be used towards any purchases.
Chase protects Chase Freedom accounts with Zero Liability Protection which ensures that account members are not victimized by attempted fraud. Cases of fraudulent expenses can be reported using a number provided on the back of the credit card. If a suspected case of fraud is detected without the knowledge of the main cardholder, a fraud alert system can promptly alert the user of any suspicious activity.
Rates and Fees
Rates
Min APR: 17.24%
Max APR: 25.99%
Balance Transfer: 17.24% – 25.99%
Cash Advance: 27.24%
Fees
Annual: $0
Late Payment: Up to $38
Balance Transfer: $5 or 3%
Foreign Transaction: 3%
Those who own the Chase Freedom Credit Card are not burdened by any annual fees; however, there are several typical transaction and penalty fees associated with the Freedom Credit Card. Starting with transaction fees, a $5 or 3% balance transfer fee is applied to each transfer; additionally, all cash advances are accompanied by either a $10 or 5% fee. While there are two different possible fees for balance transfers and cash advances, the fee is taken from whichever rate produces the greater fee value.
If the cardholder ever needs to buy something outside of the country, a foreign transaction fee of 3% applies to the United States dollar equivalent. There are several different late payment penalty fees: $15 is charged for late payments on balances less than $100, $27 is charged on balances between $100 and $250, and $37 applies to balances over $250. There is no penalty fee for exceeding a credit limit, and a returned payment is charged with a fee that runs up to a $37 maximum.
There are several different annual percentage rates (APR) to consider; for instance, the purchase APR varies between 14.24% and 23.24% (regular APR is 0% for the first 15 months). Balance transfer APR follows the same exact trend as the regular APR. If the need for a cash advance ever arises, a variable APR of 25.24% applies to the cash amount; a variable APR of 25.24% applies to overdraft advances.
Bottom Line
With the Chase Freedom® Credit Card in hand, an individual has the freedom to rack up cash back rewards and bonuses to put towards a number of purchases which helps garner some sort of reward for spending money. Since the major benefits of this card come in the form of cash back rewards, this card is essentially the Chase version of the cash back rewards card that is offered by most companies. The benefits are straightforward enough which makes this card a simple and easy way to enter the Chase community.
Not satisfied? Check out some of the best Chase credit cards that we have reviewed.
3.96
Chase Freedom Credit Card
Author: Jeff Gitlen
Jeff Gitlen writes about a wide range of finance topics including everything from student loans to credit cards to small business financing. Jeff's work has been featured on a number of sites including Bloomberg, CNBC, Forbes, Market Watch, and more.
Best Credit Cards by Type