Capital One Venture Credit Card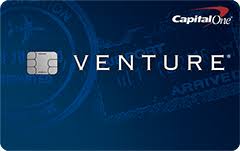 on Capital One's secure website
Capital One Venture Credit Card
What we like:
Travelers who love staying in hotels
Intro Offer
50,000 bonus miles after spending $3,000 on purchases in the first 3 months from account opening

Rewards Rate
2 miles per $1 spent on everyday purchases

10 miles per $1 spent on thousands of hotels, through Jan 2020
Regular APR
15.25% – 25.24%
Annual Fee
$95 (waived on first year)
See how this card stacks up to our top rated travel credit cards
Capital One, credit card company extraordinaire, has started venturing out by offering enticing deals to potential patrons. While Capital One offers many different credit cards ranging from student cards to business cards, there is one card that stands out uniquely from the rest of its counterparts.

Capital One cardholders looking to reward themselves with travel oriented benefits should look towards the Capital One Venture® Credit Card which serves as the premiere Capital One card geared towards travel. Check other rewards credit cards here!
Benefits and Rewards
Since this card is meant to reward its user with travel benefits, there are several special offers pertaining to the reward miles system that accompanies the card. The reward miles system is essentially a points system that builds up when using the card to make everyday purchases which effectively rewards spending and credit building. The special introductory offers involves a 40,000 bonus mile reward for spending a minimum of $3000 in purchases during the first three months with the card. This 40,000 mile gift is equivalent to $400 towards travel; this comparison values a reward mile at one cent.
The standing special reward coupled with this card is the offering of unlimited rewards miles for everyday purchases; in fact, cardholders receive two miles for every dollar spent. With reward miles valued at one cent, this reward system effectively gives back 2% on all purchases towards travel benefits. Furthermore, these reward miles do not expire which makes saving up over several years for an enormous trip extremely doable.
There are several additional benefits that come included with the Venture® Card that are advertised with Visa Signature® Benefits. The first pertains to special privileges experienced while traveling to hotels or resorts; it involves possible complimentary upgrades upon arrival which are available purely for holding a Capital One Venture® Card. Venture® cardholders enjoy 24 hour concierge service whether abroad or in town; another compliment of Visa Signature® benefits.
The Capital One Venture® Credit Card offers special access to sporting events, concerts, and similar venues along with special seating opportunities. When shopping at select everyday stores and retailers, a Venture® cardholder may be eligible for special discounts; additionally, cardholders may enjoy extended warranties on select items at no extra charge. A 24 hour traveling assistance service is available to anyone who loses their card out on the road; lost cards can be replaced with a new card or emergency cash advance within short notice.
As usual, Capital One offers total fraud spending protection in the case of a lost or stolen card making unauthorized purchases. Fraudulent spending can be sent in alerts via text messages or email in order to keep the cardholder informed of any suspicious activity.
Rates and Fees
Rates
Min APR: 15.24%
Max APR: 25.24%
Balance Transfer: 15.24% – 25.24%
Cash Advance: 25.24%
Fees
Annual: $95
Late Payment: $35
Balance Transfer: N/A
Foreign Transaction: None
The Venture® Card starts with a $0 introductory fee for the first year of membership which then converts to an annual fee of $59. When performing a cash advance, a transaction fee of $10 or 3% is applied to the cash advance total; whichever value from the two rates is larger is taken. If a payment is not made on time, a maximum penalty fee of $35 is charged. Whenever traveling in a foreign country, purchases are not accompanied with a foreign transaction fee which allows cardholders to venture out of their comfort zone and purchase freely.
The annual percentage rate (APR) applied to regular purchases ranges from 13.24%, 18.24%, to 23.24%; the regular APR is only enacted if payments are not made within the proper time allotted following a billing cycle. The balance transfer APR follows the same exact outline as the regular APR with the options ranging from 13.24%, 18.24%, to 23.24%. Whenever in need of a cash advance, cardholders are subjected to an APR of 23.24% on the cash advance total.
Bottom Line
Capital One has provided a solid deal for its patrons who are looking to work towards rewarding benefits in the form of travel points. By transforming their purchases into reward miles, cardholders can make use of those vacation days from work and venture out into the world off the good graces of travel rewards. The Venture® Card is yet is another avenue towards sightseeing around the world that can compete with other similar cards from different companies.
Not satisfied? Check out some of the best Capital One credit cards that we have reviewed.
4.11
Capital One Venture Credit Card
Author: Jeff Gitlen
Jeff Gitlen writes about a wide range of finance topics including everything from student loans to credit cards to small business financing. Jeff's work has been featured on a number of sites including Bloomberg, CNBC, Forbes, Market Watch, and more.
Best Credit Cards by Type