Some offers mentioned on this page may be outdated. To confirm offers and credit card details, check the issuer's website.
---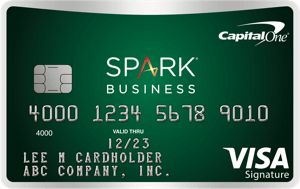 on Capital One's secure website
What we like:
The unlimited rewards rate is great for businesses that spend a lot
Sign-Up Bonus

Earn a one-time

$500

cash bonus once you spend

$4,500

on purchases within

three months

of account opening

Rewards Rate

2

% cash back on all purchases

Regular APR

19.24%

(variable)

Annual Fee

$95

(waived first year)
See how this card stacks up to our top rated business credit cards
Card Details
Pros
No spending cap on the

2

% cash back rewards
Cash back never expires, and there are no minimums for cashing it in
No foreign transaction fees
Annual fee is waived for the first year
Free employee cards
Cons
The sign-up bonus may be hard to achieve for very small businesses
There's a

$95

annual fee (after the first year)
There are no bonus categories, so rewards higher than

2

% are not possible
Recommended Credit Score

Good/Excellent
Capital One Spark Business Credit Card: Great for Businesses with Moderate Spending
The Spark Cash card is one of the best business credit cards, thanks to its solid and unlimited cash back rewards rate. It's an all-around solid choice for business owners with moderate-sized companies. However, if your business has only minimal spending, you might want to opt for the Spark Cash Select card instead, which has no annual fee.
In this review:
Spark Business Credit Card Benefits
Capital One's Spark Cash card carries a lot of pros for consumers.
Sign-Up Bonus
The Capital One Spark Cash business credit card offers a $500 sign-up bonus to new cardholders, which is applied as a statement credit. To earn it, members must spend $4,500 within the first three months after account opening. Remember that the three months begins upon account opening, not after receiving the card in the mail.

Rewards
The card offers a solid 2% cash back rate with no spending cap, unlike some other cards that limit cash-back spending to a certain amount before reverting to a lower rewards rate. That means businesses that do a lot of spending have the potential to rack up a significant chunk of cash back.
Unlimited 2% cash back across the board means that busy organizations don't have to worry about tracking spending categories, and since the annual fee is waived in the first year, this could lead to a significant chunk of rewards. In the second year and beyond, though, the Spark card only makes sense if your business spends more than $19,000 per year; that's the break-even point between this card and the Spark Cash Select, which offers 1.5% cash back but has no annual fee.

Travel Perks
The Spark business card offers a number of travel perks, such as:
Auto rental collision damage waivers
Travel and emergency assistance
Roadside dispatch
No foreign transaction fees
Shopping Perks

While the Spark card does not offer specific bonuses to shoppers like discounts on certain purchases, it does provide:
$0 fraud liability, plus fraud alerts
Replacement, repair, or reimbursement for eligible items within 90 days
Extended warranty on eligible purchases
Purchase records, automatically exported to software like Quicken, QuickBooks, and Excel
Downsides of the Capital One Spark Business Credit Card
The Spark business card may have more than a few pros going for it, but that's not to say it doesn't have its downsides.
First of all, the cash bonus, which requires spending $4,500 in just three months, may be out of reach for very small businesses who just don't work with that sort of cash flow or expenditure. On top of that, beginning in the second year, the $95 yearly fee may not make sense for smaller businesses with fewer expenses. Other cards on the market with no annual fees or better bonus earning may suit those businesses better. Businesses that spend less than $19,000/year may do better to check out the Spark Cash Select Card instead.
While 2% cash back on purchases does offer an opportunity to earn rewards, many other cards have better cash back options in the form of bonus categories; while this usually means that "other purchases" typically only bring in 1% cash back, bonus categories in things like travel or office supplies can boost your average rewards. Businesses heavily purchasing in specific categories would do better with a card that uses bonus cash back in those categories. Of course, if you prefer simplicity, a standard 2% across the board isn't bad.
Finally, applicants need good-to-excellent credit to qualify, which can pose a challenge for some.
How It Compares to Similar Cards

Overall, the Spark cash card is a solid business credit card; it's easy to use and earn rewards. While the overall earning rate may be lower compared to cards with bonus categories, some businesses may find the flat 2% rewards rate easier to understand. Businesses that don't want to pay the $95 annual fee could consider the Spark Cash Select card instead.

Capital One Spark Cash for Business vs Capital One Spark Cash Select for Business
The main differences between these cards come in their cash back rates and annual fees. While the Spark Cash for Business card charges a $95 annual fee in the second year and onward, it does offer 2% cash back. The Spark Cash Select, on the other hand, has no annual fee, but users will see lower reward returns at only 1.5% cash back. You'll need spend at least $19,000 per year on the card to break even with the Spark Cash card. After that, all additional purchases would profit your business at a higher rewards rate. If you don't think you'll spend more than $19,000, consider the Spark Cash Select.

Additionally, the Spark Cash Select offers a $200 cash bonus instead of $500, but you only need to spend $3,000 to get it.
Finally, one clear advantage of the Spark Cash Select is the fact that new cardholders will receive a 0% intro APR on purchases for the first nine months after account opening. A variable APR still applies to balance transfers.
Capital One Spark Cash for Business vs Capital One Spark Miles for Business
The Spark Miles card is basically the travel-oriented twin of the Spark Cash card. There is little difference in the rewards and sign-up bonuses between these cards, but with the Spark Miles card, you earn miles instead of cash back. If your company will use those miles, the Spark Miles may be a great choice. Otherwise, if you'd like more flexibility in how you can redeem your rewards, choose the Spark Cash.

>> Read More: Capital One Spark Business cards
Bottom Line: Is the Capital One Spark Business Credit Card Right for You?
The Capital One Spark Cash for Business card is a solid option for businesses that don't want to track bonus categories and spend more than $19,000 per year. Companies that want greater rewards opportunities, miles, no annual fee, or a lower APR may find other cards—such as the Spark Cash Select, Spark Miles, or Spark Miles Select—that fit their needs better.
Still not convinced? Read more about the best Capital One Credit Cards for businesses and individuals.