Some offers mentioned on this page may be outdated. To confirm offers and credit card details, check the issuer's website.
---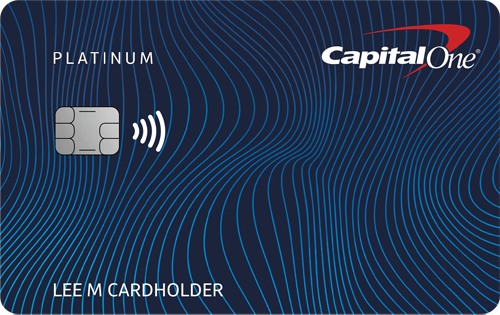 on Capital One's secure website
Secured Mastercard® from Capital One
What we like:
Someone who wants to travel abroad
| | |
| --- | --- |
| Intro Offer | None |
| Rewards Rate | None |
| Regular APR | 26.99% |
| Annual Fee | $0 |
See how this card stacks up to our top rated secured credit cards
Card Summary
Pros
Qualifying is easy with a security deposit, even if you have poor or limited credit
Pick your own monthly payment
Potential to access a higher credit limit than your security deposit
No annual fee
Reports to all three major credit bureaus (Experian, Equifax, and TransUnion)
Cons
No signup bonus
No opportunity to earn rewards
No 0% introductory APR
High regular APR
Recommended Credit Score
Poor credit/building credit
Is the Secured Mastercard® from Capital One a Good Card for Rebuilding Credit?
The Secured Mastercard® from Capital One is a strong option for people who are recovering from bankruptcy or otherwise have bad credit. Unlike many secured credit cards, it's possible to qualify for a credit limit that exceeds the amount of your security deposit. There's no annual fee.
On the other hand, the card has a high APR, no promotional APR, no bonus for new cardmembers, and no rewards program to pay you back for spending. If you're building credit for the first time, you may be better off choosing a student credit card, many of which don't require a deposit to serve as collateral but still offer bonuses and rewards programs.
In this review:
Secured Mastercard® from Capital One Benefits
Capital One has some significant credit-building benefits over other secured cards, including the chance to earn a credit line higher than the collateral pledged as well as some travel perks. Here are some of the biggest benefits.
Credit Limit Increases
The card offers provides an initial credit line of $200, but your deposit amount may be either $49, $99, or $200 depending on your creditworthiness. This means some cardholders will actually start with a higher credit line than their collateral, which isn't common with secured cards.
Cardholders also have the option to make an additional deposit before the account opens to get an even higher credit line. After demonstrating responsible card use by making five on-time monthly payments, the card issuer will review your account for another credit line increase.
A larger credit line is good for your credit score, as credit utilization is one of the most important factors in determining your score.
Travel Benefits
The card offers travel perks that can be found with some unsecured cards. Some of these perks include:
24/7 travel assistance
Car rental insurance
Travel accident insurance if you use your card to charge your trip
No foreign transaction fees
Downsides of the Secured Mastercard® from Capital One
Unfortunately, there are also some downsides. Some of these disadvantages include the following:
No introductory 0% APR. Many other cards offer a promotional APR that allows you to pay no interest on purchases for a certain period after account opening.
A high variable APR. If you don't pay your monthly balance in full, you'll pay a fortune in interest rates with a variable APR of 26.99%.
No balance transfer options.
No signup bonus or rewards program. While uncommon, some secured cards do offer rewards.
>> Read More: Best credit card sign-up bonus offers
How it Compares to Similar Cards
The card is a worthy option compared to some other prepaid cards, but some competitor cards offer advantages the Capital One card doesn't, such as the chance to earn rewards on everyday purchases.
Secured Mastercard® from Capital One vs Discover it Secured Credit Card
The Discover it Secured Card also charges no annual fee, but unlike the Secured Mastercard, the Discover it card provides 2% cash back at gas stations and restaurant purchases (up to $1,000 combined) every quarter. All other purchases on the Discover it Secured Card earn you 1% cash back; plus, Discover matches all the cash back earned automatically after you've had the card for a year.
Discover's secured card also has a slightly lower APR of 25.24%, which makes it slightly less costly if you need to carry a balance. But it doesn't provide the opportunity to have a higher credit limit than your security deposit when you first open the card.
Frequently Asked Questions
When deciding whether this card is right for you, there are a few questions you may have.
How Long Does It Take to Get the Secured Mastercard?
After your application is approved, you'll receive notice of the required security deposit. Once you've made your security deposit, you'll receive your card within two to three weeks.
How Often Does Capital One Increase Your Credit Limit?
You can get your credit line increased after making five on-time monthly payments.
When your application for the card is approved, you also have the opportunity to make a larger deposit to raise your initial credit line up to a maximum $1,000.
Check out our article How to Request a Credit Limit Increase from Capital One to learn more about how you do just that.
Bottom Line
If you want to minimize the collateral you need to pledge for a secured card, this card may be a great choice for consumers looking to improve their credit history. Frequent travelers will also appreciate the travel perks.