Some offers mentioned on this page may be outdated. To confirm offers and credit card details, check the issuer's website.
---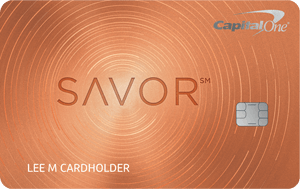 on Capital One's secure website
What we like:
For consumers who enjoy eating out
Intro Offer
$300 cash after spending $3,000 in first 3 months
Rewards Rate
4% cash back on dining & entertainment

2% cash back at grocery stores

1% back on all purchases
Regular APR
16.74% – 25.74%
Annual Fee
$95 (waived for first year)
See how this card stacks up to our top rated rewards cards
Card Details
Pros
One of the highest rewards rates available for dining and entertainment
Strong cash back bonus for new cardholders
Free membership with Postmates Unlimited
No fee for the first year
Flexible redemption for cash back rewards
Cons
Average rewards if you don't spend a lot on dining and entertainment
No intro APR offer
Difficult to qualify for
Annual fee is relatively high after the first year
Recommended Credit Score
Good to Excellent
Capital One Savor Review: What You Need to Know
If a sushi-and-bowling night is part of your weekly routine (but hopefully not all at the same place), the Capital One Savor Card may be the card for you. Its unlimited rewards for dining and entertainment purchases are hard to beat, and you can earn cash back at the grocery store, too.
However, if you don't spend enough in bonus categories to outweigh the card's annual fee, the lower-tier version of the card might make more sense. Read more to see whether this card is right for you.
In this review:
Capital One Savor Rewards
The Capital One Savor Rewards Card offers unlimited 4% cash back on dining and entertainment. This includes:
Dining
Restaurants (including fast food)
Coffee shops
Bars
Nightclubs
Bakeries
Entertainment
Movies
Plays
Concerts
Sporting events
Tourist attractions
Theme parks
Aquariums
Dance clubs
Pool halls
Bowling alleys
Entertainment charges such as membership, digital streaming, and cable fees are not included.
The card also features 2% cash back on grocery purchases, including supermarkets and local food stores, but it doesn't include big-box stores that sell groceries and other merchandise, such as Target and Walmart.
All other purchases earn an unlimited 1% cash back.
Whether a purchase qualifies for a bonus rewards rate depends on the merchant code used by the vendor, so if you're about to spend big at some type of entertainment hall and you're unsure of which card to use, ask the business owner how they categorize their transactions.
Cardholders can redeem their cash back for any amount, and it never expires as long as the card account is open.
Capital One Savor Benefits
The Capital One Savor comes with a few other perks in addition to the competitively high rewards rates for dining and entertainment.
Sign-Up Bonus
Currently, new cardholders can earn a $300 cash bonus after spending $3,000 on their card within three months of opening the account.
Postmates Unlimited
Now through December 2019, cardholders who use their Savor card to sign up for Postmates Unlimited will have their monthly membership fee waived by Capital One.
Travel & Shopping Perks
There are no foreign transaction fees on purchases made outside the U.S., and the card comes with a host of travel benefits, including travel accident insurance and 24-hour travel assistance.
You'll also receive complimentary concierge service, extended warranty protection, and virtual numbers from Eno — so your card information is always safe when shopping online.
Downsides of the Capital One Savor Credit Card
The Capital One Savor Credit Card is marketed by Capital One as a premium card for applicants with excellent credit scores. Generally, you'll need a credit score in the 700s or above to qualify for this card, putting it out of reach for many potential applicants.
Additionally, if you do most of your grocery shopping at superstores like Target or Walmart, you'll miss out on the extra cash back on groceries. You will, however, still earn 1% back on these purchases.
The final downside is cost. Thanks to the sign-up bonus and waived annual fee, the Capital One Savor is an excellent card in its first year. However, once the $95 annual fee kicks in, the card might not make sense for moderate spenders.
$95 is an average fee for a credit card, but many competing rewards cards, such as travel credit cards, offer you much more valuable perks for the same fee. Capital One also offers a watered-down version of this card, the Capital One SavorOne with no annual fee. You can read our break-even analysis below to see if this option makes more sense for you.
How It Compares to Similar Cards
If you spend a lot on dining and entertainment, the Capital One Savor card is definitely worth considering. But there are a few other cards you should check out before you make your decision.
Capital One Savor vs. SavorOne
The Capital One SavorOne card offers an unlimited 3% cash back on dining and entertainment, 2% at grocery stores, and 1% on other purchases with no annual fee. The annual fee is also lower, but much easier to obtain — a $150 cash back bonus after you spend $500 on purchases within three months of account opening.
If you spend less than $9,500 a year on dining and entertainment, the SavorOne might be a better option. Once you pass that benchmark, the extra 1% rewards you get with the Savor card will have paid for the $95 annual fee, and the rest is profit, so take a look at your typical spending habits to decide which card is right for you.
Capital One Savor vs. Quicksilver
The Capital One Quicksilver is another popular Capital One credit card for applicants with good to excellent credit. This card has a simpler reward structure than the Savor card — an unlimited 1.5% cash back on all purchases across all categories with no annual fee.
Although the cash back rewards are lower than you'd get with the Savor card, the Quicksilver may make more sense if you don't have especially high budgets in the Savor card's bonus spending categories.
Capital One Savor Credit Score: What's Needed for Approval?
You may have a tough time qualifying for this card without a high credit score. Capital One claims the card is meant for applicants with excellent credit (generally, 800 and above), but we believe you may be able to qualify with a credit score of 700+ if you've demonstrated responsible payments in the past.
If you don't have very good to excellent credit, consider working on strategies to improve your score before you apply for the Savor card.
Capital One Savor Credit Limit
Since the Capital One Savor card is a premium product for cardholders with great credit, the typical credit limits cardholders receive may be higher than the average credit limit on other cards. However, your credit limit will vary depending on your specific credit score, your typical credit utilization ratio, and your payment history.
If you use the card responsibly for a few months to a year, it's also possible to earn a higher credit limit from Capital One.
Bottom Line: Is the Capital One Savor Card Right for You?
The Capital One Savor Card is a good premium card option, but only if you're sure your spending on dining and entertainment qualifies for the highest cash back tier. People with more moderate budgets in discretionary spending categories might want to look at the free version of the card.