Some offers mentioned on this page may be outdated. To confirm offers and credit card details, check the issuer's website.
---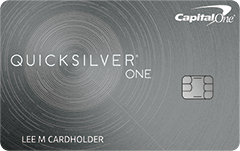 on Capital One's secure website
What we like:
A solid rewards rate for cardholders with average credit
| | |
| --- | --- |
| Intro Offer | N/A |
| Rewards Rate | 1.5% |
| Regular APR | 26.99% Variable APR |
| Annual Fee | $39 |
See how this card stacks up to our top rated rewards credit cards
Card Details
Pros
Applicants may qualify even with less-than-perfect credit
The cash rewards structure is simple and easy to understand
Cardholders can redeem their rewards cash back for any amount
Rewards don't expire for the life of the account
Cons
The variable APR is relatively high
There is a $39 annual fee
There currently aren't any sign-up bonuses or intro APRs for balance transfers
Recommended Credit Score
Average
The Capital One QuicksilverOne Cash Rewards Credit Card: Who Is it Good For?
The Capital One QuickSilverOne is a cash back credit card designed for people who have average or fair credit or minimal credit history. The card boasts a straightforward rewards structure and opportunities to monitor and boost your credit score. It's one of the simpler rewards cards available, making it a good starter credit card.
In this review:
Benefits of the Capital One QuicksilverOne Card
The Capital One QuicksilverOne card is a good option for someone who wants the advantages of a cash back card but who doesn't have good credit. Capital One markets it as a card for people with average credit, so we estimate you'll need a minimum credit score of 580 to 600—and no major missteps on your credit report—to qualify.
Rewards
This credit card offers an unlimited 1.5% cash back on all purchases. There are no limitations and bonus categories to track.
Redemption of cash back rewards is similarly simple. Cardholders can redeem cash back as a statement credit at any amount, and the rewards don't expire as long as the account is open.
Increased Credit Limit
Since this card is marketed to people with average credit, most cardholders won't receive a high credit limit. However, after cardholders make their first five monthly payments on-time, Capital One will review their account and may grant them a higher credit limit through the Capital One Credit Steps program.
Credit Reporting
Finally, cardholders have access to Capital One's credit monitoring service, CreditWise, which can be used online or through the mobile app. CreditWise offers unlimited access to credit scores and credit building tools, so you can learn about what impacts your credit score and watch it grow as you make timely payments.
Downsides of the Capital One QuickSilverOne Card
Of course, this card also has some disadvantages. First, the APR is relatively high at 26.99%.
There's also an annual fee to take into account. At $39, you won't be paying very much for your card. But any annual fee at all is high for a card with a simple 1.5% cash back rewards rate. That annual fee is one of the primary differences between the QuicksilverOne card and the Quicksilver card, which offers the same rewards rate for with no fee—if you have good enough credit to qualify.
Additionally, there are no sign-up bonuses available right now, and there isn't an introductory APR when you open your account—perks that come with many of the best rewards credit cards.
How It Compares to Similar Cards
Capital One QuicksilverOne vs Platinum Credit Card
The Capital One Platinum Credit Card has some similarities to the QuicksilverOne card, yet the Platinum card has no annual fee. This card is also intended for applicants with average credit, and it offers a higher credit line with five on-time monthly payments. The purchase APR with this card is the same as the QuicksilverOne at 26.99 percent. While this card doesn't have an annual fee, it also doesn't have any cash back rewards.
QuicksilverOne vs Quicksilver
The Quicksilver card is one of the best Capital One credit cards available because it offers an unlimited 1.5% cash back for no annual fee. However, the card is available only to people with good-to-excellent credit, so which card you apply to will depend on your credit history. If you're just starting out, you may want to apply for the QuicksilverOne card now, then upgrade your Capital One card later when you have better credit.
QuicksilverOne vs Milestone Gold Mastercard
The Capital One QuicksilverOne is geared more toward people with limited or average credit; for someone with bad credit, however, another option might be the Milestone Gold Mastercard. The Milestone card is unsecured, but it does have an annual fee of $35. The Milestone Gold Mastercard should only be considered those who are trying to build credit.
Bottom Line: Is the Capital One QuicksilverOne Card Right for You?
The Capital One QuicksilverOne is a strong credit card for someone with a limited credit history or an average credit score. It's simple in terms of the cash back structure, and it has tools to help users build their credit over time. Although there is an annual fee, this can be offset by spending a fairly low amount on the card annually.