Many people wonder whether they can use a credit card at an ATM, how it works, and whether or not they should. In short, using a credit card at an ATM can be a quick and easy way to get some cash in a pinch, but it is generally a bad idea due to fees and interest.
How Does Using a Credit Card at an ATM Work?
Using an ATM to get cash using a credit card is very similar to withdrawing money with a debit card. Locate an ATM near you, preferably one that does not charge fees and is on the correct network for your credit card issuer.
Once you choose the ATM that you'd like to use, insert the credit card. The ATM may ask for the PIN associated with that card. Since you don't have to use the PIN when making purchases with a credit card, you may not know it. You can resolve this by calling the number on the back of the credit card and getting your PIN reset. Once you've entered your PIN, you can enter the amount of cash you'd like to receive, making sure not to exceed your card's cash advance limit, and the ATM will distribute the money to you.
What are the Costs of Using a Credit Card at an ATM?
Getting cash from an ATM using a credit card is convenient but comes with very hefty fees that consumers need to consider. Just like debit cards, credit cards are part of specific ATM networks based on the card's issuer. Using a credit card to withdraw cash from an ATM outside of its network normally incurs a fee from the ATM network. Additionally, businesses that let ATMs operate on the premises can charge an additional fee to consumers who use the ATM. These fees alone can increase the cost of your transaction by two to ten dollars.
Credit card companies also charge fees for cash advances, further increasing the cost. Typically, cash advances cost a flat fee or a percentage of the cash you withdraw from the ATM, whichever is higher. So, if your card charges $5 or 3% for a cash advance and you withdraw $20, you'll be hit with a $5 fee, which works out to be 25% of your cash advance. If you withdraw $300, your fee will be $9. This means that small withdrawals can be incredibly expensive on a percentage basis.
The last way credit card companies make money on cash advances is through interest. Interest on cash advances tends to be four to five percent higher than the interest on purchase balances. Many cards also start charging interest immediately, rather than waiting until the statement closes and payment comes due. This means you could be hit with a surprise interest bill if you get a cash advance early in your statement, and don't pay it off right away.
Advertisement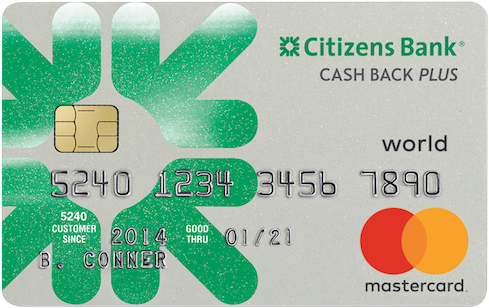 Citizens Bank Cash Back Plus® World Mastercard®
Unlimited 1.8% cash back on every eligible purchase
0% introductory APR on balance transfers for 15 billing cycles
No annual fee or foreign transaction fees
What You Should Know Before Using a Credit Card at an ATM
Before getting a cash advance from an ATM by using your credit card, there are a few things you should know.
What is My Current Card Balance and What is My Cash Advance Limit?
You don't want to go to an ATM looking for cash and come away realizing that you've already reached your card's limit or you can't withdraw as much as you actually need. Most cards have a separate, lower limit for cash advances than purchases. The limit can sometimes be raised, however, by calling the card's customer service line. Therefore, knowing what your cash advance limit is ahead of your ATM visit is extremely important in determining if you need to request an increased line of credit.
What Terms and Fees are Involved?
As mentioned before, card companies charge fees on cash advances. Knowing the exact fees, you'll be dealing with and the terms of the cash advance, such as when interest will start to accrue, is essential. For reference, the terms may be slightly different for business facing credit cards vs. consumer facing credit cards.
Are There Alternatives to Taking a Cash Advance?
Since cash advances are so costly, you should take time to consider whether there are alternatives to getting one. Asking to borrow some cash from a friend, writing a check, or paying a surcharge to use your credit card instead of getting cash from an ATM can save you money in the long run.
Using your credit card to get a cash advance from an ATM can be a convenient way to get cash in a hurry, but the fees associated with a cash advance means they should only be used when they are truly necessary.
Author: Andrew Rombach
Andrew writes engaging and informative content for readers looking to find information about topics such as student loans, credit cards, personal loans, and small business financing. Andrew's work has been featured in Market Watch, Bankrate, The Penny Hoarder, and the Lacrosse Tribune.
Best Credit Cards by Type