Bluebird Prepaid Card Review
Bluebird is a prepaid debit card from American Express that mirrors traditional bank accounts by providing cardholders with direct deposit, fee-free ATM withdrawals, and other benefits.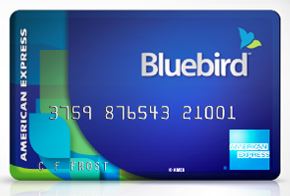 on Bluebird's secure website
What we like:
Low-cost substitute to a traditional bank account
| | |
| --- | --- |
| Intro Offer | N/A |
| Rewards Rate | N/A |
| Regular APR | N/A |
| Annual Fee | N/A |
See how this card stacks up to our top rated credit cards
Card Details
Pros
Free MoneyPass ATM access
Deposit money and pay bills for free
No activation, monthly maintenance, or foreign transaction fees
Card membership benefits from American Express
SetAside accounts let you put money away for future spending needs
Cons
$2.50 withdrawal fee at non-MoneyPass ATMs
No cash back at merchants
No option to link your Bluebird account to a bank account
No rewards for spending
Recommended Credit Score
Bluebird American Express Review: A Great Card for People Without a Bank Account
Many people don't want a traditional bank account or cannot access one because of past financial missteps, making it more difficult to accept paychecks or tax refunds via direct deposit. That's where the Bluebird by American Express card comes in. As a prepaid debit card, the Bluebird card offers similar benefits without excess charges such as an overdraft fee or monthly fee.
With multiple free options for depositing money, paying bills, and withdrawing cash, the Bluebird prepaid card lets you manage your money while also enjoying perks typically reserved for credit cards, such as purchase protection, roadside assistance, and more. And just like a regular bank account, any funds added to your Bluebird account are FDIC-insured.
This Bluebird American Express review will tell you everything else you need to know.
In this review:
Bluebird Card Benefits
The Bluebird card is a great option for people without access to a traditional bank because it provides many free ways to add money to your card and access your funds. Some of the benefits of the card include:
Direct Deposit
Direct deposit is one of the ways you can add money to your Bluebird card. Many people set up direct deposit to have money put into a checking or savings account, but the Bluebird card allows you to have funds deposited to the card itself for immediate use versus having to manually deposit a check and wait for the funds to clear.
When you enroll in direct deposit with Bluebird, you also get access to your money up to two days faster than you would by depositing cash using other methods.
ATM Withdrawals
When you've had money directly deposited to your account or otherwise loaded to your Bluebird card, you want to be able to access the money easily. ATMs, or automatic teller machines, are found at most banks as well as in many stores and restaurants.
You can use your Bluebird card at any ATM but will incur a $2.50 fee if you use an ATM outside of the MoneyPass network ATM. The good news is there are more than 24,000 MoneyPass ATM locations, so you should be able to find one near you using the ATM locator on Bluebird.com.
Add and Transfer Money
One of the biggest benefits of the Bluebird card is all the free ways Bluebird customers can add money to their accounts. You can add money by:
Enrolling in direct deposit
Visiting virtually any Walmart store or MoneyCenter
Doing a transfer from a linked debit card
Using the Bluebird Mobile app to deposit any paper checks you receive
You also have additional options to load money to your Bluebird card such as visiting other participating retailers, but you will pay a fee if you don't use one of these free methods.
Accessing or sending money is also easy. You can withdraw funds for free at MoneyPass ATMs, shop with your card online or with any merchant that accepts American Express, or use your card to pay bills wherever debit cards are accepted. Online bill pay is also free.
Bluebird2Walmart Money Transfer is another option for sending money to anyone, but you'll pay fees ranging from $4 to $16 based on the amount you want to transfer.
Other Perks
Because the Bluebird card is an American Express card, using it gives you access to many cardholder benefits, including:
Purchase protection: You're protected against accidental damage and theft for 90 days when you make a purchase with your Bluebird card.
Fraud protection: You're not liable for fraudulent charges if your card is lost or stolen.
Roadside assistance hotline: Although you're responsible for third-party service costs, the Amex hotline will coordinate services for you in case of emergency.
Global assist hotline: When traveling more than 100 miles from home, Amex will coordinate emergency services for you. Again, you'll be responsible for third-party service fees.
American Express Experience: This gives you priority access to certain sporting and entertainment events.
Parents might like the option of opening a family account for overall money management, as Bluebird lets cardholders add up to four sub-accounts and set optional limits on spending and ATM access.
Downsides of the Bluebird Card
The Bluebird card does have some downsides, including:
You don't receive any rewards for using the card.
The card doesn't help you build credit, as it's not a credit card but instead is a budgeting and spending tool.
There are still fees for some services, and it's not a perfect substitute for a traditional bank account.
The temporary card offers limited features until you register your account.
Bluebird checks aren't free.
Bluebird Card Fees
Although there are free ways to deposit and access funds, the Bluebird card does charge for certain services. Some fees you may incur include:
A $2.50 ATM fee if you use a non-MoneyPass ATM
A fee up to $3.95 for funding your card at retail locations other than a Walmart
A fee between $3 and $9 if you use Cash Pickup
A fee between $4 and $16 for using Bluebird2Walmart Money transfers
A fee of 1% or 5% of the check ($5 minimum) if you want to access your money in minutes via Mobile Check Capture
These fees can add up, especially if you regularly need to add money to your account at a retail store or don't live near a MoneyPass ATM.
How It Compares to Similar Cards
The Bluebird American Express card is one of the cheaper prepaid debit cards and can be a good tool if you need to access the services of a traditional checking account with no fees. But it doesn't provide you with as much flexibility as a regular debit card, as those cards provide additional services such as the chance to get cash back when shopping with merchants.
It also doesn't provide you with any of the benefits — or risks — of credit cards. You don't earn rewards, and having the Bluebird American Express card also doesn't help you build credit. If you want a card that does those things, you may want to check out our list of the best cash back credit cards of 2019.
Of course, if you use a credit card, you risk ending up in debt and incurring interest charges, so make sure you pay off your balance in full each month.
Bottom Line
If you need a prepaid debit card to help your kids learn to budget, to deposit and access cash without a traditional bank, or for any other reason, the Bluebird card is a good choice. Its low fees, coupled with the fact you get access to Amex cardholder benefits, set the card apart from other prepaid debit card companies.

Christy Rakoczy is an experienced personal finance and legal writer who has been writing full time since 2008. She earned her JD at UCLA and graduated from the University of Rochester with a degree in media and communications. Her work has been featured on CNN Money, MSN Money, Yahoo Finance, USA Today, and more.