Best-Looking Credit Cards
March 2, 2018

Posted by:

Jeff Gitlen

Category:

Credit Cards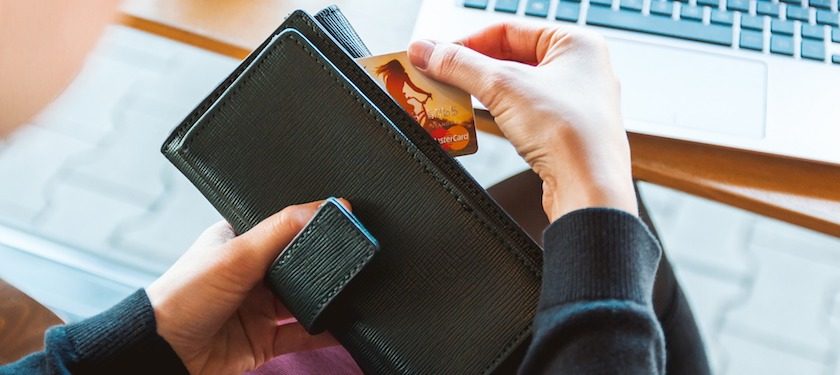 Using a credit card as a status symbol hasn't always been the norm. But today, in the world of Instagram and Facebook, flashing your hefty dinner bill alongside a sleek credit card has become something of a trend.
Credit card companies know that some credit card enthusiasts love to show off their method of payment. Therefore, issuers are upping their game with new designs, materials, and elite perks.
Almost all major credit card companies today are taking advantage of new materials and innovative design teams to one-up their competition. But these premium credit cards are (arguably) among the best-looking credit cards out there.
5 of the Coolest Looking Credit Cards
1. Mastercard Gold Card
The Mastercard Gold Card gets points for luxurious innovation, as it comes in 24k gold-plated steel with carbon backing. It is the only one of its kind on the market – and comes with a hefty annual price tag.
Perks: Out of all of its premium card competitors, it offers the best return on airfare, at 2 percent. It also offers a 2 percent cash-back redemption. The Mastercard Gold Card also comes with 24/7 access to Luxury Card Concierge, a lifestyle management company assisting with travel arrangements and specialty product sourcing.
Eligibility and Fees: It's one of the most expensive credit cards on the market, with a whopping $995 annual fee and $295 for each additional cardholder.
2. J.P. Morgan Reserve Card
Formerly the J.P. Morgan Palladium Card, membership to this exclusive credit card club is through invite only. Its design is meant to demonstrate wealth. The former was cut from brass and plated in palladium, and users report the J.P. Morgan Reserve Card to be of similar design. It's also much heavier than a standard plastic credit card.
Perks: If you qualify for this invite-only card, it comes with many perks. There are no foreign transaction fees, and it comes with an elite travel rewards program.
Eligibility and Fees: Eligibility requirements are strict with this card; clients must have at least $10 million in assets managed by J.P. Morgan.
3. Chase Sapphire Reserve
Here's yet another metal credit card, but with a sleek deep blue design that sets the Chase Sapphire Reserve apart from its metallic competitors. According to reviews, it does not feel as substantial as some of the other heavyweights in the best-looking credit cards category.
Perks: It comes with many benefits for world travelers, including a $300 flight credit, triple the rewards points on travel and dining, and access to elite travel programs.
Eligibility and Fees: Chase Sapphire Reserve is much cheaper than the Mastercard Gold Card – with a $450 annual fee, plus $75 for each additional user.
4. Citi Prestige Card
The Citi Prestige Card is another metal card, but it has what might be considered the most artistic design, with grey-on-black concentric spirals.
Perks: The Citi Prestige is a premium card with elite travel benefits. Like other premium cards, it comes with an annual flight bonus, VIP Priority Pass, Global Entry Application Fee waiver, among other perks.
Eligibility and Fees: The annual fee matches the Chase Sapphire Reserve, coming in at $450 per year.
5. Centurion Card from American Express
The Centurion Card from American Express is invite-only, and was once made of plastic. Today, this exclusive black card is now made of titanium, adding some heft to a cardholder's wallet and earning it placement among the best-looking credit cards.
Perks: This card comes with no signup bonus, plus big initiation and annual fees. So what makes the Centurion card worthwhile? Various users report getting top status for several travel programs including Delta, Starwood Preferred, Hilton HHonors, and others. It also allows access to a dedicated concierge.
Eligibility and Fees: Cardmembers are selected by American Express and reportedly do not apply for the card. The initiation fee for this exclusive card costs $7,500. Once you're in the club, expect to pay a $2,500 annual fee. It carries no foreign transaction fee. But if you pay late, you'll get charged $27 to $38.