Some offers mentioned on this page may be outdated. To confirm offers and credit card details, check the issuer's website.
---
Choosing to serve in the military is a huge decision, and depending on what you do during your time in service, that decision can be life-altering. Frequent moves, often to foreign countries, long periods of separation from loved ones, and even combat can be a part of your time in the military.
Due to the sacrifices that military members and their families make, there are a number of benefits and perks that come from being a part of the military. One of those benefits are financial programs and credit cards specifically geared toward military members.
There aren't many out there, to be fair, and many of them are offered by credit unions specifically. Credit cards are bound by provisions in the Service members' Civil Relief Act, which waives many fees and caps the interest at 6%. A few cards, however, do go above and beyond, and offer extra benefits if you're in the military. Many of these companies also have customer service that's used to complex situations, long deployments, and issues that can arise with military pay errors, so they're well-versed in how to help military families.
Some of the Best Credit Cards for Military Service Members
USAA Products
USAA is a highly respected financial institution that serves military members and their families. Offering a wide variety of services including banking, insurance, and even investments, their credit card programs really shine.
Cash Back Reward Plus American Express Card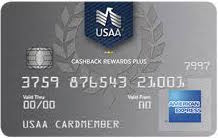 This card is excellent for those who shop on base. It offers 5% cash back on the first $3,000 you spend on gas and on-base shopping – which means you can get cash back on top of the already discounted prices at the commissary. It also pays 2% cash back on off-base supermarket purchases, and 1% on all other things you buy with the card. This card would be best if you spend a lot, but are able to pay the balance off monthly, or reduce it significantly.
It's only available to USAA members, so you'll need to be active duty or retired, or a family member. The card has no annual fee, no penalty interest rate, and no foreign transaction fees, which means you can use it while deployed overseas with no extra penalties or fees. USAA will also drop the interest rate to 4% if you or your family member is deployed, for up to 12 months. The normal interest rate is dependent on creditworthiness, and can be between 12.90% to 26.90%, so it's not the kind of card you'll want to carry a balance on if you're looking to save money.
---
USAA Rate Advantage Platinum Visa Card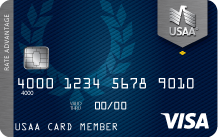 This card doesn't have any cash back options, but it does have a lower annual percentage rate, or APR – which means if you need to carry a balance on the card, you pay less interest over time. The rate can be as low as 7.9% for cardholders with good credit; those with less than optimum credit ratings will pay higher, up to 24.9%. Cardholders who deploy, however, will also receive the deployment APR of 4% for 12 months. The card also has no annual fees.
---
All USAA credit card products can be found on their website, where they also have a tool to help you choose the best card for your personal spending patterns and financial situation.
Pentagon Federal Credit Union
PenFed is short for Pentagon Federal Credit Union, which offers financial and banking services to the military and their families, as well as employees of the defense industry and government employees.
PenFed Power Cash Rewards Visa Signature Card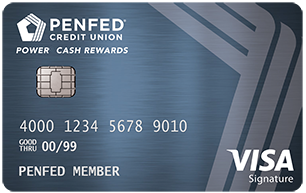 If you're currently serving in the military or are a family member, PenFed's card offers 2% cash back on all purchases, unlimited throughout the year (unlike the USAA Cash Back card, which caps the rewards after $3,000 spent). If you spend $1500 or more on the card in the first 90 days, you'll get a $100 credit on your statement as well. PenFed has no annual fees, and no foreign transaction fees.
If you transfer a balance to the PenFed card, you'll receive a 0% APR for the first year; after that the balance will assume the same rate as purchases. Customers with solid credit history can expect to pay about 9.74% APR on new purchases and cash advances; those who have struggled with credit will pay up to 17.99% — still much lower than many other cards. You can find out more about the PenFed card at their website.
---
Navy Federal Credit Union Products
Navy Fed, as it's known by its customer-owners, is a credit union specifically geared for naval personnel and Marines, although it's open to all military members and their families, as well as employees of the Department of Defense. They have a variety of card products that cater to the specific needs of military families, ranging from secured cards to help build or repair credit, up to cash back and even reward cards.
nRewards Secured Card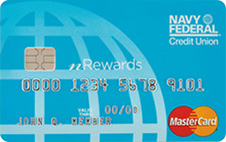 This card helps people who need to start building credit, or who need to fix past credit problems. The card is secured by a deposit at account opening, and the interest rate is highly manageable, starting out at 9.99% APR. Some cardholders, depending on credit, might pay up to 18.0% APR, but the card comes with no annual or service fees – including foreign transactions.
---
Visa Signature Flagship Rewards Card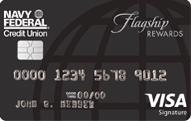 Navy Fed's midrange card, the Visa Signature Flagship Rewards card, offers an interest rate of 10.99%, and each purchase earns points that can be traded for travel, gifts, and merchandise. You'll earn 2 points per dollar spent; there is, however, a $49 annual fee.
---
CashRewards Card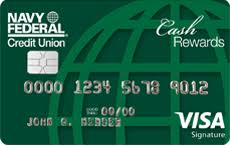 For those more interested in the cash back option, the cashRewards card lets you earn 1.5% cash back on all purchases, not just specific types. You can redeem those rewards right away, and they don't expire. The card has no annual or service fees, and interest rates run between 10.65% and 18.0% APR depending on credit.
---
More Rewards American Express Card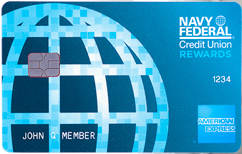 The top card in the Navy Fed lineup is the More Rewards American Express Card, which comes with no fees, and earns more rewards than any other card they offer. Their tiered points system offers 3 points per dollar spent at supermarkets and gas stations, 2 points per dollar on restaurants, and 1 point per dollar on everything else. The points can be redeemed on the American Express member site, which offers many perks like discounts on tickets for sports events and concerts, travel, and more.
Navy Federal Credit Union's website offers details on these and other card programs, so you can decide what card is best for you and your family.
---
Choosing From the Best Credit Cards for Military Service Members
The cards listed above – and the institutions that offer them – can be taken advantage of by military veterans as well; they aren't just for active duty. While not all the institutions offer the full spectrum of financial services like USAA does, they do offer credit card solutions that might be perfect for you and your family.
If you're a military member or part of a military family, then you already know that your financial situation and needs are different from most. Choosing a credit card isn't always simple, but here are a few tips to help make that decision a bit easier.
Think about how you'll use the card. Are you planning to use it for gas and groceries, and pay it off each month? A cash back card might be the best option; it allows you to gain cash rewards for spending, but you won't be hit with the higher interest rates if you're paying it off regularly. If you travel a fair amount or enjoy concerts and sports, you might be better served with a rewards card that offers points that can be redeemed for discounts on airline tickets or events.
If you know you'll be carrying a balance on the card for a while, your best bet may be to choose a more no-frills card that has no fees and a low interest rate– even if it doesn't offer points or cash rewards. If you or your family member deploys or travels overseas for work, a card with no foreign transaction fees can save you money in the long term.
If you're with a financial institution that already caters to military personnel, such as USAA or Navy Federal Credit Union, it may be worth your time to check out their products first. Some institutions grant interest rate discounts or extra perks if you have more than one account with them. If nothing they offer truly fits your needs, however, a card from another institution may work better for you and your family.
Military service can be difficult enough without also having to worry about financial issues, especially during a deployment or other family separation. Having the right credit card can make that burden a bit easier. Take the time to do the research on the different products available, and you'll find yourself with a trusted card, rather than just another debt.