Some offers mentioned on this page may be outdated. To confirm offers and credit card details, check the issuer's website.
---
Through good times and bad, families have to eat. Although an increasing number of families are finding ways to cut down their grocery bill – through coupons, shopping at discount grocers, big box stores, and weekly sales – the average American spends $150 a week on groceries.
For many families, that is their third largest expenditure behind housing and transportation. Budget-minded shoppers are able to keep to a strict spending plan, allowing them to pay for their groceries with cash or debit cards.
However, grocery shoppers who are able to effectively manage their credit can reap big benefits from using one of the best cash back credit cards, saving anywhere from 1 to 6 percent on their grocery bill in rewards.
Why Use a Cash Rewards Card for Grocery Shopping
Cash rewards are a big reason why shoppers should use credit cards for their grocery purchases. Many credit cards often come with a cash back offer that specifically targets grocery store purchases; some of the best cash back cards can have a rate of around 2 or 3 percent back.
For people who consistently pay their credit card bill each month, using a credit card for groceries can help build credit while generating significant savings over the year.
Best Use of a Cash Rewards Card
The big caveat for using cash rewards credit cards is if you spend too much, then you negate most of the cash rewards benefits.
If you are unable to pay off the monthly bill, then the penalty expenses and financial repercussions, such as negative credit marks, most likely outweigh any cash back return on your purchases.
Cash rewards should not be an incentive to spend more on your credit card unless it is built into your budget. This factors in directly with grocery shopping since it is intrinsic to a budget.
For some people, it may be worth devoting all of your credit purchases to grocery shopping, relegating any other sort purchase to debit or cash. This would supposedly keep you from overspending beyond your financial limits.
The Best Credit Cards for Groceries
Many rewards credit cards tend to focus on a specific spending category for offering rewards. For instance, some cards emphasize spending on gas by awarding more cash back or points when you fill up your tank. As mentioned earlier, there are cards that offer better cash back returns for grocery purchases. Here are some of the best grocery credit cards.
American Express Blue Cash Preferred Card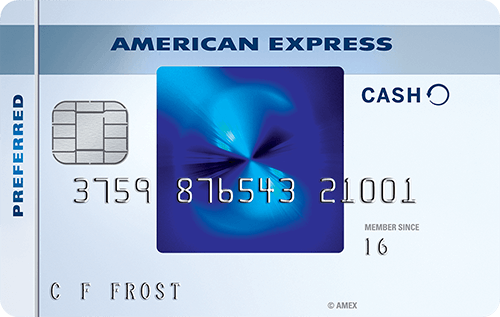 Not only does the American Express Blue Cash Preferred Card emphasize the grocery spending category, it tops all cash rewards cards with an unprecedented 6 percent cash back. However, it does cap the amount of rewards you can earn at $6,000 of grocery spending each year, or $360. You can still earn 1 percent on grocery spending thereafter. For a family that spends an average of $12,000 a year on groceries, that amounts to a total of $420 cash back. In addition to groceries, the Blue Cash Preferred Card also awards a hefty 3 percent on gas and department stores.
Considering that these spending categories are at the core of most family budgets, the Blue Cash Preferred Card has the potential to generate maximum cash back on typical family expenses. For all other purchases the card awards 1 percent cash back. The cash back is awarded as Reward Dollars that are paid to you as a statement credit and can be used to pay down the balance or on future purchases.
As a credit card, the Blue Cash Preferred Card is nothing out of the ordinary, other than being issued by American Express along with the many outstanding benefits offered such as car rental loss and damage insurance, roadside assistance, travel accident insurance, one-year extended warranty, return protection, and purchase protection. New cardholders who spend at least $1,000 in their first three months will receive a $250 bonus as a statement credit. All of this comes at the expense of a $95 annual fee making it one of the best credit cards for groceries.
---
American Express Blue Cash Everyday Card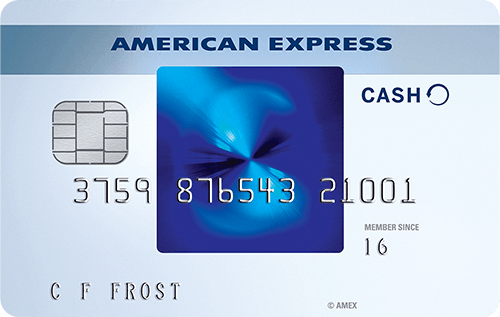 If you don't like paying an annual fee, there is the Blue Cash Everyday Card. It is the same in almost every way as the Blue Cash Preferred Card. Despite the similarity, there is no annual fee, and it doesn't pay a hefty 6 percent cash back on groceries. But, it still emphasizes grocery spending by awarding 3 percent cash back which is leads among rewards credit cards. Gas and department store spending is awarded with 2 percent cash back, and all other purchases earn 1 percent cash back. New cardholders can earn a $100 bonus for spending $1,000 in their first three months.
---
Huntington Voice Card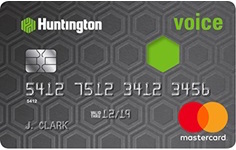 The Huntington Voice card issued by MasterCard is a no annual fee card that offers a choice in how you maximize your points. You choose the spending category that earns triple points – from groceries, gas, travel and entertainment, utilities, and several other categories, and you can change the category each quarter. Spending in all other categories earn 1 point per dollar. Triple bonus points are limited to $2,000 in spending each quarter. The points translate to cash that can be used for purchases or to pay down your balance; or, in lieu of points, you can choose a 3 percent lower APR to help you pay off your balance faster. If you choose the 3 percent lower APR, the APR range is currently 9.99 percent to 23.99 percent.
---
Bank of America Cash Rewards Credit Card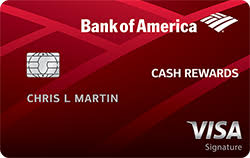 The Bank of America Cash Rewards credit card offers one of the more robust cash back rewards programs for a no annual fee card. In the critical categories of gas and groceries, it rewards cardholders with 3 percent and 2 percent cash back, respectively while paying 1 percent cash back on everything else. There is a spending cap on gas and groceries of $2,500 each quarter, but there is no cap on other regular purchases. You can redeem your cash back reward as a direct deposit into a Bank of America checking or savings account or receive a statement credit. The card also offers one of the easiest introductory bonuses, paying $100 cash back for spending just $500 within the first 90 days. In addition, it offers a 12-month, zero interest introductory period on purchases made with your first 60 days as a cardholder. The APR range for the Bank of America Cash Rewards credit card is currently 13.74 percent to 23.74 percent.
---
One Final Caveat
These days, consumers can buy groceries from many different types of stores, including drug stores, liquor stores, and discount grocery stores. It is important to be mindful that many of these different types of stores are not categorized as grocery stores by many rewards credit card programs. Until recently, even the major big box stores, such as Costco, were not included in the grocery category. Be sure to check the details of the rewards program you are considering to see what is included in their grocery category, this way you can decide which is the best grocery credit card for you.
>> Read More: Best credit cards