30 Most Beautiful College Campuses in Massachusetts
January 5, 2017

Posted by:

Jeff Gitlen

Category:

Top Colleges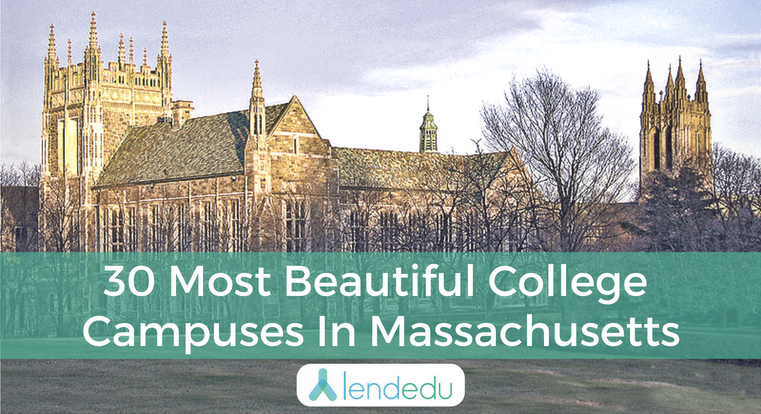 Despite being a small state, Massachusetts is home to more than a hundred colleges, universities, and community colleges. From secluded campuses dotted with historically significant buildings to those woven seamlessly into Boston's urban core, Massachusetts offers a huge variety of stunning backdrops for higher education. To find the absolute most beautiful campuses, we ranked each college's architecture and grounds and narrowed down the list based on diversity of location and environment. The result is a comprehensive guide to the most visually appealing colleges in Massachusetts — and perhaps even in the entire country.
Most Beautiful College Campuses in Massachusetts
30. Stonehill College
This Catholic college is located between Boston and Providence. With such beautiful college grounds, most students choose to live on campus. Despite having a plethora of buildings featuring traditional New England red brick, the college has recently undergone a wave of renovations and new construction. Walking paths and grassy patches reflect the school's natural setting, as does a newly constructed footbridge over Ames Pond. And with several new buildings added to campus, prospective students can rest assured that Stonehill is a forward-moving institution.
Get $50 with a Chase College Checking℠ account
Get $50 as a new Chase checking customer when you open a Chase College Checking℠ account, enroll in paperless statements and complete 10 qualifying transactions.
Opinions expressed here are author's alone, not those of any bank or credit issuer, and have not been reviewed, approved or otherwise endorsed by any of these entities.

29. Springfield Technical Community College
Boasting a lovely view of Springfield and the Connecticut River, STCC rests within Springfield Armory National Park. It was the nation's primary firearms producer from 1777 until 1965 and history certainly abounds here. George Washington and Henry Knox chose the location of the armory, which would later become STCC, because it was nestled between three major rivers and easily reachable by four other cities. 35 acres of the park's 55 acres are used for the college, and many buildings from Springfield Armory have been repurposed into classrooms.
28. Quinsigamond Community College
Despite being a commuter school, Quinsigamond Community College in Worcester features modern buildings in an open air environment. The school's main campus was formerly owned by Assumption College and there are two additional satellite campuses. Keep an eye out for the Harrington Learning Center, which features all glass walls, curved lines, and a contemporary turret-style corner.
27. Pine Manor College
This private, four-year college can be found in the Chestnut Hill section of Brookline, Massachusetts. Pine Manor is based in an urban woodlands 60-acre setting that was formerly a private estate. The campus certainly has the feel of stately manor. With stone and brick Tudor style buildings tucked away behind sweeping trees and flowers, you'll get the sense of a secret getaway each day on your way to class.
26. Tufts University
Located in Medford, Tufts University offers the convenience of being close to Boston while evoking the feel of a quaint New England town. The main campus is divided between Uphill and Downhill, yet still manages to achieve that pleasant, tucked away feeling you get with private universities. Students walk by stately red brick buildings and wrought iron fences, and can even enjoy the Jumbo statue — a huge elephant representing the school's mascot and one of its earliest benefactors, P.T. Barnum.
25. Mount Ida College
Mount Ida College can be found in Newton, which has been twice voted as the country's safest city. The school is located on a green, 72-acre campus and features classic Tudor-style buildings. The older buildings were the estate of Robert Gould Shaw II, a prominent landowner during the Gilded Age. Holbrook Hall, for example, once served as the carriage house and horse stable. The campus centerpiece is Shaw Hall, which was recently renovated and features impeccably landscaped gardens and ivy-covered walls.
24. Elms College
Located within the Springfield Street Historic District, Elms College is a stone's throw away from the city, but still has its own private campus. 14 buildings make up the campus, all revolving around the Keating Quadrangle — an outdoor commons big enough for both students and staff to congregate during special events. Its history as a Catholic girls' preparatory school can be seen by the prominent Blessed Mother statue, though in 1998 it opened its doors to male students. The student body is very closely knit, and on freshman orientation night incoming students are encouraged to sing a few lines of their favorite pop songs in the Keating Quadrangle while seniors toss out random tokens from nearby dorm windows as keepsakes.
23. Bay State College
Bay State College lies only one block away from Newbury Street, a mile long shopping area lined with nothing but fashionable 19th century brownstone buildings housing hundreds of shopping destinations. It actually has two campuses (one in Boston and one in Taunton), but it's probably its Boston campus (or the Back Bay campus) that entices most freshmen. Lying within the picture perfect Back Bay, students are never at a loss for something to do in between their studies within this bustling city.
22. Babson College
The Wellesley campus of Babson College (for it has two other campuses — one in Boston and one in San Francisco) is a hidden gem. Located on 350 acres, it provides a unique college experience while still being close to cultural amenities. The buildings are large and welcoming for those cold New England winters, and the grounds resemble a well manicured garden. Also noteworthy on the grounds is the Babson Globe, one of the largest rotating globes ever built.
21. University of Massachusetts Boston
Located on the bay right beside the John F. Kennedy Library and Presidential Museum, UMB is only moments away from downtown Boston. Unlike a lot of other colleges in Massachusetts, UMB's campus is sleek and refined. As its numerous alumni make names for themselves in the world (including Dana White, founder of UFC, and Biz Stone, co-founder of Twitter), its architecture, too, looks towards the future. Students who attend will feel like they're going to a school of tomorrow.
20. University of Massachusetts Amherst
UMass Amherst is is located on over 1000 acres in Amherst, MA, and is the largest public university in New England. Inn fact, it even houses the nation's tallest library. With 26 stories, the W.E.B. DuBois library isn't just tall, it's innovative, too, in that the bookshelves are actually a part of the building's structural support system. The layout of the campus is also unique. Rather than focus on a grid-like pattern, the college uses a system of interconnecting rings.
19. Smith College
This private, independent women's liberal arts college can be found on a beautiful and scenic 147 acres in Northampton, and is a part of the Five Colleges consortium. The campus is unique in its design with a very eclectic assortment of architecture types ranging from modern design to 18th century Victorian. This diversity is due to the fact that rather than have traditional dormitories, Smith College students reside in one of 35 separate houses located around the campus.
18. Northeastern University
Located in Boston, Northeastern University rests on 73 acres in the Fenway Cultural District, but that shouldn't dismay the aspiring student who needs to see a little greenery! Trees, flowers, and grassy quads decorate this little garden of a campus, and it has even been used as a model for urban campuses since the 1990s. Plus, it won the award for 'most beautiful new or renovated exterior space' from the American Institute of Architects in 2004.
17. Massachusetts Institute of Technology
Located in Cambridge, MIT is one of the most prestigious and distinguished universities in the United States, so it should come as no surprise that its campus deserves mentioning, too. There are lots of things worth talking about, but first off is the 'The Sponge' — a huge dorm that literally looks like a sponge. It cost $80 million dollars to build, and is arguably the most unique dorm on the planet. Next is the 'Stata Center.' It's an academic complex that even Salvador Dali would appreciate.
16. Lesley University
Lesley University is the snowball that became the avalanche. Beginning in 1909, Edith Lesley Wolfard began the school out of her own home, and as years went by she and her husband accumulated more and more nearby properties as they became available. The modern day result has given the campus three distinct areas. From the 19th century Victorian gothic row homes of Brattle Campus (where many buildings are individually on the National Register Historic District), to the refined residential homes of Doble campus (where the school originally began and where its quad now lies), to its bustling city art-deco Porter campus, this 18-acre school in the heart of Cambridge has just about every form of New England architecture imaginable.
15. Harvard University
As America's oldest university and one of the most competitive and recognizable schools in the world, Harvard's campus certainly lives up to the hype. Harvard Yard is one of the most iconic quads in the nation and is surrounded by red brick dorms and libraries. In addition to this expansive green space, students also discover tunnel-like arches leading to quiet courtyards and other hidden spots. Despite having over 5,000 acres, you'll feel like you're living in a secret garden.
14. Endicott College
Rumored to being a hideout for many of the accused during the Salem Witch Trials and a part of the Underground Railroad network, Endicott College was immersed in history long before it was ever a college. The school rests on 235 acres of oceanfront property, lovingly referred to as the Gold Coast, so students have easy access to two beautiful beaches — Tupper Beach and Brindle Beach. As many students say, though the wind coming off of the water during the winter months is fierce, it's well worth it as the cold air wanes into spring. The campus itself has a unique feel because many of its structures were millionaires' summer homes before being converted to dorms and academic buildings.
13. Emmanuel College
Though one of the smaller campuses on our list, Emmanuel College offers a distinct air of diversity throughout its 17 acres located in Boston's Longwood Medical District. The Administration Building is the oldest building on campus, built by the Maginnis + Walsh firm nearly 100 years ago. The Jean Yawkey Center, on the other hand, showcases a modern aesthetic with soaring glass panels that merge the inside with the outside. The eclectic blend of old and new offers students the best of both worlds at Emmanuel.
12. Emerson College
Sitting directly next to Boston Common, Emerson College is located in the Washington Street Theatre District. The college owns a number of historic buildings in the area including the Anison Building and the former Union Bank building. The Walker Building underwent a major renovation in 2008 and reflects the school's commitment to the performing arts with its black and gold entry arch featuring two drama masks.
11. Becker College
Becker College has two campuses, one located in Leicester and the other in Worcester and both include buildings listed on the National Register of Historic Places. The distinctly residential atmosphere on each campus is due to the fact that many buildings were formerly private homes before being acquired by Becker. The Worcester campus has an added bit of history, with a monument on the site of Major League Baseball's first perfectly pitched game in 1880.
10. Bard College at Simon's Rock
Bard's College sits in a rural setting in the town of Great Barrington, which has been ranked the best small town in America by Smithsonian Magazine. The campus features a charming blend of both modern and traditional architecture. The Daniel Arts Center, for instance, was designed by Boston-based Ann Beha Architects and is a model of contemporary construction. The Kellogg Music Center, on the other hand, is a striking historic landmark with crisp white lines and remarkable stained glass windows.
9. Assumption College
Located in Worcester, Assumption is a Catholic college in a suburban setting. The campus has open greenery surrounding a large pond along with more secluded feeling with mature trees and shrubbery. Not only that, Assumption's architecture is a notable departure from more traditional schools on our list. Perhaps most unique is the Chapel of the Holy Spirit, which was designed by alumnus Norman Hault and his wife Julie Nault in 1968. Built in the contemporary style, it features a wide arch filled with exquisite stained glass panels.
8. Amherst College
Amherst boasts over 1,000 acres nestled in rural Hampshire County. With buildings and landscaping details pioneered by some of the preeminent architects of the early 20th century, Amherst is an oasis of history within an idyllic natural setting. Many of the campus's most impressive buildings originated as fraternity houses but now function as residential halls since the banning of Greek life in the 1980s. In addition to sweeping mountain views, Amherst is also home to a 500-acre wildlife sanctuary.
7. Williams College
Initially designed by the famous Olmsted Brothers firm, Williams College stands out as the epitome of a classic New England college. Its oldest building, West College, serves as a student haven and is almost entirely covered in eye-popping ivy. Though built in the 1920s, the Williams College Museum of Art emits a modern vibe with its jigsaw puzzle-style path and pair of eyes sculpture on a rolling green slope outside the building.
6. Wellesley College
With over 500 acres, Wellesley's campus was designed in 1921 with a focus on landscaping rather than traditional architecture-defined courtyards. It's no surprise then, that Travel + Leisure magazine listed the school as one of the nation's most beautiful campuses. The campus seamlessly incorporates meadows, native plants, pine tree forests, and the private Lake Waban. Its landmark, Galen Stone Tower, boasts a 32-bell carillon instrument that is played between classes. Wellesley's buildings feature brick and stone and naturally nestle in throughout the campus's picturesque beauty.
5. Mount Holyoke College
Mount Holyoke is a nature lover's paradise, characterized by two lakes, several waterfalls, riding trails in the woods, and even a botanic center. In fact, the school's dedication to the environment is evident by the five LEED certified buildings on campus and its use of produce grown in a student-run organic garden. Mount Holyoke also focuses on historic preservation, with countless buildings dating back to the 1800s. The oldest existing academic building is the John Payson Williston Observatory, which houses several telescopes still used by students today.
4. Brandeis University
Located in Waltham, Massachusetts, Brandeis offers a treasure trove of midcentury modern buildings in a state where collegiate gothic typically reigns. One of the school's most noteworthy areas is Chapels Pond, an interfaith sanctuary featuring Catholic, Protestant, and Jewish chapels. Not only are they each equal in size, the buildings are also strategically placed so that none can cast a shadow on another. Spingold Theater is also a standout building with circular brick outer walls and scalloped rooflines. Brandeis' edgy campus provides students with a breath of fresh air from other typical New England campuses.
3. Boston University
Boston University is cozied up beside the Charles River in the Fenway-Kenmore neighborhood of its namesake city. The school's architecture includes a healthy mix of collegiate gothic, traditional brownstone, and contemporary buildings. Students can easily access the West Campus across the river by walking, biking, or driving across the Boston University Bridge. As a college fully integrated into city life, Boston University offers students a truly urban experience.
2. Boston College
Nicknamed "The Heights" due to its location on the hills, Boston College was the first higher education institution established in the Boston area. Characterized by stunning collegiate gothic architecture, the school's campus is considered a historic district by the National Register of Historic Places. The original buildings were designed by Irish architect Charles Donagh Maginnis in 1908 with more Tudor-style buildings being added in the 1940s. In addition to these architectural gems, the main campus features more than 332 acres of breathtaking natural beauty, including St. John's Meadow and Chestnut Hill Reservoir.
1. College of the Holy Cross
Consistently ranked one of the county's most beautiful campuses, Holy Cross also wins regular national awards for its landscaping. Its position at the top of Mount Saint James provides sweeping views of the town of Worcester below. The campus's oldest portion, including the austere Fenwick Hall, dates all the way back to the 1840s with trees, statues, and footpaths crisscrossing through the quad. O'Kane Hall and Clock Tower also add to the school's picturesque skyline, making it our top pick for Massachusetts's most beautiful college campus.