Some offers mentioned on this page may be outdated. To confirm offers and credit card details, check the issuer's website.
---
Barclaycard Apple Credit Card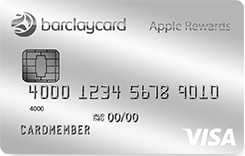 on Barclay's secure website
Barclaycard Apple Credit Card
What we like:
For the die-hard Apple users
Intro Offer

Special financing on purchases made at Apple in first 30 days

Rewards Rate

3

x points per $1 spent at Apple



2

x points per $1 spent at restaurants



1

x points per $1 on all other purchases

Regular APR

16.24%

–

28.99%

Annual Fee

$0
See how this card stacks up to our top rated rewards credit cards
As you shop around for the best credit card, you are bound to see a variety of cards that may pique your interest. Barclaycard, a United Kingdom based credit card company offering cards worldwide, has a lot of different cards that you can choose from.
If you're a big Apple supporter, then Barclaycard might have a product that appeals to you. In fact, Barclaycard has teamed up with Apple to offer their Barclaycard Visa with Apple Rewards. For Apple fans, this may be just the card that you have been looking for. Let's check it out.
Benefits and Rewards
Much of the rewards offered by the Barclaycard Visa with Apple Rewards are tailored towards Apple purchases.
It offers special financing on large purchases of Apple products. If you charge Apple products to your card within the first 30 days of opening your account, you can get six-month financing on products under $499, 12-month financing on products from $499 to $998, 18-month financing on purchases $999 to $1,499, and 24-month financing on purchases $1,499 and up.
You can also earn points for every dollar you spend on any standard purchases, apple products or non-apple products. Enjoy 2X points when you use your card at restaurants, and 3X points on purchases made at Apple. Your rewards points can be redeemed for Apple Store or iTunes gift cards.
Aside from the Apple rewards and special financing options, you will also be protected from fraudulent activity on your card. They offer zero liability against unauthorized card usage. You also get access to global assistance services with customer service available 24 hours a day, 7 days a week. The card is also equipped with chip technology, allowing you to use it with confidence with each transaction.
Rates and Fees
Rates
Min APR:

14.99%

Max APR:

27.99%

Balance Transfer:

14.99%

–

27.99%

Cash Advance:

28.24%
Fees
Annual:

$0

Late Payment:

$37

Balance Transfer:

$5 or 3%

Foreign Transaction:

3%
While Apple Rewards is a decent perk for Barclaycard Visa with Apple Rewards cardholders, the rates and fees still deserve a look. Let's see if this card is worth it.
The great news is that there is no annual fee, so you don't have to pay a fee just to have the card. There are some transaction fees, but they are pretty standard. Balance transfer fees are 3 percent of the transaction amount, or $5, whichever is more. Cash advance fees are 5 percent of the advance amount, or $10, whichever is more. Foreign transaction fees are just 3 percent of the transaction amount in U.S. dollars. Other fees include penalty fees, of up to $37, on both returned payments and late payments.
The fees seem pretty in line with most of the other cards out there, so let's see how the APRs measure up. Rates for purchases and balance transfers will be either 14.99, 20.99%, or 27.99 percent, depending on your own credit worthiness. Cash advances, however, are billed at a rate of 28.24 percent. To avoid paying interest on your account, you can choose to pay the balance in full within 23 days of the close of your billing cycle. If you do this, interest will not be added to your account. By doing this, you can really save money in the long run. You do, however, have the ability to charge and pay over time with added interest for convenience if you need to. Just remember to make sure that you pay your bill on time each month to avoid those penalty fees!
The Bottom Line
Is the Barclaycard Visa with Apple Rewards a good catch when it comes to a credit card? It is clearly an Apple-targeted product in terms of benefits and rewards, and with no annual fee it makes it pretty ideal for just about anyone who habitually shops at Apple.
The argument can be made that this is basically an Apple store credit card. However, it still offers basic rewards at restaurants and on normal purchases, so non-Apple users could still get something out of the rewards system.
If you have this card, you'll have more options when upgrading to the latest iPhone or getting a Mac or an iPad. If you aren't an Apple user, then you'll want to steer clear of the Barclaycard with Apple Rewards.
Not satisfied? Check out some of the best Barclays credit cards that we have reviewed, or other popular store credit cards.