The BankAmericard Travel Rewards credit card is no longer offered. However, you can check out other Bank of America credit cards reviewed by LendEDU.
BankAmericard Travel Rewards Credit Card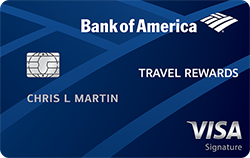 on Bank of America's secure website
BankAmericard Travel Rewards Credit Card
What we like:
Travelers who want a low introductory APR offer for purchases
| | |
| --- | --- |
| Intro Offer | Earn 25,000 bonus points after spending $1,000 on purchases within the first 90 days |
| Rewards Rate | Earn 1.5 points for every $1 spent on all purchases |
| Regular APR | 15.24% – 23.24% |
| Annual Fee | $0 |
See how this card stacks up to our top rated travel credit cards
With Bank of America, or BoA, you are sure to find a wide selection of financial tools to help you when it comes to your personal or business finances. They are well known with branches scattered throughout the United States and abroad.
They offer easy to use mobile banking solutions for consumers, making it easier than ever before to manage all of your accounts in one place. If you are considering a credit card with Bank of America, why not look into the BankAmericard Travel Rewards Credit Card. Let's look and see what it has to offer.
Benefits and Rewards
So, just what does the BankAmericard Travel Rewards credit card have to offer in the form of rewards? It seems that this travel rewards card offers a whole lot of perks. As the name Travel Rewards indicates, this card offers rewards that help you travel for cheaper. Sure, there are a lot of cards that offer points towards travel, but this one offers much more than that. After all, not everyone flies when they travel.
Earning points is easy. When you first open your card, you will be able to earn an extra 20,000 bonus points within the first 90 days if you charge at least $1000 to your card. You will also get 1.5 points for every dollar spent, with no caps. Your points never expire, so you can use them when you want to. A lot of people worry with rewards cards like this one that the travel is restrictive, but there aren't any black-out dates or booking restrictions for using your points.
Aside from your travel rewards, you will also benefit from the card's various different security features. They offer a $0 liability guarantee for fraudulent purchases. They also allow you to receive email or mobile alerts, making it easier to monitor your account activity. For those with a Bank of America checking or savings account, also consider the fact that this card offers overdraft protection for your bank account. That means you can shop without having to worry about your debit card being declined.
Rates and Fees
Rates
Min APR: 15.24%
Max APR: 23.24%
Balance Transfer: 15.24% – 23.24%
Cash Advance: 18.24% – 25.24%
Fees
Annual: $0
Late Payment: $37
Balance Transfer: $10 or 3%
Foreign Transaction: None
Travel rewards are great and all, but we have to take a look at the rates and fees before we can recommend this card. The great news is that there is a 0% annual percentage rate offered for an introductory period of 12 months. After this introductory period, your APR will be somewhere between 15.24% and 23.24%, depending on market prime rates. Balance transfers will also carry a 15.24% to 23.24% APR. With cash advances, things are a bit different. With check cash advances, it may range from 18.24% to 25.24%, while a bank cash advance is a flat rate of 25.24% (variable). Penalty APR of up to 29.99% may also apply when you make a late payment on your account.
Aside from interest, there are also fees that may be applied to your account with certain types of transactions that you make with your card. Great news for those that want a low maintenance card, there is no annual maintenance fee associated with it. Transaction fees for purchasing wire transfers is either 5% or $10, for balance transfers is either 3% or $10, and for overdraft protection is $12 for each transaction over $12. Cash advances done through direct deposit or check is either 3% or $10, while ATM and same day cash advances are 5% or $10. There are no foreign transaction fees.
Last, we have the penalty fees. These are the fees that are assessed to your account when you make either a late payment or have a returned payment. Late payment fees can be up to $37. Returned payment fees may go up to $27. The amount of the fee will depend on the state you live in, and their laws regarding this type of fee.
Final Thoughts
When it comes down to it, the BankAmericard Travel Rewards credit card is a good choice, especially if you love to travel. The rewards seem to be well rounded, allowing you to earn points towards various types of travel, not just flights. It is also ideal with no annual fee, making it a preferred choice for many. While the interest rate does have the potential to be high, depending on your creditworthiness, the introductory APR definitely catches the eye. Just remember, to avoid paying interest after your introductory period it is important to pay the entire balance before the due date each month.
Not satisfied? Check out some of the best Bank of America credit cards that we have reviewed.
3.93
BankAmericard Travel Rewards Credit Card
Author: Jeff Gitlen
Jeff Gitlen writes about a wide range of finance topics including everything from student loans to credit cards to small business financing. Jeff's work has been featured on a number of sites including Bloomberg, CNBC, Forbes, Market Watch, and more.
Best Credit Cards by Type