BankAmericard Credit Card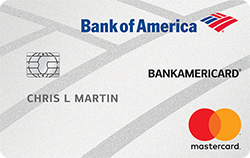 on Bank of America's secure website
BankAmericard Credit Card
What we like:
For the cardholders who sometimes pay late
| | |
| --- | --- |
| Intro Offer | 0% intro APR for first 15 billing cycles |
| Rewards Rate | $0 |
| Regular APR | 11.24% – 21.24% |
| Annual Fee | None |
See how this card stacks up to our top rated low balance transfer credit cards
Bank of America has a history of being one of the leading financial institutions in the nation. Back in 2008, they acquired Merrill Lynch banks, and this made them one of the largest investment banking corporations.
In fact, they are listed as the largest wealth management company in the United States. They not only offer banking and investments, but they also have a variety of credit cards for consumers to choose from. The BankAmericard Credit card is just one of the many cards that Bank of America has to offer. Let's see how it measures up.
Benefits and Rewards
First, let's look into the various benefits offered by the BankAmericard Credit Card. Unlike some of the rewards cards available to consumers, this card doesn't offer any type of rewards in the form of cash back or travel points. Instead, it offers consumers simplicity in use. There is really nothing that you have to keep up with. For those that don't care about rewards, this may be ideal.
Just because this card isn't a rewards card doesn't mean that cardholders won't get any benefits. Bank of America checking account holders have the option to prevent purchases from being declined by having their BankAmericard Credit card linked to their checking account for overdraft protection. They also have the convenience of online, mobile and text banking. Get account alerts as well, letting you know when your payments are going to be due or when they have been paid. This makes it easier than ever for people to stay on top of their accounts. They even have a paperless statement option.
Aside from their convenience perks, there are also security benefits that will make using your card safe and secure. Keep yourself protected with a $0 liability fraud guarantee, while your account is also consistently monitored for abnormal activity. When you shop online, take advantage of the ShopSafe service that will generate a one-time use card number for you to use when you make purchases online. That means you never have to put your account information out there on the internet ever again. Every card is also equipped with chip technology.
Rates and Fees
Rates
Min APR: 11.24%
Max APR: 21.24%
Balance Transfer: 11.24% – 21.24%
Cash Advance: 14.24% – 25.24%
Fees
Annual: $0
Late Payment: $37
Balance Transfer: $10 or 3%
Foreign Transaction: $3
Let's take a closer look at the rates and fees associated with the BankAmericard credit card. First we will take a look at the annual percentage rate of interest. For the first 18 months, there is an introductory 0% interest rate for any balance transfers that you make on the account in the first 60 days. The standard variable APR for purchases will range for 11.24% to 21.24%. The introductory APR for balance transfers will also go up to the standard APR after 18 months. For cash advances, the APR will range anywhere from 14.24% to 25.24%, depending on the type of advance and your creditworthiness.
When it comes to the fees, there is no annual fee to have this card. There are, however, a few fees that come along with it. For instance, if you make balance transfers, there is a 3% fee, or a minimum of $10 for each transaction. There are also fees associated with cash advances, of 3% or $10 for direct deposit or check cash advances and 5% or $10 for ATM advances. If you make foreign transactions, there are also foreign transaction fees of 3% of the total charge. For overdraft protection advances, you are looking at a flat rate fee of $12 for each time that your card is used to cover overdraft charges.
Now, let's look at the penalty rates and fees. Penalty rates and fees apply if you make a late payment or have a returned check. Late payment fees can be up to $37, depending on your state. Returned payment fees can be up to $26, depending on your state. Also, be aware of the standard 29.99% penalty APR that may also be assessed to your account along with the violation. You can avoid these extra charges by simply making your payments on time each month.
Final Thoughts
So, what do we think of the BankAmericard Credit card? All in all, it measures up nicely in comparison to other cards available. It definitely has perks, including the zero interest on balance transfers and no annual fee. While it may not have the most to offer in the form of rewards for cardholders, it definitely is a good choice for those that want a simple card that doesn't require them to track categories and keep up with points.
Not satisfied? Check out some of the best Bank of America credit cards that we have reviewed.
4.08
BankAmericard Credit Card
Author: Jeff Gitlen
Jeff Gitlen writes about a wide range of finance topics including everything from student loans to credit cards to small business financing. Jeff's work has been featured on a number of sites including Bloomberg, CNBC, Forbes, Market Watch, and more.
Best Credit Cards by Type