Some offers mentioned on this page may be outdated. To confirm offers and credit card details, check the issuer's website.
---
BankAmericard Credit Card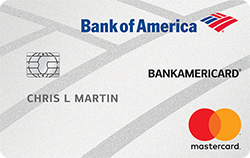 on Bank of America's secure website
BankAmericard Credit Card
What we like:
A 0% APR for 15-months on purchases and balance transfers
Sign-Up Bonus

None

Rewards Rate

None

APR

0%

promotional APR on balance transfers and purchases for

15 billing cycles

, then

15.24%

to

25.24%

variable APR.

Annual Fee

$0
See how this card stacks up to our top rated low balance transfer credit cards
Card Details
Pros
There's no interest charged on balance transfers or purchases for

15 months

so you can save on big purchases or transferred debt. The regular APR is competitive and no penalty APR is charged if you violate your cardmember agreement.
The card charges no annual fee
Cardmembers get free access to their FICO score and other tools to help build credit
Cons
If you don't complete your complete your balance transfer within 60 days, there's a

3%

balance transfer fee.
The card is not a rewards card and offers no travel or cash rewards.
The

0%

promotional APR isn't the longest you can find.
Recommended Credit Score
Good to Excellent. A score of at least 670 is required to be considered.
Is the BankAmericard A Good Card?
The main selling point for the BankAmericard is the fact it offers a 0% introductory APR on balance transfers for 15 billing cycles. If you have high-interest credit card debt, a balance transfer can help you pay down your debt faster by reducing your interest rate. If you can't pay off your credit card debt within the allotted time period, the BankAmericard might be a good fit.
In this review:
Benefits of the BankAmericard
One of the biggest benefits is the 0% intro APR allows every cent of your payment to go toward reducing the amount of money you owe. You have 15 billing cycles to pay off the debt — or at least make a solid dent in it.
However, there are some other benefits to the BankAmericard as well.
You won't be charged a penalty APR if you are late. Many other credit card issuers hike your APR after the first late payment, but you get some leeway with this card.
Credit-building tools are available to card member: The BankAmericard allows you access to your FICO score free of charge. Additional credit-building tools and education are also available through the bank's online page or through the mobile banking app. You can use these tools to track your credit and make better decisions to build your finances.
There's no annual fee: Unlike with some competitor cards, you can access the card's benefits without it costing you.
Downsides of the BankAmericard Credit Card
There are some drawbacks to getting the BankAmericard, however.
No rewards program: The main downside of the BankAmericard is that the card isn't a rewards credit card and you can't earn any rewards. While this might not be your main concern if you're trying to get out of debt, it's still somewhat disappointing.
You could be charged a balance transfer fee: You'll have to pay a

3%

fee if you don't transfer your balances within the first 60 days. Because of this fee, it's not a great balance transfer credit card.
You need good credit: A score of 670 or higher is required to apply for this card, so you need a decent credit history.
How it Compares to Similar Cards
In general, the BankAmericard is fairly average in terms of its offerings. It's got a decent 0% introductory period but there are other balance transfer credit cards that offer rewards along with a balance transfer deal. The credit card does offer some great credit-building tools, but they are pretty standard.
BankAmericard vs Citi Simplicity Card
The Citi Simplicity Card offers a longer intro period of 21 months on balance transfers. However, it's 0% APR on purchases is only 12 months. On top of that, Citi Simplicity charges a balance transfer fee, no matter when you move balances, while you can have your fee waived by BankAmericard in the first 60 days.
BankAmericard vs Discover it Cash Back Card
With the Discover it card, you can earn cash back rewards between 1% and 5% depending on where you spend. Unfortunately, Discover only offers a 0% APR on balance transfers for 14 months and charges a 3% fee so the BankAmericard is a better choice if you're primarily looking to minimize the cost of paying back debt.
Bottom Line
The BankAmericard is a decent balance transfer card that offers average terms. If you're looking to pay off debt faster, and you can't make good headway within 15 months, this card is a good choice — especially if you make your balance transfer quickly and avoid the fee.
>> Read More: Best Bank of America credit cards