American Express Centurion Card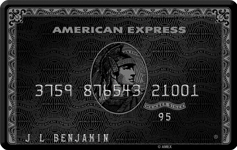 on American Express' secure website
American Express Centurion Card
| | |
| --- | --- |
| Intro Offer | ??? |
| Rewards Rate | ??? |
| Regular APR | None |
| Annual Fee | $2,5000 |
See how this card stacks up to our top rated rewards credit cards
American Express, the well known credit company, offers a large variety of credit cards tailored for average everyday spenders who need cash back rewards or heavy spenders who desire travel perks. Just about each card has a specific set of benefits outlined which allows shoppers to pick and choose the best fitting card.
There is one card that sits apart from the pack: the dark horse, the black sheep, or whatever mysterious and aloof example comes to mind. Not just any customer can apply for the fabled American Express Centurion Card, informally known as the Black Card; in fact, the only way to obtain this card is to be invited by American Express.
Benefits and Rewards
There is much to be found out about the American Express Centurion Card because not much is released about the benefits associated with cardholding. Ironically, the Membership Rewards program applies to the Centurion Card, and members receive one Membership Reward point for every dollar spent.
One of the interesting benefits is the capability of adding Platinum and Gold Card subaccounts at a discounted price. A maximum of three Platinum Cards may be added onto the Centurion account each at the price of $175; additionally, up to five Gold Cards can be assigned to the account each at the price of $45 each.
Many of the high end benefits offered with Platinum or Gold Cards come with the Centurion card and more. Cardholders receive a $200 airline rebate every year to help towards additional airline fees aside from the actual ticket. Centurion members are automatically qualified for Delta Platinum Medallion Status which provides upgrades to tickets and preferred seating. Access to Cathay Pacific's The Marco Polo Club Diamond Status is awarded which provides upgrades at various hotels and guaranteed seating at certain lounges. Cardholders qualify for the TSA PreCheck which helps bypass lengthy security checks at airports.
When booking a cruise at eligible companies, a $500 credit is awarded. With the Black Card, cardholders automatically gain Starwood Preferred Guest Gold Status. These are some of the more well known perks that come with the Centurion card, but there are sure to be more exclusive rewards only known to cardholders.
Rates and Fees
Rates
Min APR: None
Max APR: None
Balance Transfer: None
Cash Advance: None
Fees
Annual: $2,500
Late Payment: $37 or 2.99%
Balance Transfer: N/A
Foreign Transaction: None
Of all the information available about the American Express Black Card, the most readily available happens to be the costs and fees associated with cardholding this monster. The initiation fee for the Centurion Card is set at a whopping $7500 which is quite a cover charge. This beginning fee is followed by another astounding annual membership fee of $2500; the first year of membership has the cardholder forking over ten grand. Furthermore, the cardholder must spend a minimum of $250,000 every year in good credit in order to maintain ownership of the Centurion Card.
In order to counter act this hefty price, American Express drops the foreign transaction fee alleviating some pressure. The penalty fees for late or returned payments run up to the typical $37, but late fees may charge 2.99% if the account lacks the Pay Over Time feature.
There is no APR associated with the Black Card due to the fact that each balance must be paid in full every billing cycle.
Final Thoughts
The American Express Centurion Card is clearly a prestigious credit card that offers a variety of unknown benefits. Just a glance at the price tag screams exclusive, so the true benefits offered with the Black Card may only be known to cardholders. At any rate, this credit card serves more as a status indicator without proper knowledge of its benefits, yet this is a status that many strive for.
Not satisfied? Check out some of the best American Express credit cards that we have reviewed.
4.41
American Express Centurion Card
Author: Jeff Gitlen
Jeff Gitlen writes about a wide range of finance topics including everything from student loans to credit cards to small business financing. Jeff's work has been featured on a number of sites including Bloomberg, CNBC, Forbes, Market Watch, and more.
Best Credit Cards by Type