Some offers mentioned on this page may be outdated. To confirm offers and credit card details, check the issuer's website.
---
American Express Platinum Card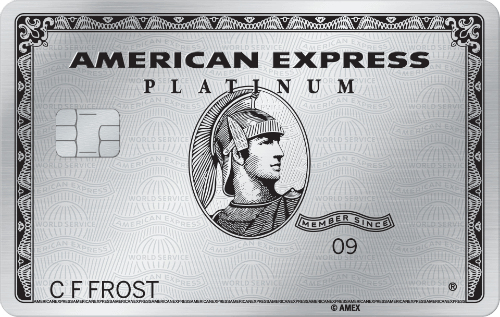 on American Express' secure website
American Express Platinum Card
What we like:
Get a $200 airline fee credit every year
Intro Offer

60,000

points after spending

$5,000

in

three months

Rewards Rate

5

x membership Rewards points on flights booked directly with airlines or through American express



1

x points on everything else

Regular APR

N/A (charge card)



27.49%

on cash advances

Annual Fee

$550
See how this card stacks up to our top rated travel credit cards
Card Details

Pros
You get $15 in Uber credits each month and $20 in December for up to $200 in annual savings
Airport lounge access to 1,200 airport lounges through Priority Pass Select
$200 airline fee credit for incidental fees like checked bags and in-flight refreshments
Free credit for Global Entry or TSA Precheck application fees
Complimentary benefits at hotels such as daily breakfast, room upgrades, free amenities, late check-out, early check-in and complimentary Wi-Fi
Room upgrades and $100 credits for dining, spa, or resort activities when you stay two consecutive nights at a qualifying hotel that you book with American Express Travel
Platinum travel service—travel counselors help you customize your itinerary
Elite status in Marriott Bonvoy and Hilton Honors Rewards programs
Car rental privileges and car rental insurance
Cons
There is a very high

$550

annual fee
It's a charge card, so you must pay your full balance each month
You must redeem travel rewards through amextravel.com
You only get bonus rewards points if you book at amextravel.com or via airlines
Recommended Credit Score
Excellent
The American Express Platinum Card: Luxury Travel Perks for a Hefty Fee
The American Express Platinum Card is a luxury travel card that comes with a very high annual fee. For that reason, it might not be worth it to all potential cardholders. Also, given that it's a charge card and not a credit card, the Amex Platinum only makes sense for people who are prepared to pay their card off in full every month.
Despite the high annual fee, the Platinum Card comes jam-packed with benefits. In order to take advantage of all of these benefits, you'll have to travel a lot. If you enjoy luxury travel and think you'll use the card's lounge access, travel credits, and membership rewards, it might be a good match for you.
In this review:
American Express Platinum Card Benefits
The American Express Platinum card has a lot of benefits, including rewards points, exclusive events, and luxury travel perks.
Sign-Up Bonus
One of the biggest benefits the American Express Platinum Card offers is its welcome bonus. If you spend $5,000 on your new card within three months of account opening, you can get 60,000 Membership Rewards points that can be redeemed for travel at amextravel.com.

Membership Rewards Points
The Amex Platinum card offers some extremely generous rewards when you book travel. You'll get 5 Membership Rewards points per $1 spent on flights when you book directly with the airlines or at amextravel.com. You also earn 1 point per $1 on everyday purchases.
In order to redeem your points, you need to use amextravel.com to book travel, buy gift cards or other merchandise. You can transfer your points to a limited number of frequent traveler programs including Delta's SkyMiles Program.
Annual Travel Perks
The American Express Platinum card also comes with a number of great annual travel perks. For example, you'll get a $200 airline fee credit that you can use towards incidental air travel fees like checked bags or in-flight refreshments. You also get access to 1,200 international airport lounges, American Express preferred seating, and access to a number of different travel rewards programs that provide you with perks, like the Hilton Honors program.
The card provides you with a credit to pay for the application fees for either Global Entry or TSA Precheck. If you go to certain fine hotels and resorts, you'll get things like free breakfast, complimentary Wi-Fi, and room upgrades. You'll also get a $100 hotel credit or shipboard credit if you stay at certain hotels or if you go on certain cruises.
Finally, there are a number of other great discounts, travel assistance programs, and concierge service that you qualify for with the card. There are more potential benefits than you're likely to take advantage of, but with so many options, you're sure to find a few that suit your needs.
>> Read More: Does Amex still offer a Companion Ticket with the Platinum Card?
Travel Insurance
If you travel a lot, it's important to know you're covered in case something goes wrong. This card offers a number of different types of travel insurance, including:
Baggage insurance to cover you in case you lose your luggage or it's delayed.
Car rental loss or damage insurance, so you don't get stuck with the bill if something happens to your rental car.
Travel accident insurance to cover you in case you get into an accident while traveling and need medical care.
Save on Uber Rides
If you use Uber, you're in luck! You'll save up to $200 per calendar year on Uber rides. Each month you get up to $15 in Uber credits and in December you get $20 in credits towards U.S.-based rides.
Downsides of the American Express Platinum Card
While there are a lot of perks attached to the American Express Platinum Card, it's important to remember that these benefits come at a high price. Whether or not you'll take advantage of enough of the perks to justify the $550 annual fee will depend on your personal spending and traveling habits.
If you don't use Uber and don't care about perks like airport lounge access, a cheaper card may be better for you.
Additionally, the points that you earn with the card also don't have a lot of flexibility. You have to redeem them on the amextravel.com website or you can transfer them to a limited number of other rewards programs, so you should consider who you're likely to fly or stay with before committing to an Amex card.
How it Compares to Similar Cards
The American Express Platinum Card is a great card if you like luxury travel, but its annual fee makes it more expensive than some similar cards. For that reason, you might be better off getting a different card with similar perks but lower annual fees.
American Express Platinum Card vs American Express Gold Card
If you're set on getting an American Express credit card, you might be trying to decide between the Platinum card and the Gold card. The Amex Gold card is similar, but it has a lower annual fee of just $250 and different perks and benefits.
You can earn 35,000 bonus points if you spend $2,000 in the first 3 months. You earn 4 Membership Rewards for every dollar spent at US restaurants and supermarkets and 3 points for every dollar spent on flights and travel booked at amextravel.com. You also get a $100 airline fee credit and $10 in statement credits when you use the card at popular restaurants like Shake Shack and The Cheesecake Factory. The Gold card is better for those who don't travel quite as frequently but who want a solid travel credit card.

Bottom Line: Is the American Express Platinum Card Right for You?
Is the American Express Platinum Card worth it? That depends on if you'll take advantage of all the credits you're offered. If you use the $200 in Uber credits, the $200 in airline incidental fees, and take advantage of the $100 hotel credit at least once, you'll definitely get enough perks to justify paying the high annual fee.
However, in order to take advantage of those credits, you need to use those services and travel fairly often. If you're not an avid traveler or you don't care quite as much about luxury perks, you might want to find a card with a cheaper annual fee.