American Express Platinum Card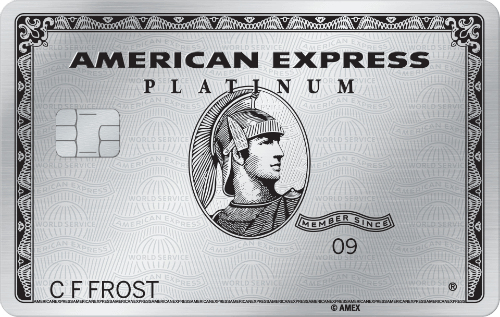 on American Express' secure website
American Express Platinum Card
What we like:
For the luxurious travelers
Intro Offer
Earn 60,000 Membership Rewards Points after making $5,000 in purchases in first 3 months
Rewards Rate
5x Membership Rewards Points on flights booked directly with airlines or with American Express Travel

5x Membership Rewards Points on prepaid hotels booked on amextravel.com
Regular APR
None
Annual Fee
$550
See how this card stacks up to our top rated travel credit cards
There are many rewards credit cards designed to offer exclusive privileges provided by the credit company American Express, and one of the most prominent of these credit cards is the American Express Platinum Card®. This card is an advanced milestone in the American Express membership experience that opens a window on what American Express can offer its beneficiaries.
Benefits and Rewards
Similar to many American Express cards, the American Express Platinum Card® provides entry into the Membership Rewards® Program which offers travel rewards for cardholders who spend money. The headline special offer on the Platinum card consists of a 40,000 Membership Rewards® points when the cardholder spends $3000 within the first three months of membership.
With the mindset that these points are designed to push its cardholders to travel, double Membership Rewards® points are awarded on all travel purchases including tickets, baggage, etc. Members can accrue a desired number of Membership Rewards® points and apply them to travel expenses via the Membership Rewards® Pay with Points system.
There are several special travel offers other than the usual American Express provisions; for instance, Platinum membership provides membership to the Airport Lounge Access Program. The Airport Lounge Access Program allows cardholders to gain access to airport lounges with the Platinum Card®; there are various exclusive lounges including The Centurion ® lounge network, Delta Sky Club®, and Airspace Lounges®.
American Express provides a $200 airline fee credit to cover incidental charges when moving through airfare for its Platinum cardholders. In addition to this airline benefit, members with a Platinum Card® enjoy preferred seating when boarding an aircraft which allows them to become comfortable for a flight sooner than most. Speeding up the airline process even more, cardholder gain the right to apply to TSA Pre™ which allows its members to receive expedited security screening through the airport.
With the Platinum Card®, cardholders gain access to the International Airline Program which allows members to save money on a second ticket when purchasing a Business or First Class ticket on an international flight. Another benefit is known as Platinum Travel Service which provides specialized counselors with customized itineraries recommending beneficial travel moves.
Other traveling privileges involve special benefits upon arrival at hotels and resorts with the Hilton HHonorsTM Gold Status Enrollment. Cardholders can gain rewards faster as well with HHonors Bonus Points during each stay. When checking into a hotel, cardholders may receive up to $75 in credit on associated hotel charges or even a room upgrade with The Hotel Collection benefit. Enrollment in the Boingo American Express Preferred Plan provides Wi-Fi access for several devices at thousands of locations throughout the world.
There are several additional basic travel, entertainment, and everyday purchase benefits offered with the Platinum Card®. Members gain access to car rental privileges, Premium Global Assist Hotline, and car rental loss & damage insurance. Exclusive entertainment offers include Platinum Card® Concierge, invitation only events, and preferred seating at cultural or sports events. Platinum Card® membership provides purchase protection, return protection, and extended warranties on everyday purchases. And lets not forget, this is one of the few metal credit cards available.
Rates and Fees
Rates
Min APR: None
Max APR: None
Balance Transfer: None
Cash Advance: None
Fees
Annual: $450
Late Payment: $37 or 2.99%
Balance Transfer: None
Foreign Transaction: None
There is a large annual fee of $450 dollars tagged with the American Express Platinum Card® membership. Basic late payment fees and returned payment fees may run up to a maximum of $37 (if members do not have the Pay over Time feature, the late fee is automatically $37 or 2.99% depending which rate is greater). The lack of an overlimit fee is explained by the fact that there is no spending limit on the Platinum card; additionally, there is no foreign transaction fee for the Platinum card.
Finally, there are no interest rates or annual percentage rates associated with the American Express Platinum Card® because cardholders are required to pay the entire statement at the end of each billing cycle.
Final Thoughts
Cardholders looking to obtain an American Express Platinum Card are expected to dish out a considerable amount of dough, but this does not mean that American Express neglects to offer rewards and benefits for membership patronage. Despite the incentive to spend extra, there are many privileges that the Platinum cardholder can enjoy that are befitting for the price tag.
Not satisfied? Check out some of the best American Express credit cards that we have reviewed.
4.45
American Express Platinum Card
Author: Jeff Gitlen
Jeff Gitlen writes about a wide range of finance topics including everything from student loans to credit cards to small business financing. Jeff's work has been featured on a number of sites including Bloomberg, CNBC, Forbes, Market Watch, and more.
Best Credit Cards by Type