Some offers mentioned on this page may be outdated. To confirm offers and credit card details, check the issuer's website.
---
American Express Green Card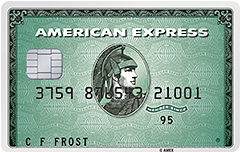 on American Express' secure website
American Express Green Card
What we like:
Great for large purchases over $100
Intro Offer
N/A
Rewards Rate
2x Membership Rewards points per $1 spent on amextravel.com

1x points on all other purchases
Regular APR
N/A (charge card)

20.49% variable rate for eligible purchases that qualify for the pay over time feature
Annual Fee
$95 (waived for first year)
See how this card stacks up to our top rated rewards credit cards
Card Details
Pros
Double Membership Rewards points for purchases made with American Express Travel
Travel perks like baggage insurance, roadside assistance, and car rental damage coverage
Extended warranty on eligible purchases
Cons
No sign-up bonus currently offered
The high annual fee often negates the already sub-par rewards rate for the card
The value of points fluctuates based on how you redeem them
Because the Amex Green Card is a charge card, you usually need to pay off the full statement amount each month
2.7% foreign transaction fee
Recommended Credit Score

Good to excellent
Review: Is the Amex Green Card Worth It?
When looking for a card that offers both a solid reputation and a robust rewards program, many people are drawn to American Express—the brand is, after all, often associated with elite status. However, when it comes to American Express credit cards, the travel rewards that come with the American Express Green Card don't justify its price.
In this review:
American Express Green Card Benefits
The rewards that come with the American Express Green Card would be fine on a no fee credit card, but they're not enough to justify the card's annual fee after the first year.

Membership Rewards Points
Cardholders can earn 1 point per dollar on purchases in any category. The points never expire, and there is no cap or restriction on the number of points that can be earned and held by members. Those who frequently make purchases and bookings through American Express should know that Green Card holders will also earn 2 points per dollar on purchases made through amextravel.com.
Points can be redeemed on many travel options, including flights, prepaid hotels, vacations, and cruises. Members who don't have enough points to fully pay for a booking need not worry—payment can be split between points and a credit or debit card, with the points reducing the total cost if they can't cover it entirely.
It's important to note that the value of American Express Membership Rewards points is $0.01/point for travel and gift card redemptions. This means that points are worth less than a penny each if you choose to redeem them in other ways.

Travel Benefits
Car rental loss and damage insurance: If you rent a car, you may be covered in the event of car damage or theft if you booked the rental on your American ExpressGreen card.
Roadside assistance: American Express provides access to a hotline where you can request towing, help changing a flat tire, or a jump start.
Global assist hotline: If you travel more than 100 miles from your home, American Express will offer assistance with medical, legal, financial, or emergency assistance services.
Baggage insurance: If you purchase your travel fare using the Green Card, baggage insurance will cover eligible luggage that is lost, stolen, or damaged.
Shopping Perks
Extended warranty: Making a purchase with the American Express Green Card provides the option for up to two additional years of warranty coverage (for warranties lasting between one and five years).
Mobile phone protection: American Express offers coverage of accidental damage or theft of your phone if you've used your card for an eligible purchase, like charging a new phone to your card and paying your phone bill with it.
Return protection: If a merchant won't issue a refund for the return of an eligible item within 90 days of purchase, American Express will cover its original cost and reimburse you.
Shoprunner: Amex offers access to Shoprunner services, granting access to more than 100 online stores with two-day shipping on eligible items.
Entertainment: American Express offers exclusive access to ticket pre-sales and members-only events.
Downsides of the American Express Green Card
The Rewards Aren't Worth the Fee
The American Express Green Card does come with average rewards rates: 2 points per $1 spent on amextravel.com and 1 point per $1 on everything else. But these rates are only average for cards with no annual fee. In fact, many free cards offer rewards rates ranging from 1% to even 5%. Given the Green Card's $95 fee (plus $30 annually for each additional cardholder on the account), the rewards rate is not that impressive and is usually eaten by the annual fee for most people.
No Sign-Up Bonus
Previously, the Amex Green Card offered new cardholders 25,000 Membership Rewards points if they charged $1000 or more on the card within three months of account opening. This helped make up for the card's lackluster rewards rates. However, American Express has recently removed that welcome offer, and that's enough to disqualify this card from the lists of the best rewards credit cards.
It's a Charge Card
Because the Amex Green Card is a charge card, you must pay off the full statement balance each month. We recommend doing this anyway, as carrying a balance can initiate a cycle of debt that is progressively more difficult to break out of, but requiring a full balance payment each month may be a limitation for some who strategically carry a balance or may need to use the card for a single large purchase.
The Amex Green Card does offer the option to finance certain purchases of more than $100 over longer time periods, but this service may not be worth it. you'll have to pay a high APR—more than 20%—on these purchases, and American Express reserves the right to place a limit on the amount you can designate as Pay Over Time. This means you may not even be able to finance the large purchase you anticipated anyway if its cost exceeds Amex's Pay Over Time limit for your account.

How it Compares to Similar Cards
For the same annual fee, a number of other, more flexible and lucrative rewards cards are available. Even cards with no annual fee can offer a more robust rewards system than the American Express Green Card.
American Express Green Card vs Amex Gold Card
The American Express Gold Card may be a more worthwhile choice for prospective card holders than the Green Card. While you will pay a bit more in annual fees ($250), the rewards and perks far exceed what the American Express Green card can provide.
The Gold Card allows you to earn 4 points per $1 at worldwide restaurants and U.S. supermarkets, 3 points per $1 on flights booked directly with airlines or on amextravel.com, and 1 point for all other purchases. You'll also get credits of up to $10 per month on qualifying restaurant purchases, a $100 credit for flight expenses (such as checking bags or purchasing in-flight meals), and a 35,000-point sign-up bonus after you spend $2,000 within three months of opening your account.


American Express Green Card vs American Express Blue Cash Preferred Card
If you are set on getting an American Express card but would rather see more robust rewards in the form of cash back instead of points, the American Express Blue Cash Preferred Card trounces the Green Card. You'll receive a much higher rewards rate for the same price, and you still get the Amex Card.
First, you can bank $250 by spending $1000 in the first three months, and the annual fee is still $95. However, the annual fee is not waived for the first year.
Second, the Blue Cash Preferred stands out by offering a 0% APR on balance transfers and purchases for the first 12 months.
Finally, cardmembers can earn 6% cash back at U.S. supermarkets and streaming services, 3% on transit expenses like gas and bus passes, and 1% per dollar on all other purchases. These earnings are applied as a statement credit, putting cash directly back in your pocket.
Bottom Line: Is the American Express Green Card Right for You?
While the American Express Green Card carries the Amex name, a slew of better cards exists, which offer more robust and flexible rewards. Given the $95 annual fee, the rewards rate for the Green Card is quite low, and many cardholders are likely to find that their hard-earned points are worth so little that they are only good for paying off $95 yearly fee.