Some offers mentioned on this page may be outdated. To confirm offers and credit card details, check the issuer's website.
---
American Express Business Green Card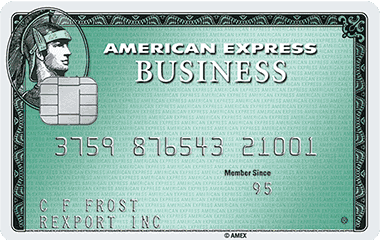 on American Express' secure website
American Express Business Green Card
What we like:
Users of American Express travel
Intro Offer
Earn 5,000 Membership Rewards® points after first purchases within the first year of Card Membership

Rewards Rate
2x points per $1 spent on eligible purchases at amextravel.com

1x points per $1 spent on eligible purchases
Regular APR
None
Annual Fee
$95 (waived for first year)
See how this card stacks up to our top rated business credit cards
With so many credit cards out there, it's impressive that American Express is at the forefront of credit card and charge card product offers. It just goes to show that the company as a whole knows how to treat their customers right, and they know how to go the extra mile to ensure their success through customer service and availability.
With that in mind, it is easy to see that they are one of the better financial services providers out there, especially for business consumers. If you are looking for a business charge card, then you may want to check out the Amex Business Green Rewards Card and see what it has to offer.
Benefits & Rewards
One of the biggest rewards that comes along with the Amex Business Green Rewards Card is the Membership Rewards Points program. This program allows you to earn points for every dollar that you spend on the card. You can even earn 2X points when you make purchases on the American Express travel website.
Just by making your first purchase with your card, Amex rewards you with 5,000 Membership Rewards Points. This will help you to start building up your points balance. This welcome offer is subject to change, so make sure that you look into the current welcome offer to clarify that it is still the same promotion. Use your points for travel, entertainment, gift cards and much more.
All of the American Express Business cards come with a variety of other perks as well. For instance, you will enjoy purchase protection, global assistance, rental car insurance, baggage insurance, roadside assistance, travel accident insurance, extended warranties, fraud protection, and much more. They also don't have preset spending limits with this card, making it easier for you to make the purchases that you need to make for your business. The card is also equipped with chip technology, making your purchases more secure every time you swipe or insert your card.
Fees
Annual: $95
Late Payment: $38
Foreign Transaction: 2.7
Aside from enjoying all of the perks that come along with this charge card, you will also want to make sure that you stay on top of any rates and fees associated with the card. This is important to understand before opening the account so there are no surprises on your bill. The good news is that there is no annual fee for your first year. After that, however, you will notice that once a year they apply a $95 annual membership fee to your account. There is a foreign transaction fee that is equivalent to 2.7% of the total transaction after being converted to U.S. dollars.
You may also experience penalty fees if you are late on a payment. Late payment fees will be either $38 or 2.99% of the past due Pay in Full amount on your bill. Returned payment fees are a flat $38.
While there are some clear fees associated with the card, there are no annual percentage rates to keep up with. This is because the card is a charge card, and your charges are payable at the end of the billing cycle. That is unless you enroll your account in the Pay Over Time feature. This allows you to pay your bill out over time, rather than having to pay it in full each month.
The Bottom Line
There are plenty of standard perks to consider with the American Express Business Green Rewards Card which are typical for Amex customer. While it does not offer extensive introductory benefits by the way of rewards, card holders still have the opportunity to accrue double points for certain expenditures which is a solid standard rate to fall back on. There should be little worry about accruing interest over time since this product is a charge card. So long as your business can pay its expenses in full each month, the late payment fee shouldn't be a concern either.
Not satisfied? Check out some of the best American Express credit cards that we have reviewed.
Author: Jeff Gitlen, CEPF®

Jeff Gitlen is a Certified Educator in Personal Finance® and the Director of Content Operations at LendEDU. He graduated from the Alfred Lerner College of Business and Economics at the University of Delaware. He has served multiple positions within LendEDU's editorial team since 2016, approaching LendEDU's content with the same goal: to provide consumers of all classes with the answers they need to create a better financial outlook for themselves and their families. This passion has led Jeff to cover many personal finance topics, including student loans, credit cards, and insurance. His work has been featured in major news publications, including Bloomberg, CNBC, Forbes, and MarketWatch.
Best Credit Cards by Type