Some offers mentioned on this page may be outdated. To confirm offers and credit card details, check the issuer's website.
---
Business Gold Rewards Card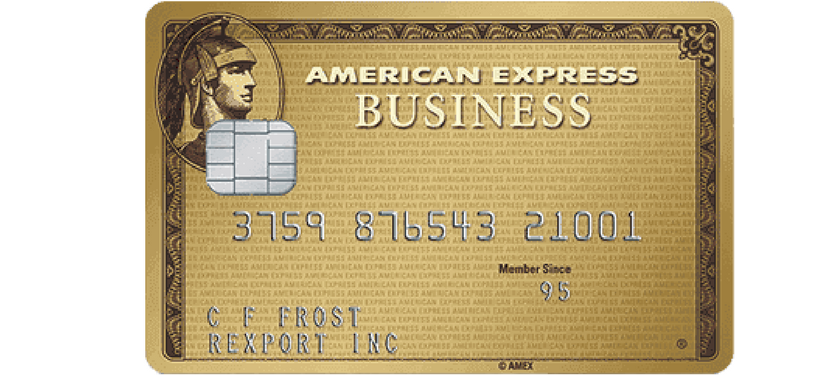 on American Express' secure website
Business Gold Rewards Card
What we like:
Small businesses who use G Suite and Zip Recruiter
Intro Offer

None

Rewards Rate

4

x points per $1 spent on 2 select categories where you spend the most each month



1

x points per $1 spent on all other purchases

Regular APR

16.49%

–

24.49%

Annual Fee

$295
See how this card stacks up to our top rated business credit cards
American Express, sometimes referred to as Amex for short, is definitely one of the biggest global competitors in the financial industry. When they got their start in the 1850's, no one would have ever imagined that they would turn into the powerhouse that they are today. In fact, they started out with small scale mail delivery, with no financial services offered to consumers. It wasn't until the late 1880's that they started offering their first financial products. Today, they have hundreds of cards to choose from, among other financial services. Check out their American Express Business Gold Card, ideal for both small and large businesses.
Benefits & Rewards
The Business Gold Rewards Card definitely has its share of rewards. The Membership Rewards Points that you can earn when you make purchases with your card is probably one of the most notable perks. Earning points is really easy. You earn 1X points on every purchase, but you can earn more points when you shop with airlines, media advertising, gas stations, shipping, and computer hardware, software of cloud storage. These categories are designed with businesses in mind.
Choose your categories, and earn 2x and 3x points in the categories that you use the most. You can earn an additional 50,000 Membership Rewards Points when you charge at least $5,000 in purchases to your card within the first three months of being a cardholder. Your points are redeemable for a variety of rewards, including cash back.
The rewards points with the Business Gold Rewards Card isn't the only perk worth mentioning. You also get a variety of online tools and resources to take advantage of. For instance, you can use their ReceiptMatch service for price matching, you can use their account manager to easily manage your accounts. There are mobile and tablet apps that make accessing your accounts easier than ever. You also can take advantage of dispute resolution, purchase protection, extended warranties, and return protection, among other benefits. There are travel perks as well, including car rental insurance, baggage insurance, and travel accident insurance. These are all great perks for business owners.
Rates & Fees
Rates
Min APR:

19.24%

Max APR:

19.24%

Balance Transfer: N/A
Cash Advance: N/A
Fees
Annual:

$175

Late Payment:

$38

Balance Transfer: N/A
Foreign Transaction: N/A
Next, we need to look closely at the rates and fees that come along with the Amex Business Gold Rewards Card. First, you should understand the annual fee. This is the fee that is assessed to your card annually to keep your card active. The fee is waived for the first year, but after that, you are looking at a $175 fee that will be assessed to the card. You should also be aware of late payment fees and returned payment fees. For returned payments, you are assessed a $38 fee. For late payments, you will be assessed either a $38 fee, or 2.99% of any of the past due pay in full amount, whichever is higher.
This card is not like your average credit card; in fact, it's a charge card. There are no annual percentage rates. This is because you will be expected to make your payment in full at the end of each billing cycle. By doing this, you don't pay interest, but still get all of the perks that come with a credit card. All in all, you get the spending power, but there is much more pressure to pay on time. You also have the option to take advantage of their Pay Over Time feature which will allow you to make your payments over time, rather than paying it all at the end of the month. If you opt for this setup on your account, you will be looking at a standard APR of 19.24% variable. If you make late payments or have a returned payment, you may be assessed a penalty APR of up to 29.99% as well. These rates are subject to change based on prime market rates.
The Bottom Line
For business owners, the Amex Business Gold Rewards Card seems to be a great charge card to consider. We talked about the differences between a charge card and a credit card. If a charge card is something that you are looking for, then this card may be just what you need. The annual membership fee isn't too high, at $175, making it ideal for most. The best news is that they waive it for the first year, so you can try out the card and see if you like it before you commit to the annual fee. Just remember to check out the payment terms and ensure that you make your payments so that you can avoid penalty fees and penalty rates. All around, the perks are really worth the investment.
Not satisfied? Check out some of the best American Express credit cards that we have reviewed.