Blue Cash Preferred Card from American Express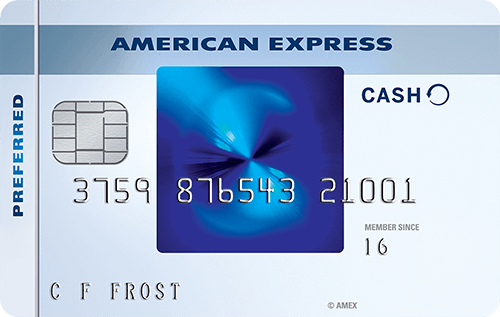 on American Express' secure website
Blue Cash Preferred Card from American Express
Intro Offer
Earn $200 statement credit after spending $1,000 in purchases in first 3 months

0% intro APR on purchases and balance transfers in first 12 months
Rewards Rate
6% back as statement credit at US supermarkets on up to $6,000 per year in purchases

3% back as statement credit at US gas stations

1% back as statement credit on all other purchases
Regular APR
15.24% – 26.24%
Annual Fee
$95
See how this card stacks up to our top rated rewards credit cards
When looking for an American Express credit card that provides cash back rewards to its beneficiaries, one looks towards the Blue Cash Everyday® Card; however, some patron simply require more cash and more reward.
With that mindset in hand, American Express provides an upgraded version of their standard cashback card: the Blue Cash Preferred® Card.
Benefits and Rewards
The rewards and benefits offered to Blue Cash Preferred® cardholders are quite similar to those enjoyed by Blue Cash Everyday® cardholders, yet the former receive a greater volume in the form of cashback rewards for their purchases. First and foremost, Blue Cash Preferred® cardholders receive 25% cashback on the first $1000 dollars spent within the first three months which is given in the form of a $250 credit.
The Preferred® cashback rates are as follows: 6% on supermarket purchases, 3% on gas station purchases, 3% at select department stores, and 1% on everyday general purchases (all residing in the United States). Cashback rewards can be easily tracked on the account website online and are redeemable in the form of credit applied to the relevant account.
Similar to the Blue Cash Everyday® Card, the basic American Express travel benefits are offered as side plus to membership. Cardholders can seek help on the road when a car breaks down or a tire flattens through the helpful roadside assistance hotline. Similar to the roadside assistance perk, the Global Assist Hotline provides 24/7 coverage and allows cardholders to reach legal, medical, or travel related services in foreign countries or unknown regions.
There are a couple insurance benefits as well; for instance, loss or damage of car rentals and travel accidents (common carriers such as plane, train, or ship) are insured by American Express.
The usual everyday shopping guarantees are provided to Blue Cash Preffered® cardholders. Extended warranties are provided on eligible products. Eligible products are insured for up to 90 days following the transaction covering damage or theft, and American Express will also refund cardholders on an attempted return if the retailer does not accept the return. Finally, American Express as always will resolve disputes over fraudulent use of any mentioned card.
Rates and Fees
Rates
Min APR: 13.24%
Max APR: 22.24%
Balance Transfer: 13.24% – 22.24%
Cash Advance: 25.49%
Fees
Annual: $75
Late Payment: $37
Balance Transfer: $5 or 3%
Foreign Transaction: 2.7%
There is a $75 annual fee involved with the American Express Blue Cash Preferred® Card, but there is no overlimit fee for the card. Multiple transaction fees are associated with the Blue Cash Preferred® Card; for instance, the fees for balance transfers and cash advances are both either $5 or 3% (whichever value that is greater is used). Additionally, there is a 2.7% fee on all foreign transactions (after conversion to U.S. dollars). The penalty fees for a late payment or a returned payment both may reach a maximum of $37.
There is an introductory annual percentage rate (APR) of 0.0% on purchases for the first 15 months with the Blue Cash Preferred® Card; the rate for purchases becomes 13.24% – 22.24% after the beginning period ends. The APR for balance transfers follow the same numbers as the purchase APR during a similar period. Cash advance APR is set at a variable 25.49% depending on the market while the penalty APR is 29.49% when needed.
Interest is charged on all cash advances or balance transfers on the transaction date; interest will not be charged on purchases so long as the balance is paid in time (25 days following a billing cycle).
Final Thoughts
American Express cardholders seeking more cashback rewards need look no further than the Blue Cash Preferred® Card which serves as the first upgrade to the Blue Cash Everyday Card. Double the cashback is the incentive for obtaining this card despite that additional annual fee.
Not satisfied? Check out some of the best American Express credit cards that we have reviewed.
4.03
Blue Cash Preferred Card from American Express
Author: Jeff Gitlen
Jeff Gitlen writes about a wide range of finance topics including everything from student loans to credit cards to small business financing. Jeff's work has been featured on a number of sites including Bloomberg, CNBC, Forbes, Market Watch, and more.
Best Credit Cards by Type