Some offers mentioned on this page may be outdated. To confirm offers and credit card details, check the issuer's website.
---
American Express Blue Card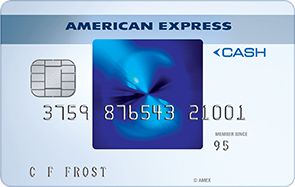 on American Express' secure website
American Express Blue Card
What we like:
Good for payment flexibility
Intro Offer

None

Rewards Rate

1

x Membership Rewards® point per eligible $1 spent

Regular APR

26.24%

Annual Fee

$0
See how this card stacks up to our top rated rewards credit cards
American Express started out as a simple New York based express mail carrier until they expanded into the financial services industry in the 1880's. The expansion didn't stop there. They continued on to offer much more in the financial industry, and have since become a huge competitor among financial companies across the globe. They offer credit cards and other services for their consumers worldwide. Check out some of the great cards that they have to offer, including the Blue from American Express card. Let's get some more details about this card.
Benefits & Rewards
One of the biggest perks that comes with the Blue from American Express card is the Membership Rewards Points that you can earn. Earn up to 1 point for every dollar that you spend on eligible purchases. These points can be used to help you pay for things such as travel expenses, hotel stays, gift cards to restaurants, or even Amex gift cards. When you shop at Amextravel.com, you can earn extra points; in fact, you get 2X Membership Rewards Points on all purchases made through the site.
Aside from being able to earn points, you will also be able to take advantage of some of the other travel benefits. Benefits include roadside assistance, rental car insurance, travel accident insurance and more. When it comes to shopping, there are additional perks as well. For instance, you can get extended warranties on big purchases, insurance for your cell phone, and access to entertainment in your area. You will also enjoy the protection offered by the card, including fraud protection and chip technology, making your purchases safer than ever.
Amex also makes managing your account easy with its mobile app, and it provides you with a year-end summary that will show you your spending habits so that you can get a better feel on your spending. You even get payment flexibility, allowing you to keep a balance and pay interest on your balance, or the option to pay in full each month to avoid added interest.
Rates & Fees
Rates
Min APR: 16.24%
Max APR: 21.24%
Balance Transfer: N/A
Cash Advance:

26.24%
Fees
Annual:

$0

Late Payment:

$38

Balance Transfer:

$5 or 3%

Foreign Transaction:

2.7%
Now that we have gone over the perks that come along with the Blue from American Express card, it is time to take a look at the rates and fees associated with the card. Let's start by looking at the fees for being a cardholder. The good news is that you don't have to worry about an annual fee with this card because there isn't one. The only fees that you need to be aware of are the transaction fees and penalty fees.
Balance transfers and cash advances both have fees of 3 percent or $5 for each transaction, whichever is higher. Foreign transactions are also assessed a fee of 2.7 percent on the total amount of the purchase. Penalty fees of up to $38 (depending on the state that you live in) will be assessed with late or returned payments. This sums up all of the fees, so let's look more at the rates.
Your annual percentage rate (APR) on purchases and balance transfers will be either 16.24 percent, 19.24 percent, or 21.24 percent, depending on your creditworthiness when you apply. It may also vary depending on market prime rates. Cash advances have a slightly higher APR associated with them. Anytime you make a cash advance, the APR is 26.24 percent, variable. There is a risk of a higher interest rate, up to 29.99 percent, when you miss a payment or have a returned payment.
The Bottom Line
The Blue from American Express card definitely has a lot to offer. It is free of annual fees, making it appealing to just about everyone. It also gives you cash back on your purchases. The Membership Rewards Points program is easy to use, and you can earn a whole lot of points to use towards your travel expenses. If you are a traveler, then this is a card that you may want to consider, even though there are foreign transaction fees. If you spend a lot of money on foreign purchases, however, you may want to check into a card that doesn't assess foreign transaction fees. There are other comparable cards to choose from if this is the case.
Not satisfied? Check out some of the best American Express credit cards that we have reviewed.