Some offers mentioned on this page may be outdated. To confirm offers and credit card details, check the issuer's website.
---
The information for this card is outdated. For more accurate information, visit the issuer's website.
Amazon Rewards Visa Signature Card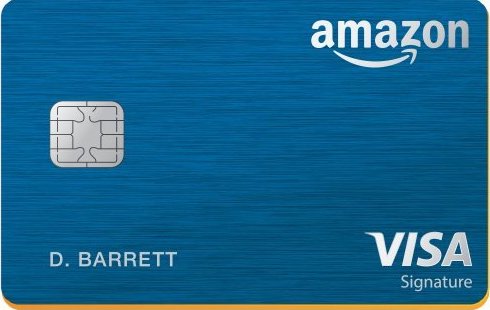 on Chase's secure website
Amazon Rewards Visa Signature Card
What we like:
For a frequent non-prime user of Amazon
Intro Offer
$50 Amazon.com gift card upon approval
Rewards Rate
3% cash back at amazon.com and Whole Foods Market

2% cash back at restaurants, gas stations, and drugstores

1% cash back on all other purchases
Regular APR
16.49% – 24.49%
Annual Fee
$0
See how this card stacks up to our top rated rewards credit cards
The online all-product marketplace Amazon offers a few different credit cards to its customers. If you're a regular customer of Amazon without a Prime membership, then the Amazon Rewards Visa Signature Card might be able to help you take advantage of your spending habits.
Benefits and Rewards
The Amazon Rewards Visa Signature Card for non-Prime members comes with solid benefits, and the best of them are geared directly towards Amazon.
Without a Prime membership, you can still get 3% back at Amazon.com, 2% back at all gas stations, restaurants and drug stores, and 1% back on everything else. On top of this, you'll also get a $50 gift card to Amazon just for getting approved.
When you accrue rewards for spending with the card, these rewards accrue through your Amazon account. You'll be able to see how much you've built up, and you can use them for discounts at checkout. You can redeem any amount of rewards with no minimums.
This credit card also comes with travel and emergency assistance, lost luggage reimbursement perks, baggage delay insurance, and travel accident insurance.
Rates and Fees
Rates
Min APR: 15.49%
Max APR: 23.49%
Balance Transfer: 15.49% – 23.49%
Cash Advance: 26.24%
Fees
Annual: $0
Late Payment: $37
Balance Transfer: $5 or 5%
Foreign Transaction: None
Like its Prime Rewards counterpart, the Amazon Rewards Visa Signature Card comes with no annual fee or foreign transaction fee. However, there are a couple of other fees to keep in mind.
Balance transfers come with a fee of either 5% or a flat $5 – the greater rate is taken. For a cash advance, the fees are either 5% or a flat $10 – the greater fee is taken.
Late fees ranges anywhere from as low as $15 up to $37, depending on the size of the due payment. Returned payments range up to $37 as well.
Like most credit cards, the Amazon Rewards Visa Signature has an APR to consider. Regular purchases and balance transfers come with an APR ranging from 15.49% to 23.49%. The cash advance APR is up to 26.49%. All rates are variable.
Bottom Line
If you were a non-Prime member at Amazon and felt left out of the credit card rewards fun, then you can bank on the simple Amazon Rewards Visa Signature Card. It offers similar benefits, albeit lesser benefits, but you can enjoy a simple return on purchases made at Amazon.
If you are a prime member, you should check out the Amazon Prime Rewards Visa Signature Card.

Jeff Gitlen is a graduate of the Alfred Lerner College of Business and Economics at the University of Delaware. He has spent the last 5 years researching and writing about personal finance topics, including student loans, credit cards, insurance, and more. His work has been featured on major news publications, some of which include Bloomberg, CNBC, Forbes, and Market Watch.
Best Credit Cards by Type