Some offers mentioned on this page may be outdated. To confirm offers and credit card details, check the issuer's website.
---
Amazon Prime Rewards Visa Signature Card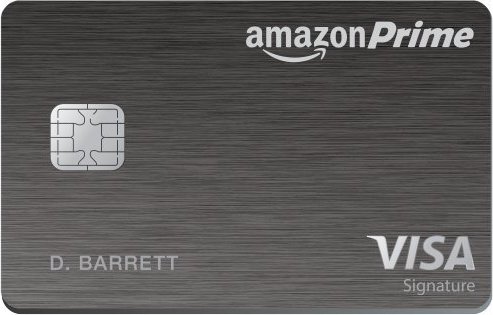 on Chase's secure website
Amazon Prime Rewards Visa Signature Card
What we like:
For Amazon Prime members
Intro Offer
$80 Amazon.com gift card upon approval
Rewards Rate
5% cash back on Amazon.com and Whole Foods Market purchases

2% cash back on restaurant, gas station, and drug store purchases

1% cash back on all other purchases
Regular APR
16.24% – 24.24%
Annual Fee
$0 (Amazon Prime membership required)
See how this card stacks up to our top rated rewards credit cards
If you haven't heard of Amazon, you've either been living under a rock or just never owned a computer. It's a product shipping juggernaut in today's world, and it offers everything from faucet handles to Halloween costumes. If you're a devoted Amazon customer, there's a chance you could buy everything you ever want through its website.
On top of all that, Amazon also offers credit card products to its valued customers. One such card, the Amazon Prime Rewards Visa Signature Card, comes with its own unique perks for Amazon users, so let's take a closer look at it and see if it's suitable for your needs.
Benefits and Rewards
With the Amazon Prime Rewards Visa Signature Card, you can use your card virtually anywhere that Visa cards are accepted. This card offers a $70 Amazon.com gift card upon approval. You can also earn 5% cash back on all purchases made at Amazon.com, and 2% cash back on all purchases at gas stations, restaurants, and drugstores, and finally 1% back on everything else.
There are some great travel perks that come with being an Amazon Prime Rewards Visa Signature cardholder. For instance, you can take advantage of their travel and emergency assistance, lost luggage reimbursement, travel accident insurance, and baggage delay insurance. They also offer some protections from minor setbacks, such as roadside dispatch, auto rental damage waiver, purchase protection, and extended warranty protection on your purchases. Some premium perks include room upgrades, VIP guest status, and complimentary Visa Signature Concierge Service access 24/7.
On top of it all, you will also have protection against any fraudulent activity, with a $0 fraud liability. This is something offered to all Visa Signature cardholders, which makes it easier for you to swipe your card with confidence.
Rates and Fees
Rates
Min APR: 15.49%
Max APR: 23.49%
Balance Transfer: 15.49% – 23.49%
Cash Advance: 26.24%
Fees
Annual: $0
Late Payment: $37
Balance Transfer: $5 or 5%
Foreign Transaction: None
There is no annual fee for opening an Amazon Prime Rewards Visa Signature account. However, there are several other fees to remember.
For instance, the Amazon Prime Rewards Visa Signature Card has transaction fees for balance transfers and cash advances. The balance transfer fee is either 5% or $5, while the cash advance fee is either 5% or $10, whichever happens to be more.
There are no foreign transaction fees, meaning you can travel abroad without having to worry about paying more for your purchases.
There are also some penalty fees you should be aware of. With late payments, there is a fee of up to $15 on balances up to $100, a fee of up to $27 on balances from $100 to $250, and a fee of up to $37 on balances higher than $250. Returned payment fees are up to $37, regardless of account balance.
The interest rate for the Amazon Prime Rewards Visa Credit Card is currently 15.49% to 23.49%, depending on your own creditworthiness and market prime rates. This is for both purchases and balance transfers. Any cash advances made with your card will be charged a higher interest rate of up to 26.24%.
The Amazon Rewards Visa Signature Card comes with the same fees and APR.
LendEDU's Experience With the Amazon Prime Rewards Card
Personal experience by Alex Coleman, VP of Product at LendEDU
As an Amazon junkie and Prime member, the Amazon Prime Rewards Visa Signature Card is my go-to credit card. I buy everything from books to toilet paper via Amazon, so I'm able to earn 5% cash back on a lot of my regular purchases.
I also use the card for gas and groceries, which earns me 2% cash back. This is competitive with the other card I keep in my wallet, the Blue Cash Everyday® Card. In the first half of 2019, I spent $1,682 on Amazon and Whole Foods purchases—which has earned me $84.10 in cash back.

The chase mobile app that comes with the card is easy to use, and it provides me with access to Chase Offers, like 10% back at Dunkin. The app also provides me with a spendings snapshot by category, so I can understand where I may be overspending each month compared to previous months.

Bottom Line
If you are looking for a card that you can use virtually anywhere, with good fees and great benefits, then consider the Amazon Prime Rewards Visa Card today. It comes with no annual fee and a decent set of rewards, so it is a fairly good card to own. If you aren't a prime member, then the non-prime counterpart still offers some solid rewards. If you shop at Amazon all the time, then this card could help you earn some cash back on your purchases.
If you are a non-prime member, check out the Amazon Rewards Visa Signature Card.
Author: Jeff Gitlen, CEPF®

Jeff Gitlen is a Certified Educator in Personal Finance® and the Director of Content Operations at LendEDU. He graduated from the Alfred Lerner College of Business and Economics at the University of Delaware. He has served multiple positions within LendEDU's editorial team since 2016, approaching LendEDU's content with the same goal: to provide consumers of all classes with the answers they need to create a better financial outlook for themselves and their families. This passion has led Jeff to cover many personal finance topics, including student loans, credit cards, and insurance. His work has been featured in major news publications, including Bloomberg, CNBC, Forbes, and MarketWatch.
Best Credit Cards by Type